Chef Catherine Medrano's love of cooking reaches far beyond the kitchen. As she notes, cooking for the ones she loves is a favorite activity, and her style was largely influenced by her upbringing in a large New Jersey family known for trying different cuisines at its own dinner table. Today she brings those influences and passions to her role as executive chef at The Regency Bar & Grill inside Park Avenue's Loews Regency New York. Her focus on local, seasonal foods and the carbon footprint align well with the flavors and menu at The Regency Bar & Grill, home of the famed "Power Breakfast." The restaurant's revamped menus offer approachable, ingredient-forward dishes simply prepared and executed. Medrano also oversees menu development and staff training and supervises culinary presentations and in-room dining. Medrano's career began at Johnson & Wales University in Providence, R.I., and The Greenbrier Culinary Apprenticeship Program. From there she moved to hotels, first with The Stanhope Park Hyatt New York before relocating to the Midwest as executive sous chef at Park Hyatt Chicago. The East Coast beckoned once again, and Medrano returned as executive chef at The Hyatt Regency Jersey City in 2007. She joined Loews Regency New York in 2016. Her passion for her craft seeps into her personal time with her husband, three children and two grandchildren, gardening at her New Jersey home, where she grows everything from melons to squash and peach, fig and olive trees. Outside of the kitchen, she enjoys traveling to Key West, Fla., and visiting extended family in Ireland and the Dominican Republic — all, of course, while keeping up with food and restaurant trends through food blogs and cookbooks. WHAT THREE GO-TO INGREDIENTS ARE ALWAYS IN YOUR HOME KITCHEN? Vinegars … all kinds, I love acidity; kosher salt for a million uses; and fresh vegetables, including aromats — we do a lot of "from scratch" cooking. WHAT'S YOUR FAVORITE SEASON FOR COOKING, AND WHY? Autumn, without a doubt — it's all about root vegetables, slow cooking, great aromas and satisfying meals. ASIDE FROM YOUR CURRENT POSITION, WHAT'S THE BEST JOB YOU'VE EVER HAD? I was a lifeguard in another life a looooong time ago. I won't go into details about how much fun it was. WHAT'S THE FIRST MEAL YOU EVER COOKED? It was steak and potatoes I cooked for my siblings. I remember clearly "changing things up" and trying things they weren't used to. It went over well, and I did a lot more cooking over the years for them. Cooking for the people I love is truly one of life's great joys for me.
The cuisine is about to get a bit healthier and more innovative at Tanque Verde Ranch, located on 60,000 acres of desert landscape in Tucson, Ariz., with the arrival of Executive Chef Justin Macy, who joins the resort team after 16 years at Miraval Resort & Spa.
Chef Jose Fernandez joined The Peninsula Chicago team in June 2015, and since then he's taken advantage of all the city of Chicago has to offer. It's Fernandez's passion: using organic, sustainable ingredients to incorporate local inspiration into healthy, delicious dining experiences.
DIYS.com, the world's largest D.I.Y. community, sought to find out which of the world's iconic Christmas trees are the most popular; the website analyzed monthly global search volume to rank the trees.
Sponsored Content
Since its prestige for attracting the world elite grew in the 1960s, Greece remains the go-to destination for glittering holidays. Each step of the journey is enrobed in luxury, from culinary traditions with the highest standard of execution and name-brand, high-end shopping to first-rate wellness locales and elite accommodations, like 5-star hotels, private villas and yachts.
Hilton Lake Como recently unveiled a new winter culinary offering at its exclusive rooftop restaurant and bar, Terrazza 241. Executive chef Alessandro Ramella crafted the new menu to ensure each dish complemented the garden and 360-degree panoramic views of the surrounding landscape and lake. The hotel first opened in 2018, continually drawing in visitors for its gorgeous scenery, fine dining and luxury accommodations.
For the 11th consecutive year, Global Traveler honors the best of the best in the industry, naming 2021's Airline of the Year and Hotel of the Year.
Sponsored Content
History and culture are etched into every corner of Greece. Beginning with its language, the oldest written language still in existence, and moving from the traces of passing civilizations and religions to pre-historic findings and works from many movements, there's a wealth of culture to discover on your next trip to Greece.
It's not an overstatement to say we've been through it all in the past 18 months as milestones, celebrations, and even hallmarks of our day-to-day lives were upended. But 2021 has certainly brought us a bit more due north with vaccine deployment, a return to in-person everything, countries around the world re-welcoming Americans and, more recently, with U.S. borders re-opening to vaccinated individuals from around the world. With all that good news, we chose the theme "Open the World" to celebrate the 2021 winners of the GT Tested Reader Survey awards, our 18th year honoring the best of the best in the world of travel.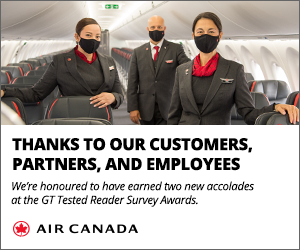 After being closed to travelers for a long period of time, Chile is officially ready to welcome fully vaccinated travelers from around the world. The National System of State Protected Wildlife Areas comprises 22 percent of domestic territory in Chile, and with 43 national parks, 45 national reserves and 18 natural monuments, the country is the perfect destination for travelers to participate in sustainable tourism.
Sponsored Content
IHG® Business Edge: Working Together with SMEs for a smarter way to manage travel
Visitors to Paris are familiar with the Champs Elysées — the broad, tree-lined boulevard connecting the Place de la Concorde and Arc de Triomphe — and all the fashionable streets that lead from it, including Avenue George V. The flagship Louis Vuitton store and the red awning at Le Fouquets are the two gatekeepers to this stylish street, which boasts chic Hermes, Bulgari and Kenzo boutiques — and elegant hotels, including Prince de Galles, a Luxury Collection hotel.