When dining in the world's highest restaurant, At.mosphere on Floor 122 of Burj Khalifa, the experience is more luxurious than most. The cuisine outshines the incredible views, and the time spent at the restaurant and lounge exceeds the venue's superlative stature. Leading the team behind those lofty culinary pursuits is Jerome Lagarde, bringing more than 20 years' experience in Michelin-starred and fine-dining restaurants to the Dubai highlight.
Chef Catherine Medrano's love of cooking reaches far beyond the kitchen. As she notes, cooking for the ones she loves is a favorite activity, and her style was largely influenced by her upbringing in a large New Jersey family known for trying different cuisines at its own dinner table. Today she brings those influences and passions to her role as executive chef at The Regency Bar & Grill inside Park Avenue's Loews Regency New York. Her focus on local, seasonal foods and the carbon footprint align well with the flavors and menu at The Regency Bar & Grill, home of the famed "Power Breakfast." The restaurant's revamped menus offer approachable, ingredient-forward dishes simply prepared and executed. Medrano also oversees menu development and staff training and supervises culinary presentations and in-room dining. Medrano's career began at Johnson & Wales University in Providence, R.I., and The Greenbrier Culinary Apprenticeship Program. From there she moved to hotels, first with The Stanhope Park Hyatt New York before relocating to the Midwest as executive sous chef at Park Hyatt Chicago. The East Coast beckoned once again, and Medrano returned as executive chef at The Hyatt Regency Jersey City in 2007. She joined Loews Regency New York in 2016. Her passion for her craft seeps into her personal time with her husband, three children and two grandchildren, gardening at her New Jersey home, where she grows everything from melons to squash and peach, fig and olive trees. Outside of the kitchen, she enjoys traveling to Key West, Fla., and visiting extended family in Ireland and the Dominican Republic — all, of course, while keeping up with food and restaurant trends through food blogs and cookbooks. WHAT THREE GO-TO INGREDIENTS ARE ALWAYS IN YOUR HOME KITCHEN? Vinegars … all kinds, I love acidity; kosher salt for a million uses; and fresh vegetables, including aromats — we do a lot of "from scratch" cooking. WHAT'S YOUR FAVORITE SEASON FOR COOKING, AND WHY? Autumn, without a doubt — it's all about root vegetables, slow cooking, great aromas and satisfying meals. ASIDE FROM YOUR CURRENT POSITION, WHAT'S THE BEST JOB YOU'VE EVER HAD? I was a lifeguard in another life a looooong time ago. I won't go into details about how much fun it was. WHAT'S THE FIRST MEAL YOU EVER COOKED? It was steak and potatoes I cooked for my siblings. I remember clearly "changing things up" and trying things they weren't used to. It went over well, and I did a lot more cooking over the years for them. Cooking for the people I love is truly one of life's great joys for me.
The cuisine is about to get a bit healthier and more innovative at Tanque Verde Ranch, located on 60,000 acres of desert landscape in Tucson, Ariz., with the arrival of Executive Chef Justin Macy, who joins the resort team after 16 years at Miraval Resort & Spa.
Nobu Barbuda is underway in the Caribbean, the newest installation to the Nobu Hospitality portfolio. The Nobu restaurant, all conceived by actor Robert DeNiro, debuted in 2021, and Nobu Barbuda's first beach club opened this year.
Sponsored Content
There's no better time to plan the vacation you've been missing. Step aboard with your better half, your friends or the whole family and reconnect, reunite and rejoice with 25 percent off cruise fares for all guests. We'll also help everyone get there with 25 percent off airfare from 20 major gateways across the country or $100 savings per person on flights from all other gateways when you book your air travel using Flights by Celebrity.*
Aimbridge Hospitality announced it will open two brand-new resorts at Frenchman's Reef in St. Thomas in the U.S. Virgin Islands. The Westin Beach Resort & Spa at Frenchman's Reef and The Seaborn at Frenchman's Reef, Autograph Collection, are expected to open in fall 2022. The new properties are part of a $350 million rebuild project on Frenchman's Reef.
Birds on the brain these days? Head to the Columbia Valley, located between the towering Rocky and Purcell mountains in southeast British Columbia. The newest addition to the BC Bird Trail is marked by friendly communities surrounded by wetlands, featuring a burgeoning avian population. In spring, watch for the striking plumage of horned grebes, as well as songbirds and Lewis's woodpecker.
Sponsored Content
TAP Air Portugal, or rather Transportes Aéreos Portugueses, was founded 77 years ago, March 14, 1945, and flew its first commercial flight September 19, 1946, inaugurating service from Lisbon to Madrid, Spain, aboard a Douglas DC-3.
Upon our triumphant in-person return to Los Angeles in December 2021 to celebrate our annual GT Tested Reader Survey awards, the FXExpress Publications, Inc. team also revisited one of our favorite city hot spots: Sofitel Los Angeles at Beverly Hills for dinner at the on-site Riviera 31 bar lounge.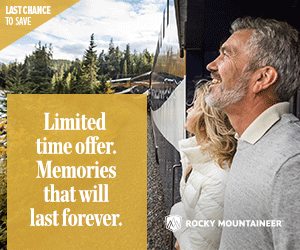 Mövenpick, Accor's premium Swiss-born hospitality brand, officially launched its first property in New Zealand. Situated in Auckland, Mövenpick Hotel Auckland sets a new standard in the world of hospitality with unique and exciting amenities and a warm, contemporary design found throughout the property.
Sponsored Content
When American travelers make plans to visit Portugal, Lisbon is usually their first stop.
Turkish Airlines offers premium travelers something new. After signing an agreement with fashion brands Coccinelle and Hackett, the carrier introduced redesigned premium amenity kits for its business-class passengers flying eight hours or more on long-distance flights. The new kits were introduced April 29.