"My current culinary style reflects a desire to get back to honest, ingredient-driven cuisine. All of the current innovations in technique and equipment are amazing, but in my opinion all of the science and technology have taken away from the soul and magic of a spectacular meal."
That, in a nutshell, is how Executive Chef Bernard McDonough describes the philosophy behind the food he creates at Hotel Matilda, an iconoclastic boutique hotel in San Miguel de Allende, Mexico, a UNESCO World Heritage site recognized for its intact Spanish-era architecture.
"I feel that every chef has a definitive voice; and that voice is constantly evolving due to new ideas, experiences, ingredients and exposure," McDonough says. "Also of great importance has been my appreciation for simple, rustic cuisine and street food. The flavors, textures and ingredients involved with the food of the masses have always served as inspiration to reinterpret these familiar dishes."
---
Seared sea scallops with huitlacoche-leek fondue and jamón serrano Serves 6
For the scallops:
6 U-10 diver scallops
2 teaspoons olive oil
2 teaspoons butter
Sea salt, to taste
Cracked black pepper, to taste
Pat scallops dry; season them liberally with sea salt and cracked black pepper. In a heavy skillet over medium-high heat, melt butter and olive oil until golden brown. Add scallops to pan and cook until well browned on one side (3–4 minutes). Flip scallops and cook for an additional 2 minutes.
For the jamón serrano:
2 ounces jamón serrano
Dry the jamón on an ungreased baking sheet in a 200-degree oven until brittle. Pulse in a food processor or chop by hand into a coarse powder.
For the sherry vinegar syrup:
6 ounces sherry vinegar
1 ounce wildflower honey
1 large pinch cracked black pepper
In a saucepan over medium heat, reduce the sherry vinegar to 1 ounce. Stir in the honey and cracked black pepper. Set aside.
For the huitlacoche-leek fondue:
4 ounces huitlacoche, thoroughly cleaned
2 large leeks, white part only, cleaned and julienned
5 ounces butter
1 cup water
½ cup dry white wine
Sea salt, to taste
Freshly ground black pepper, to taste
Preheat oven to 300 degrees. Sauté huitlacoche in 1 ounce of butter for 4–5 minutes. Transfer huitlacoche to an ungreased baking sheet and bake in oven for 30 minutes. Combine the water and white wine in a saucepot. Add a pinch of salt and the leeks. Simmer until the leeks are almost dry. Slowly stir in remaining butter, 1 ounce at a time, over very low heat. Finely chop the roasted huitlacoche and add to the leek butter mixture just before serving. Season with salt and pepper, to taste.
PRESENTATION: Drizzle a circle of sherry vinegar syrup around the rim of the plate. Use a fork to twist a pile of fondue onto the center of each plate. Place a seared scallop on top of the fondue. Garnish with a sprinkle of crispy jamón serrano.
---
Pork chop al pastor with stone-ground grits, jalapeño and caramelized onion relish Serves 6
6 center-cut bone-rib pork chops
Al pastor marinade (recipe follows)
Toss the pork chops and the marinade in a zip-lock bag. Refrigerate for 1 hour. Grill the pork chops over mesquite coals to desired doneness, basting with remaining marinade once on each side while grilling.
For the al pastor marinade:
1 cup chopped fresh pineapple
2 tablespoons achiote
3 cloves fresh garlic
Juice of 2 limes
¼ cup dark brown sugar
1 teaspoon sea salt
1 tablespoon ground black pepper
1 tablespoon sriracha
½ cup grapeseed oil
Combine the first 8 ingredients in a blender. Process on high until fully incorporated. Slowly drizzle in oil while blending until fully emulsified.
For the grits:
1 cup coarse ground grits
3 cups chicken stock
1 cup grated Cheddar cheese (sharp, white, bandage-wrapped if possible)
1 stick butter
Sea salt, to taste
Ground black pepper, to taste
Combine chicken stock and butter in a saucepan; bring to a boil. Stir in grits, cover and reduce to a simmer. Cook until all liquid is absorbed and grits are tender. Stir in grated cheese and season with salt and pepper to taste.
For the jalapeño-onion relish:
4 large green jalapeños
1 large white onion, finely diced
1 tablespoon olive oil
¼ cup red onion, finely diced
2 tablespoons chopped cilantro stems
1 cup rice wine vinegar
½ cup light brown sugar
3 garlic cloves
1 teaspoon whole black peppercorns
1 tablespoon pickling spice
1 tablespoon salt
Combine last 6 ingredients in a non-reactive saucepan and slowly reduce to a syrup consistency. Strain and reserve. In olive oil over low heat, slowly caramelize the white onion. Roast the jalapeños over an open flame (grill or burner) until skin is blistered. Remove from heat. Cover and chill. When they are cool, peel and seed the jalapeños, then dice them to a fine consistency. Combine the caramelized onion, jalapeños, raw red onion, cilantro stems and syrup.
PRESENTATION: Place a spoonful of grits onto each plate. Place a pork chop on top of the grits. Serve with jalapeño-onion relish.
---
Mexican chocolate pâté with vanilla bean cream Serves 6
For the chocolate pâté:
4 egg yolks
2 whole eggs
6 ounces unrefined sugar
8 ounces high-quality bittersweet chocolate, chopped
1 quart cream
Zest of 1 orange
1 pasilla chile, seeds discarded, roughly torn
4 whole cloves
2 pieces star anise
Combine last 5 ingredients and simmer over very low heat until fragrant. Place chopped chocolate into a heat-proof bowl. Strain hot liquid over the chocolate. Whisk together the yolks, eggs and sugar rapidly in a separate bowl until the mixture is light and frothy. Slowly temper half of the chocolate mixture into the egg mixture. Combine all remaining ingredients in a heat-proof bowl and cook over a double-boiler for 15 minutes, whisking continuously. Strain the mixture; pour into small cups and set aside to chill.
For the vanilla bean cream:
1 cup heavy whipping cream
½ vanilla bean
¼ teaspoon ground cinnamon
Combine all ingredients and whip until the mixture forms soft peaks.
For the garnish:
Muscovado sugar
Mint sprigs
PRESENTATION: Remove the pâté from the refrigerator 1 hour before serving. Top each pâté with a big dollop of vanilla cream. Garnish with muscovado sugar and a mint sprig.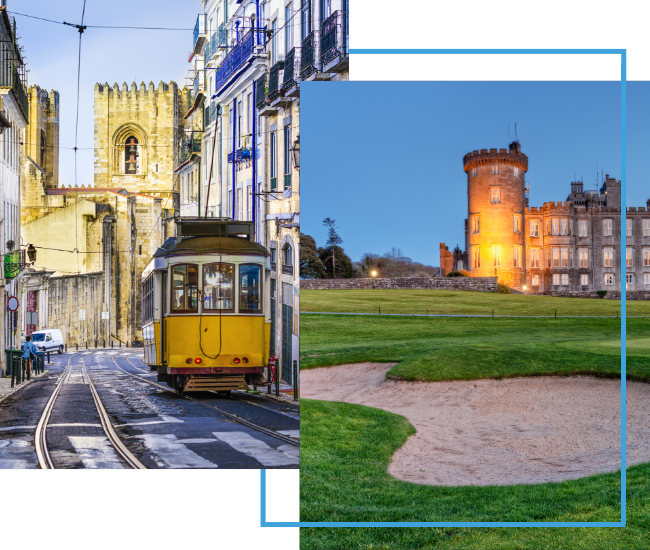 FX Excursions
FX Excursions offers the chance for once-in-a-lifetime experiences in destinations around the world.
Explore Excursions
There is something magical about sipping a glass of local wine while watching the sun slip into the Aegean Sea as the afterglow tinges traditional, white-washed Cycladic houses with glorious shades of rose, purple and gold. Ancient Greeks believed Helios, the Sun God, caused sunsets by driving his fiery chariot into the sea. Standing at water's edge in Mykonos, watching the sky slowly turn from purple to inky black, you almost believe it.
The prospect of a post-visit treasure hunting session inside the shops of landmark museums such as the Louvre in Paris, the Uffizi Gallery in Florence and The British Museum in London can be irresistible. However, some of Europe's smaller and more unusual museums boast retail spaces with a surprising "wow" factor, often as well-curated as the galleries.