The bounty of the Golden State is the cornerstone of good taste in Douglas Dodd's kitchen. The executive chef at Hotel Bel-Air in Los Angeles, Dodd makes it his mission to showcase California's freshest produce, quality meats and select cheeses. He relies on herbs from the hotel's private garden to enhance the flavors of the handselected ingredients that go into the menu offerings he creates with chef de cuisine Bruno Lopez.
Dodd, a Chicago native, and Lopez, who hails from France, work side-by-side at Hotel Bel-Air to define good taste. The duo boasts an impressive pedigree. Dodd studied at the Culinary Institute of America before moving to Zurich to begin his career as chef de partie-tournant at Hotel Erilbacherhof. He returned to the United States to work with Chef George Mahaffey at The Little Nell in Aspen, Colo. – to this day he considers Mahaffey his mentor – then worked at four-star, four-diamond dining venues at The Phoenician in Scottsdale, Ariz., before joining Hotel Bel-Air.
Lopez, who joined Dodd at Hotel Bel-Air in 2005, trained at the Ferrandi School and apprenticed at L'Espadon, a Michelin-starred restaurant at Hotel Ritz – both in Paris. Most recently, Lopez served as the executive chef at the Regent Beverly Wilshire. Previously, he was executive chef at L'Ermitage Hotel in Beverly Hills, Ritz-Carlton at Half Moon Bay, Ritz-Carlton Dubai and Ritz-Carlton Marina Del Rey. He is a member of Confrerie de la Chaine des Rotisseurs, Club Culinaire, Les Toques Blanches International and Chevalier de L'Ordre Du Mérite Agricole.
---
Steamed fillet of farm-raised turbot Serves 4
Four 6-ounce turbot fillets
1 ounce sliced truffles
2 cups fish fumet (stock)
1/2 cup truffle juice
1 cup beurre blanc
1 cup sautéed wild mushrooms
1 cup English peas, blanched
1 basket cherry tomatoes
Salt and pepper
1 ounce pea sprouts
2 ounces sliced terrine foie gras
Insert sliced truffles between the fish fillets. Reduce truffle juice and add beurre blanc. Cut 1 ounce of foie gras, add to the sauce and blend in a bar blender. Strain and reserve the sauce. Bring fish fumet to a oil, reduce to a simmer and poach fillets, about 3 to 5 minutes. Mix sautéed wild mushrooms with blanched peas and cherry tomatoes, season to taste with salt and pepper.
PRESENTATION: Arrange mushrooms and vegetables on plate, top with turbot, surround with sauce. Dice the remaining foie gras. Garnish with diced foie gras and pea sprouts.
---
Rack of lamb with garlic flan and vegetables navarin Serves 4
For the garlic flan:
1/2 quart heavy cream
3 whole eggs, plus 3 egg yolks
Dash of salt
Dash of white pepper
Dash of nutmeg
1 teaspoon triple-blanched garlic puree
Mix all ingredients in a stainless steel bowl. Pour into four lightly oiled 2-ounce timbale cups and place cups in water bath. Cover with foil and cook in 300-degree oven for about 25 minutes. Poke hole in foil to release steam.
For the lamb:
2 racks of lamb, frenched and
cleaned by your butcher
Salt and pepper
2 cups olive oil
1 head garlic
1/2 bunch rosemary
Season lamb with salt and pepper. Marinate lamb overnight in olive oil with garlic and rosemary. Preheat oven to 350 degrees. Remove garlic and rosemary from marinade and place in roasting pan. Retain 3/4 tablespoon of the olive oil from marinade. Sear lamb in a pan with olive oil. When lamb turns color, place it fat side down in roasting pan and roast for 20 minutes in the oven (after 10 minutes, reduce oven emperature to 325 degrees). Let meat rest, covered with foil, for 8 to 10 minutes.
For the vegetables navarin:
1 eggplant, very thinly sliced
1 bunch peeled baby carrots, sliced
1 bunch peeled baby turnips, sliced
1 cup peeled fava beans
1 cup peeled peas
1 bunch asparagus tips
Olive oil
1/4 cup flour
Salt and pepper
1 bunch fresh mint, chopped
1 cup rosemary garlic lamb juice
1 teaspoon fresh butter
Blanch al l vegetables, including fava beans, separately. Flour the blanched, sliced eggplant and deep fry in olive oil, dry and season with salt and pepper. Warm the vegetables in the lamb juice; add salt, pepper and hopped mint. Deglaze the pan with the juice and reduce by half. Stir in butter and strain.
PRESENTATION: Put one garlic flan topped with fried eggplant slice, and one half-rack of lamb on each plate. Serve the vegetables navarin and sauce on the side.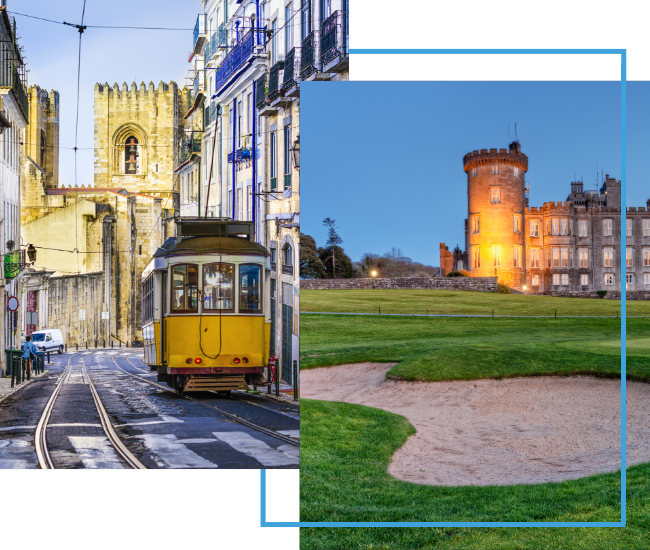 FX Excursions
FX Excursions offers the chance for once-in-a-lifetime experiences in destinations around the world.
Explore Excursions
Ever since opening in 2021, Nobu London Portman Square has served as the focal point for many gatherings, stays and experiences. This fall the hotel's Nobu Bar adds four more reasons to visit with an exciting array of offerings, menus and events.
There's no doubt the northern lights are awe-inspiring and spectacular. Unfortunately, they're also fickle and fleeting, and despite your best-laid plans of checking this item off your bucket list, sometimes Mother Nature's luminescent show just doesn't cooperate. But one cruise line has a new fail-safe in place.