New to the role in 2022 of corporate executive chef for Celebrity Cruises, Chef Sidney Semedo's past experience and culinary expertise uniquely positioned him to expand the cruise line's stand-out offerings while deepening his passion for food. He was born in Cabo Verde, a small island republic off Africa's west coast, before moving to Boston in 2003. He found his way in a new country by expressing himself through food.
A classically trained French chef, he stood out in the industry as he worked at some of Boston's best hotels, restaurants and private clubs, such as Beacon Grille and the Harvard Club. Leaving Beantown to expand his repertoire, he led a number of hotels in three different states as executive chef and director of restaurant operations for Marriott Hotels. Boston called once again, and he opened Encore Boston Harbor by Wynn Resorts as executive chef.Today the sea calls to his culinary prowess. He oversees all culinary operations throughout Celebrity's 15-ship fleet; he also leads more than 32 beverage concepts and interactive culinary workshops on board.
WHICH FOOD IS YOUR GUILTY PLEASURE? I love cooking fish. It is an overlooked, often underrated protein. Because fish requires delicate and perfect precision to be cooked correctly, it makes me feel more connected to the ingredient. I love giving it the attention it deserves.
WHAT DISHES WOULD YOU SERVE AT A PRIVATE DINNER PARTY? If I'm hosting a dinner party, I usually start with small bites and appetizers that inspire community and sharing, allowing guests to come together. Some of my favorite small bites are oyster with saffron escabeche; chicken liver mousse; crispy brioche; and slow-roasted, dry-aged New York strip with pearl onion jam. From there, I prefer to host a light dinner. This usually looks like having a main dish with tuna sashimi with basil emulsion and pickled radishes and organic frisee; scallops, curry potato crisp, pork belly and brown butter orange sauce; and lamb roulade, sunchoke purée, local baby vegetables and sherry wine reduction. Of course, no dinner party is complete without a cheese plate. I like to serve aged Gouda as the dessert with sweet touches like house-made fig jam and pickled kumquats paired with Quinta do Vale Meao Vintage Port, 2018.
WHAT WAS THE FIRST MEAL YOU EVER PREPARED ON YOUR OWN? My mother, Fatinha, not only inspired me to be a chef but really showed me what work ethic and commitment to the kitchen is. I used to assist her on the daily prep for the food we sold at Port of Praia, Cabo Verde, where I am originally from. I grew up eating fried fish, bacalhou and katchupa. The local cuisine is a beautiful mix between Portuguese and West African cuisine. I remember making my first meal on my own at 7 years old. It was fried fish with white rice and black-eyed peas.
IF YOU COULD DESCRIBE YOUR PERSONAL STYLE IN ONE DISH, WHICH DISH WOULD IT BE AND WHY? I am classical French trained. I love "the basic," meaning focus on simplicity and quality. Buy the best and freshest ingredients possible, respect it, don't bury the flavors and let the food speak for itself.
WHICH CULINARY TREND WOULD YOU LIKE TO DISAP- PEAR? Charcoal-infused "black food" because it changes the best part of food — the natural colors and flavor.
CELEBRITY CRUISES
celebritycruises.com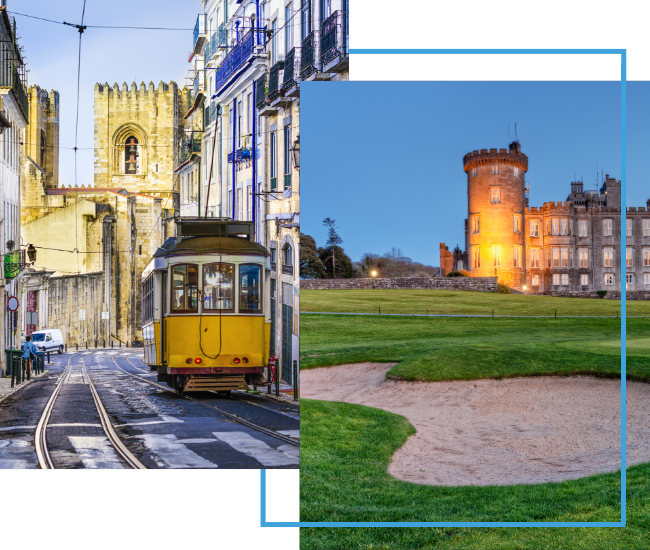 FX Excursions
FX Excursions offers the chance for once-in-a-lifetime experiences in destinations around the world.
Explore Excursions
Pleasant weather, autumn foliage and vibrant flowers are among the many delights awaiting nature lovers at botanical gardens and arboretums across the United States. However, some of these green spaces take on additional color this month and through Halloween when enterprising gardeners, landscape architects, management and other creative minds cast a spell with themed environments running the gamut from spooky to utterly bewitching.
Sponsored Content
The Islands of Tahiti are among the most beautiful and sought-after vacation destinations in the world. The endless images of overwater bungalows with Bora Bora's majestic peak towering over waters of every shade of blue have an intrinsic pull. But with 118 islands and atolls to explore, there is so much more to this spectacular region of the Pacific.
For travelers who love all things autumn, Crystal Springs Resort, New York City's closest destination resort, features special offers and experiences to meet the demands of everyone's fall bucket list. Located only 80 minutes outside New York City in Sussex County, New Jersey, Crystal Springs Resort offers a quick getaway to enjoy fall foliage. Are any of these new offers or experiences on your bucket list?