A sweet job, indeed! Executive Pastry Chef Jamie Caudy brings classic technique and modern interpretation to all the pastry operations for The Peninsula Chicago, including desserts for the hotel's restaurants, banquet items, retail items in Pierrot Gourmet, specialty cakes and bakery items.
Her journey to The Peninsula began at Le Cordon Bleu before immersing herself in the Minneapolis dining scene at spots like Wolfgang Puck's 20.21 restaurant, Walker Arts Center, Chambers Kitchen by Jean- Georges Vongerichten and more. In following roles, Caudy oversaw dessert production for large-scale events like the World Series. After a position at Horseshoe Hammond Casino and The Ritz-Carlton, Chicago, Caudy made her way east to Mayflower Inn & Spa in Connecticut. In 2020 she made the return to Chicago and found her home at The Peninsula Chicago.
WHICH FOOD IS YOUR GUILTY PLEASURE? AND ON THE OPPOSITE END OF THE SPECTRUM, WHAT IS ONE INGREDIENT OR FOOD YOU HATE TO USE? Being from Wisconsin, I love cheese curds — the best ones are hand-breaded. I try to avoid using overly processed foods, preferring to incorporate pure ingredients into my recipes for health and flavor reasons.
WHAT DISHES WOULD YOU SERVE AT A PRIVATE DINNER PARTY?
I would serve everything in miniature sizes. I'm drawn to dainty and tiny items as I love the reaction I've witnessed when presenting items in miniature form (both in professional and personal settings) — the response is one of sheer delight. People gravitate to bite-sized items. Creating food items on a small scale is both a challenge and a joy to see the finished product and reaction.
I love presenting both savory and sweet items in this way as it brings genuine pleasure from guests as well as giving them "permission" to try everything without any guilt!
WHAT WAS THE FIRST MEAL YOU EVER PREPARED ON YOUR OWN?
My sister and I cooked a lot together when we were young. We loved preparing elaborate dinners for our parents. One time we made a roasted chicken, mashed potatoes and squash. We left the squash in the oven extra-long by mistake, and it remains a distinctive flavor memory I still dream about to this day. Since then, cooking has really been about the challenge to create something memorable I am excited to share with others.
IF YOU COULD DESCRIBE YOUR PERSONAL STYLE IN ONE DISH, WHICH DISH WOULD IT BE AND WHY?
Probably a pavlova, a crunchy meringue. The pavlova is a technical dessert with a hard exterior and a soft interior, served with berries and a light sauce. It's light, girly, crunchy and colorful. Texture is important to me. I always make sure there is a crunch because I hate mushy foods. Pavlova can take on so many different forms, and that is what I love about it. It can be molded into tuiles or simply piped before it is dried into that crispy, delicate texture that melts in your mouth.
WHICH CULINARY TREND WOULD YOU LIKE TO DISAP- PEAR?
I believe plant-based foods offer a healthy alternative; however, this trend, in some cases, has been taken to the extreme. As a chef I feel it is important to eat whole foods in their purest form versus processed ones whenever possible.
THE PENINSULA CHICAGO
108 E. Superior St.
Chicago, IL 60611
tel 312 337 2888
peninsula.com/chicago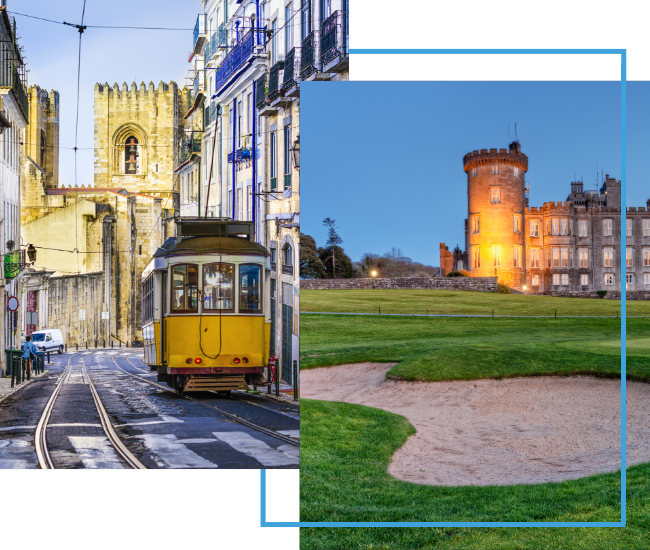 FX Excursions
FX Excursions offers the chance for once-in-a-lifetime experiences in destinations around the world.
Explore Excursions
Less than five years ago the world's first hybrid cruise ship, Hurtigruten Expeditions' MS Roald Amundsen, set sail for Antarctica in November 2019 with 450 passengers. The battery-hybrid-powered ship, named for the first man to cross the continent and reach the South Pole, was built specifically for voyages in polar waters. Its battery-hybrid power reduces the ship's consumption and CO2 emissions by 20 percent compared to equally sized ships.
Sponsored Content
Whether it's the people, the craic (fun) or the coasts, travelers always find something to love about the island of Ireland. What fills your heart?
A few months ago, I flew Polaris business class on a United flight from Dulles (IAD) to Paris (CDG). It was only when I got to my hotel in Paris I realized that I didn't have my iPad or its bag or accessories. Since I had been working on it in the restaurant in the Polaris lounge and then went directly to the gate, I knew I either left it propped up on my table when I packed up or in my business-class seat. But what was the best method to alert the airline about my careless mishap and (hopefully) retrieve it? With spotty data and WiFi, searching for information on my phone was frustrating and slow. Here's what I learned from the anxiety-inducing experience (and unexpected ending) about what to do if you leave something behind on your flight: