FX Excursions
The unique itineraries, exclusively created by and for FXExpress Publications, Inc. and its partners, allow participants to go hands-on at a worldwide event or see an international city in a new way. All the planning and sightseeing is handled for attendees, from the flights and accommodations to the itinerary. The tours offer partners the chance to connect with FXExpress Publications' readers and gain exposure across our various outlets.
The tours are exclusively marketed through our publications —Global Traveler, globaltravelerusa.com, whereverfamily.com and trazeetravel.com —and our social media outlets. Travel with us as we embark on these handcrafted agendas around the globe.
Capture the "Kia Orana" spirit! Explore the South Pacific's best-kept secret — the 15 islands that make up the Cook Islands are located in the heart of Polynesia, nestled between Hawai'i and New Zealand. This modern Polynesian nation is an oasis of freedom with crystal-clear, blue waters; bright-white, sandy beaches; warm weather year-round; and authentic, friendly locals. Less than 30 minutes from plane to any beach, it is so easy to do as much or as little as you like. First, explore the striking volcanic island of Rarotonga; like one big resort all in one island, Rarotonga offers endless adventures just outside your resort, ringed by boutique hotels, exquisite restaurants, gift shops, markets and more. In Aitutaki, you will experience "the world's most beautiful lagoon," according to Tony Wheeler, founder, Lonely Planet. This jewel of an isle offers an idyllic blue lagoon and pearly white beaches to match.
Nighttime in Seoul is as exciting as the daytime. Luminescent lighting throughout the city with high-rise office buildings, countless apartment buildings, exterior advertisement billboards, lampposts and vehicles light up this metropolitan city like it's another type of daytime. Explore night activities that will enrich your trip with exotic experiences at the markets open late or aim to have most relaxing, yet joyful night at the park. Recharge your energy for refreshing days forward.
As Best MICE City, Seoul welcomes many business travelers. However, Seoul is more than a business destination: 600 glorious years of history as Korea's capital breathe throughout its streets. The city stepped comfortably into its position today as one of the most technologically advanced metropolises in the world, creating a unique, juxtaposed charm. If this is your first visit, check out these must-visit locations for a glimpse of the city's past and present.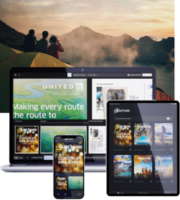 There is something magical about sipping a glass of local wine while watching the sun slip into the Aegean Sea as the afterglow tinges traditional, white-washed Cycladic houses with glorious shades of rose, purple and gold. Ancient Greeks believed Helios, the Sun God, caused sunsets by driving his fiery chariot into the sea. Standing at water's edge in Mykonos, watching the sky slowly turn from purple to inky black, you almost believe it.
Sponsored Content
Don't risk losing all the money you've spent if you must cancel your trip at the last minute. Allianz Travel Insurance can give you:
The prospect of a post-visit treasure hunting session inside the shops of landmark museums such as the Louvre in Paris, the Uffizi Gallery in Florence and The British Museum in London can be irresistible. However, some of Europe's smaller and more unusual museums boast retail spaces with a surprising "wow" factor, often as well-curated as the galleries.
Hyatt Hotels recently announced plans to add more than 30 new luxury and lifestyle hotels and resorts to its U.S., Canada, Latin America and Caribbean portfolio through 2025. These new hotels and resorts span many of Hyatt Hotels' brands including Park Hyatt, Dream Hotels, Thompson Hotels and Destination by Hyatt.
Sponsored Content
In an increasingly digital and interconnected world, the Global Business Travel Association (GBTA) Convention remains an indispensable platform for business travel industry professionals seeking to make the most of the power of face-to-face connections. Taking place August 13–15 in Dallas, the 2023 GBTA Convention provides the unique opportunity for professionals and companies to join visionaries, thought leaders and industry experts for meaningful networking, cutting-edge insights and inspiring innovation.
I hadn't even made it to my first cup of coffee when I got an early phone call from my sister, who lives two time zones away. "OMG, Kristy, Patsy Cline came on twice while I was driving the kids to school today," she laughed. "You know what that means, right?" We both gasped and then instantly began singing the lyrics to "La Bamba," an inside joke we'd shared since our family's Alaskan cruise decades ago when we, unintentionally, won the ship's karaoke contest among a sea of Patsy Cline tributes.
The Woodward Geneva and Swiss International Air Lines recently launched a new collaboration to transport passengers to the counter of Michelin-starred restaurant L'Atelier Robuchon. As part of the SWISS Taste of Switzerland inflight culinary program, the partnership provides Business and first-class travelers on SWISS long-haul flights departing from Geneva and Zürich carefully curated menus inspired by the restaurant.
Sponsored Content
Many small- and medium-sized businesses face time and budget constraints when organizing corporate hotel travel for employees. To address this problem, IHG® Business Edge emerged as a cost-free business travel solution for small- to medium-sized enterprises, offering travel managers exclusive access to enticing perks, handpicked educational resources and comprehensive company travel metrics. IHG Business Edge connects our loyal customers to our portfolio of 5,800 hotels and resorts across 18 brands in more than 100 countries.
In partnership with Nobu Hospitality, SODIC, Egypt's leading real estate developer, recently announced plans on the expansion of the Nobu brand in Egypt. This expansion entails the development of luxury hotels, branded residences and the acclaimed Nobu restaurant.