MAYBE IT'S IN HER BLOOD? Lydia Forte, daughter of Sir Rocco Forte and niece of Olga Polizzi, makes her mark in the family business as bar and restaurant development manager for Rocco Forte Hotels, responsible for the concepts, management and performance of the group's restaurants.
According to Forte, there are some elements which make all the difference that the brand will never compromise on in the hotels. Forte's dream is to have at least an herb garden in every hotel. Verdura, in Sicily, boasts an organic farm, and at hotels without space for gardens, like Balmoral in Edinburgh, they produce their own smoked salmon and honey. Personal touches like these and an eye for quality create a stand-out culinary experience across the brand.
Prior to joining Rocco Forte Hotels in February 2014, Forte managed the opening of The Markham Inn in Chelsea and led projects to improve HIX Mayfair in London and Bocconi in Brussels. She worked her way up in the industry, from front-of-house positions to accounting and reservations, and also completed a professional cookery class at Leith's, a four-month internship at Hotel Astoria in St. Petersburg and maître d' training at The Wolseley.
WHICH DESTINATIONS INSPIRED YOU, AND HOW HAS THAT INSPIRATION TRANSLATED INTO YOUR CULINARY CONCEPTS?
I live in London, which has become one of — if not the — centers for culinary excellence in the world. There has been a food revolution here in the last 10 to 15 years, with hundreds of new concepts constantly opening. What I find unique in London is the number of high-quality restaurants that last. There are several places I would be happy to visit every week for the rest of my life, which I don't find as much in other cities. Restaurants with extremely high-quality food, service and ambience, such as The River Café, stand the test of time, are authentic and offer an all-around world-class and exceptional experience. Those are the restaurants that truly inspire me and that we aim to emulate.
WHOM DO YOU CONSIDER TO BE YOUR CULINARY HERO?
Fulvio Pierangelini, our creative director of food at Rocco Forte Hotels. He is an exceptional chef — few people can create food like his. When you go to his apartment, he might have a few vegetables and somehow, with what seems like nothing, he will conjure up a meal of dreams within a few seconds. The few fantastic female chefs who have broken into the world of cuisine also inspire me; there are not enough of them. Being a chef is an incredibly tough job with terrible hours, constant pressure, hot kitchens … and few make it to the top — but being a female chef is even harder. We want more female chefs in the world!
WHAT ONE PERSON MOST INFLUENCED YOUR COOKING STYLE, AND HOW?
Fulvio Pierangelini. I have traveled and worked with him in our hotels for more than four years, and he has taught me so much about food. Doing the classics in the best way possible is the hardest thing in the culinary world. Some say he's like a food whisperer. He has taught me so much about practical things.
WHAT IS YOUR FAVORITE FOOD CITY?
It is hard to pick one! London, Barcelona. I'm excited to visit Tokyo for the first time next year. I love all Italian cities for their regional cuisines; Italian food is the best in the world. I love our restaurant, Le Jardin de Russie at Hotel de Russie in Rome. We offer delicious Roman cuisine in our stunning Roman garden, right in the center of the city, and you can't get a better sense of the city than that. It inspired me to keep to the Roman theme in our new hotel in Rome, Hotel de la Ville, opening next year. All the cities I visit inspire me in some way. Los Angeles inspired me because it was at the forefront of vegan and healthy food development.
WHAT DO YOU THINK THE NEXT BIG TREND ON THE FOOD SCENE WILL BE?
Going back to basics — extremely high-quality, simple food; excellent service; good atmosphere. It's always fun to experience new cuisines and restaurants that offer something different, but people will always come back to quality.
I also love that Asian and Middle Eastern styles of sharing food have become mainstream, as I love being able to try a little bit of lots of things.
Healthy, vegetarian and vegan offerings are a craze and will continue because we understand the importance of feeling good in today's world. Luxury is treating your body and our world well. Following this trend, my sister, Irene, and I developed Rocco Forte Nourish, partnering with local nutritionists to develop healthy menus.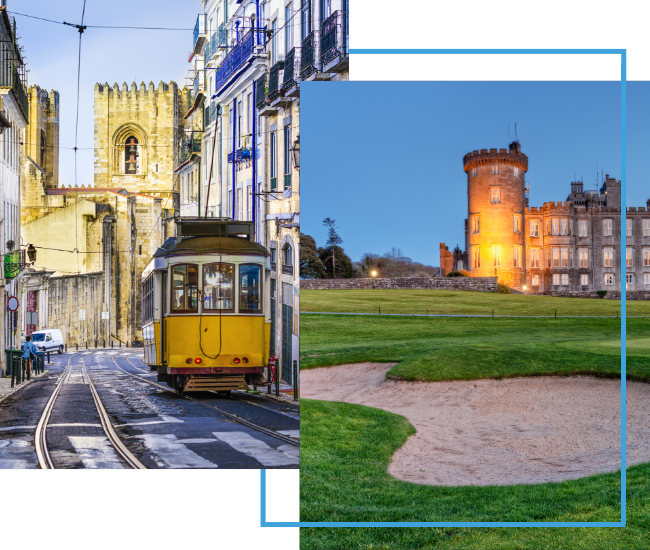 FX Excursions
FX Excursions offers the chance for once-in-a-lifetime experiences in destinations around the world.
Explore Excursions
There is something magical about sipping a glass of local wine while watching the sun slip into the Aegean Sea as the afterglow tinges traditional, white-washed Cycladic houses with glorious shades of rose, purple and gold. Ancient Greeks believed Helios, the Sun God, caused sunsets by driving his fiery chariot into the sea. Standing at water's edge in Mykonos, watching the sky slowly turn from purple to inky black, you almost believe it.
Sponsored Content
United Airlines is in the midst of a major initiative to modernize its fleet over the next several years. After first announcing the plan in 2021, planes fitted with United's signature interior are finally beginning to appear across the airline's narrowbody fleet of Boeing and Airbus planes. United flyers are sure to notice these enhancements from the moment they step on board: Each new or updated plane sports remodeled seats, seatback entertainment screens for everyone, Bluetooth connectivity and more, all adding up to a better experience on every journey.
The prospect of a post-visit treasure hunting session inside the shops of landmark museums such as the Louvre in Paris, the Uffizi Gallery in Florence and The British Museum in London can be irresistible. However, some of Europe's smaller and more unusual museums boast retail spaces with a surprising "wow" factor, often as well-curated as the galleries.