A candidate for the coveted James Beard "Rising Star Chef" award for three consecutive years, William Bradley continues to build on his reputation as a chef to watch. Bradley, who earned kudos as executive chef at the critically acclaimed Vu restaurant at the Hyatt Regency Scottsdale Resort & Spa, recently returned to his hometown San Diego to take the helm at the Addison at Grand Del Mar.
The resort's signature dining venue, the Addison is named for Addison Mizner, the noted architect who launched the Florida Renaissance movement in the 1920s with Mediterranean-style designs inspired by the decorative arts of Spain, Venice, Portugal and Morocco. Bradley, who is known for his artisanal approach to cooking highlighted by a decidedly Mediterranean flair, is right at home in the luxury digs, using fresh California ingredients to create intensely flavorful, yet often simple, dishes that delight the palate.
---
Grilled lobster with Thai red curry sauce Serves 4
For the lobster:
2 whole lobster tails
Olive oil, for basting
Smoked sea salt, to taste
Split lobster tails in half. Baste with olive oil and smoked sea salt to taste. Grill with the shell side down for 5 minutes. Flip and grill with the meat side down for an additional 5 minutes. Remove from heat.
For the Thai red curry sauce:
2 cloves garlic, chopped
1 teaspoon minced ginger
1 tablespoon brown sugar
3 tablespoons Thai red curry paste
4 tablespoons olive oil 1⁄2 cup coconut milk
1 tablespoon yuzu lime juice (available in specialty food stores)
2 tablespoons chopped parsley, for garnish
In a saucepan over low heat combine garlic, ginger, brown sugar, curry paste and olive oil. Sauté for 5 minutes, stirring continuously. Add coconut milk and bring to a boil. When mixture comes to a boil, remove from heat. Add yuzu lime juice. Strain through a fine mesh strainer. Cover and keep warm until ready to use.
PRESENTATION: Place one lobster tail on each of four plates. Spoon Thai red curry sauce over each lobster tail. Garnish with chopped parsley.
---
Lavender-roasted heirloom carrots Serves 4
For the carrots:
16 medium heirloom carrots
2 tablespoons clover honey
2 tablespoons whole butter
Sprigs of dried lavender
Sea salt
In a saucepan, combine honey and butter and bring to a slight simmer. Place carrots in a large roasting pan. Pour honey and butter mixture over carrots. Season with lavender sprigs and sea salt. Place in a preheated 400- degree oven for 10 minutes. Remove carrots from oven and allow to cool to room temperature.
For the carrot sauce:
2 cups organic carrot juice
1⁄2 cup heavy cream
2 tablespoons whole butter
Sea salt
Place carrot juice in a saucepan and cook over medium heat until reduced by one-half. Add heavy cream and butter and reduce again by one-half. Remove from heat. Add sea salt to taste.
PRESENTATION: Divide carrots into four portions and place one portion on each of four plates. Spoon sauce over carrots.
---
Seared sea scallops with Pommery mustard sauce Serves 4
For the sea scallops:
8 fresh sea scallops
2 tablespoons grape seed oil
Sea salt
Lightly season scallops with sea salt.
Heat grape seed oil in a sauté pan over medium heat until it begins to smoke. Add scallops and immediately adjust to low heat. Cook scallops for 2 minutes on each side. Remove from heat.
For the Pommery mustard sauce:
2 whole shallots, chopped
2 cloves garlic, chopped
2 tablespoons tarragon, chopped
2 tablespoons French salted butter
2 tablespoons grape seed oil
2 cups chardonnay 1⁄2 cup heavy cream
1 cup French Pommery mustard Sea salt, to taste
In a saucepan over medium heat, combine shallots, garlic, tarragon, butter and grape seed oil. Cook for 3 minutes or until garlic and shallots become translucent. Add chardonnay. Cook down until two-thirds of the liquid is reduced. Remove from heat. Add heavy cream and Pommery mustard. Place the saucepan back on medium heat, stirring occasionally for 3 minutes. Remove from heat and let rest for 3 minutes. Add sea salt to taste. Strain mixture through a fine mesh strainer. Return the strained sauce to a small saucepan and keep warm until ready to plate.
PRESENTATION: Spoon one tablespoon of sauce onto each of four plates and top with two scallops per serving.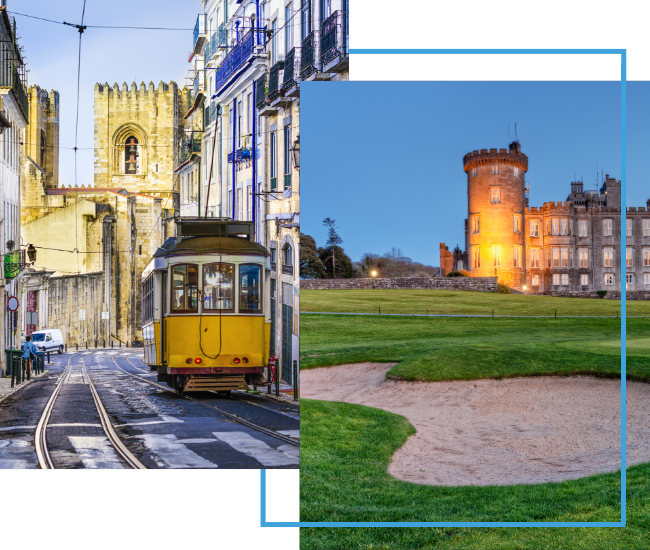 FX Excursions
FX Excursions offers the chance for once-in-a-lifetime experiences in destinations around the world.
Explore Excursions
Mazatlán, Mexico, has long been an attractive home destination for Canadian and American retirees, but, in recent years, young, digital nomads have also discovered the charms of this coastal city, finding inexpensive accommodations, beautiful weather and plenty of bandwidth for working remotely. The laid-back beach scene definitely eases the transition of relocating to Mexico's West Coast.
Sponsored Content
Exclusive Sailing with Global Traveler
For its third year, Global Traveler awards the airline, cruise line and hotel brand best representing diversity, equity and inclusion within the travel industry. Over the past year Global Traveler analyzed many airlines, cruise lines and hotel brands to determine which companies prove most committed to changing the world through diversity and inclusion.