By the time he was 23 years old, Chef Jean-Marie Zimmerman was already overseeing a staff of 35 culinary professionals. Today he serves as the global culinary ambassador for one of the world's — if not the world's — most prestigious fleets of luxury ocean liners.
As global culinary ambassador for Cunard, Zimmerman sets the culinary standards of excellence for the fleet's flagship Queen Mary II, Queen Elizabeth II and Queen Victoria. His position requires the ultimate in vision and creativity as he strives to meet — and exceed — the expectations of a diverse and highly discriminating international guest list.
Born in Strasbourg, France, Zimmermann discovered his love of cooking under the watchful eye of his grandmother, who helped him hone the skills that eventually led to a position in one his town's most respected restaurants. With his eye on the prize, Zimmerman continued his culinary journey with stops in Cannes, Monte Carlo and London.
For five years he was chef and proprietor of his own fine-dining restaurant where he earned a Michelin Red M, an Egon Ronay Star and a Michelin Star. He also served as president of Euro-Toque in the late 1980s under the direction of the creator of the evolutionary culinary movement, Paul Bocuse.
Zimmermann finds inspiration in the exotic destinations that comprise a Cunard world cruise itinerary.
"I look forward to meeting the local growers to sample and buy some of the world's most intriguing native ingredients to keep the menus fresh and exciting," said Zimmerman, who also discovers flavors closer to home. "I enjoy the pleasure of exploring rural markets and produce shops, discovering local fish, meats, vegetables and seasonings. Living near the coast in Bordeaux, I can enjoy fresh oysters, fresh Atlantic fish cooked in my own light-and-healthy combinations."
---
Maine lobster summer salad with asparagus, avocado, mango, pineapple and papaya topped with chervil lemon dressing
For the lobster salad:
1 pound lobster tail
Court-bouillon (water-based stock usually infused with white wine, lemon juice, celery, garlic, peppercorns, thyme, bay leaf)
12 ounces baby lettuce, washed (a mixture of arugula, lamb, frisee)
4 ounces green asparagus, cooked and cooled
4 ounces avocado, peeled and sliced
3 ounces mango, peeled and julienned
3 ounces pineapple, peeled and julienned
2 ounces papaya, peeled and sliced
Poach the lobster tail in court-bouillon for 12 minutes. Remove from heat, shell and refrigerate meat. Wash the lettuce and set aside.
---
For the chervil lemon dressing:
1 cup olive oil
1 tablespoon chervil
1 tablespoon white onions, chopped
Juice of 2 fresh lemons
Tabasco sauce, to taste
Salt and pepper, to taste
Sugar, to taste
Combine all ingredients in a blender until emulsified. Adjust seasoning to taste.
PRESENTATION: Arrange the lettuce on each of five plates. Slice the cooked lobster tail and arrange on top of the lettuce. Garnish with asparagus, fruit and avocado. Drizzle with chervil lemon dressing.
---
Peking marinated barbarie duck breast with plum sauce Serves 5
For the duck:
1½ pounds duck breast
¼ cup ginger paste
¼ cup garlic paste
1 cup vegetable oil
1 teaspoon five spice powder (available in Asian markets)
1 cup vodka
1 tablespoon red food coloring
Salt and pepper, to taste
2 tablespoons honey
1 tablespoon brown sugar
2 teaspoons ketjap manis (available in Indonesian markets)
Purée the ginger paste, garlic paste and vegetable oil. Set aside. In a mixing bowl, combine the five spice powder, vodka, brown sugar, ketjap manis, food coloring, salt and pepper. Add the ginger paste purée. Mix well. Spoon mixture into the duck breast and refrigerate for 2 hours. Brush the duck breast skin with a mixt ure of honey and ginger. Bake at 325 degrees for 10 minutes until cooked to medium or desired doneness.
---
For the plum sauce:
1 ¾ tablespoons garlic
5 teaspoons ginger
2 cups plum sauce (available in Asian markets)
2 tablespoons hoisin sauce
1 tablespoon ketjap manis
6 fresh plums, peeled and diced
1 tablespoon rice wine vinegar
2 cups chicken stock
In a saucepan over medium heat, combine all ingredients and cook until mixture reaches a sauce consistency.
PRESENTATION: Slice duck breast and top with plum sauce.
---
Peanut parfait with caramel and coconut butterscotch sauce Serves 4
For the parfait:
1 14-ounce can condensed milk
2 egg yolks
4 tablespoons sugar
5 tablespoons peanut butter
1 cup heavy cream
To make the caramel sauce, heat the unopened can of condensed milk in a pot of boiling water for 3 to 4 hours. Remove the can from the water. Set aside to cool. Open the can and extract about 1/3 cup caramel. Set aside.
Whisk egg yolks and sugar together to form stiff peaks. Add the peanut butter. Whip the heavy cream and fold it into the peanut butter mixture. Divide the mixture into two parts. Pour one half into four individual ring molds and freeze for 45 minutes.
Remove the peanut butter molds from the freezer and pipe caramel sauce over the top of the frozen mixture (save some caramel sauce for garnish). Top with remaining peanut butter mixture and return to the freezer for a minimum of 2 hours.
---
For the butterscotch sauce:
1 cup sugar
2 teaspoons butter
¾ cup cream
1¼ cup coconut milk
In a saucepan over low heat, melt the sugar until it is golden in color. Add the butter, cream and coconut milk. Cool to room temperature.
---
For the peanut praline:
½ cup sugar
2 tablespoons peanuts
In a saucepan over low heat, melt the sugar. Stir in the peanuts. Pour the mixture onto a sheet of grease-resistant paper. Cool to room temperature. Crush the praline into small pieces. Set aside for garnish.
PRESENTATION: Spoon coconut butterscotch sauce onto each of four plates. Unmold peanut butter parfaits and place one on each plate. Garnish with reserved caramel sauce and crushed peanut praline. Serve with cookies and berries, as desired.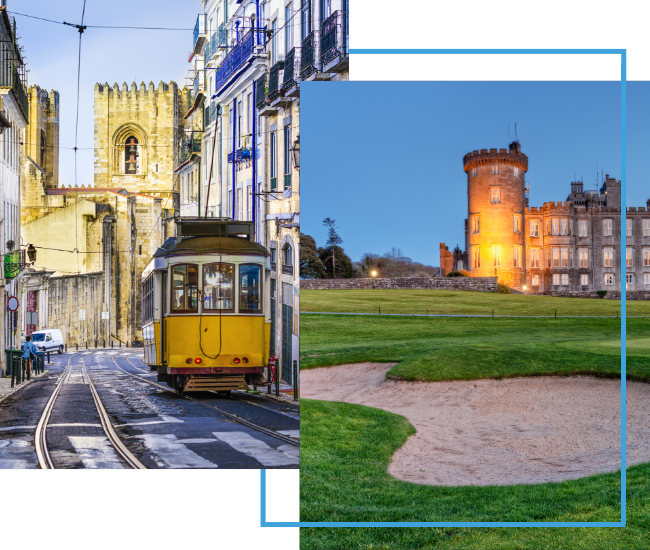 FX Excursions
FX Excursions offers the chance for once-in-a-lifetime experiences in destinations around the world.
Explore Excursions
There's no doubt the northern lights are awe-inspiring and spectacular. Unfortunately, they're also fickle and fleeting, and despite your best-laid plans of checking this item off your bucket list, sometimes Mother Nature's luminescent show just doesn't cooperate. But one cruise line has a new fail-safe in place.
Sponsored Content
Whether it's the people, the craic (fun) or the coasts, travelers always find something to love about the island of Ireland. What fills your heart?
Think you need a degree in sailing to enjoy a yachting holiday? Dream Yacht Worldwide, a leader in yacht charters, wants you to relax and enjoy the journey. Newly expanded to include the British Virgin Islands, Martinique, Tahiti and the Seychelles, the "Easy Crewed" offered by Dream Yacht Worldwide also include charter options in Greece and Croatia.