AS TRAVELERS SAIL on European Waterways' luxury hotel barges, their taste buds are delighted by a resident master chef preparing dishes reminiscent of the region they are cruising in using fresh, local ingredients. For passengers aboard Hotel Barge La Belle Epoque, Chef Arnis Maskevics provides an outstanding gastronomic experience.
Maskevics, born in Latvia, lived in and worked all over Europe, picking up the nuances and customs of various cultures' cuisines. In 2018 he joined European Waterways and has been wowing guests with his high-end culinary creations ever since. His dishes, paired with a selection of fine wines, perfectly complement the beautiful natural surroundings of the European waterways.
WHICH DESTINATIONS INSPIRED YOU, AND HOW HAS THAT INSPIRATION TRANSLATED INTO YOUR CULINARY CONCEPTS? I was inspired at an early age by my grand- mother. We spent a lot of time at her house in rural Latvia where there were no local shops, so she used everything available to her from her garden and the surrounding land. I've always been amazed at the diversity she could create with the same basic ingredients such as rice, eggs and potatoes. I think this is reflected in my cooking and menus; I try to push the limits with basic ingredients, finding new ways of cooking and presenting. For me, it is about changing guests' perception of food.
WHOM DO YOU CONSIDER TO BE YOUR CULINARY HERO? I don't have a singular culinary hero. It has been a collective experience about curiosity and meeting new people from different cultures. I've traveled extensively, and it's the people who show me new ways of mixing ingredients and preparing meals that are my culinary heroes. If you keep your eyes, ears (and taste buds!) open, you're guaranteed to be inspired, be it by a street vendor preparing paella in the heart of Barcelona or an experimental English chef at a seaside restaurant exquisitely searing the catch of the day.
WHAT ONE PERSON MOST INFLUENCED YOUR COOKING STYLE? Again, for me there is no one person; it is inter- linked with my travel. My influences, like my meals, are a mixture of things. My own Latvian background and up- bringing is one, but also the flair I've taken from working in Spain, the presentation and detail from the exacting chefs I worked with in France, and the innovation and experimentation constantly promoted in England. Experimentation suits cooking because there are no real rules; it is a constantly evolving adventure.
WHAT IS YOUR FAVORITE FOOD CITY? London. There is nowhere else on the planet capable of contending with the myriad different cuisines on show. And it isn't all expensive — some of the best food here is affordable for everyone.
WHAT DO YOU THINK THE NEXT BIG TREND ON THE FOOD SCENE WILL BE? More and more guests want an authentic sampling of the cuisine indigenous to the region. Food is an integral and participatory element of the holiday experience; guests want high-quality, locally sourced food that has a story. I think there will be an increase in demand for food locally and sustainably sourced, hence why chefs must be able to create a large variety of tastes and texture from the same basic ingredients, just like my grandmother taught me!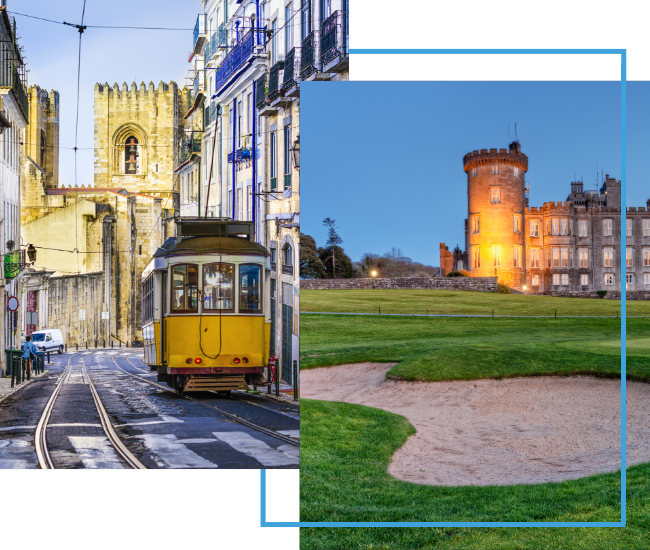 FX Excursions
FX Excursions offers the chance for once-in-a-lifetime experiences in destinations around the world.
Explore Excursions
There is something magical about sipping a glass of local wine while watching the sun slip into the Aegean Sea as the afterglow tinges traditional, white-washed Cycladic houses with glorious shades of rose, purple and gold. Ancient Greeks believed Helios, the Sun God, caused sunsets by driving his fiery chariot into the sea. Standing at water's edge in Mykonos, watching the sky slowly turn from purple to inky black, you almost believe it.
Sponsored Content
In an increasingly digital and interconnected world, the Global Business Travel Association (GBTA) Convention remains an indispensable platform for business travel industry professionals seeking to make the most of the power of face-to-face connections. Taking place August 13–15 in Dallas, the 2023 GBTA Convention provides the unique opportunity for professionals and companies to join visionaries, thought leaders and industry experts for meaningful networking, cutting-edge insights and inspiring innovation.
The prospect of a post-visit treasure hunting session inside the shops of landmark museums such as the Louvre in Paris, the Uffizi Gallery in Florence and The British Museum in London can be irresistible. However, some of Europe's smaller and more unusual museums boast retail spaces with a surprising "wow" factor, often as well-curated as the galleries.