When a renowned culinary master the caliber of Alain Ducasse declares his protégé a chef who "embodies French savoirfaire and the French art of living," the world takes notice.
Ducasse was describing Jean-François Piège. Now renowned in his own right, Piège took the helm at Les Ambassadeurs in Paris' Hôtel de Crillon last year. His appointment as chef coincided with the unveiling of the celebrated restaurant's new décor — an enchanting combination of soft tones selected to complement the nuances of the marble flooring and vintage Baccarat chandeliers.
Only in his mid-30s, Piège has already achieved much of what top chefs the world over hope to accomplish in a lifetime. A native of the Drôme region in southeastern France — noted for its variety of fresh produce — Piège announced at an early age that he intended to become a gardener. His knowledge and affinity for plants eventually led him to pursue a culinary career that has taken him to world-class kitchens from Paris to the French Alps and from the French Riviera to Monaco and back to Paris.
While Alain Ducasse remains a master, his protégé, Jean-François Piège — a soft-spoken gentleman who personally visits with guests tableside — is rapidly building his own world-class reputation.
---
White eggs delicacy, morels, crayfish and chive oil Serves 4
For the white eggs:
4 fresh eggs
8 slices of thinly pressed dry bread
1/3 ounce of dried morel mushrooms
1/3 ounce of chopped chive
Juice of one lemon
Salt and pepper, to taste
Separate the whites from the yolks, and keep each yolk separate. Beat the whites with a dash of salt, season with lemon juice, cracked pepper, dried morels and chopped chive. Lay a slice of bread in each dish, then line the side of the dish and the bread with the egg whites, forming a well shape. Add a yolk in the center of the well, and then flatten with egg whites. Cook at 390 degrees for 5 minutes. Remove from oven and let rest for 1 minute.
For the morel sauce:
7 ounces morel juice
1/3 ounce crystallized lemon peels
3 1/2 ounces salpicon of morel
1 3/4 ounces lightly whipped cream
Reduce the morel juice in a pan and add the salpicon (a French term for cooked, diced ingredients bound with a sauce) and the peels of the lemon; season to your liking and add the cream.
For the side dish:
4 crayfish tails
4 small morels
12 chive flowers
8 strips of crystallized lemon
1 ounce chive oil
PRESENTATION: Take the eggs from their dishes, and place them on a plate. Top with a slice of bread, then a crayfish tail, a morel and a chive flower. Add some chive oil and morel sauce. Serve and enjoy.
---
Caviar Osciètre, nage corsée, langoustines Serves 4
For the Osciètre caviar:
2 hearts of romaine lettuce
Coral of lobster (unfertilized lobster roe)
2 3⁄4 ounces Osciètre caviar
Lemon juice
French sea salt
Colombino oil
Wash the hearts of the romaine lettuce and cut into 3-inch wedges. When it is time to serve, dress with lemon juice, Colombino oil and French sea salt. Take out the coral from the lobster and mix it with a little bit of water. Keep some raw coral on the side. Cook the rest of it in the microwave, chop and refrigerate until ready to use.
For the pate pastilla:
8 3⁄4 ounces flour
10 1⁄2 ounces water
1 3⁄4 ounces egg white
1 3⁄4 ounces olive oil from Colombino
1⁄3 ounce fine salt
Combine flour, egg whites, water, salt and oil in a bowl. Whisk everything to obtain a soft dough. Drain. Spread the dough as thin as possible, and cook it in the oven at 350 degrees until you see some air bubbles on the dough, but it is still very soft. Cut the dough into 4-inch squares. Refrigerate.
For the langoustines:
10 big langoustines
Citric acid
Shell the langoustines, clean the sand, and cut them in half, head to tail. Put a little bit of citric acid on the langoustines. Roll the langoustines on a squared pastilla pasta whose corners have been cut to avoid uniformity. Add some lobster coral on one border. Deep fry in oil at 375 degrees for about 10 seconds. Drain well.
For the nage corsée:
17 1⁄2 ounces langoustine claws
1 3⁄4 ounces minced shallot
4 cups dry white wine
4 cups cream
1 tablespoon coriander seeds
1 tablespoon black pepper
1 stalk celery
1 carrot
1 3⁄4 shallot (additional)
1 yellow lemon
Tobasco to taste
Sea salt to taste
Olive oil for cooking
In a cast iron pan, sauté the minced shallot in olive oil. Add the crushed lobster claws and deglaze with the white wine. Reduce by half and add the liquid cream. Cover and simmer over low heat until you reach the desired consistency. Strain. In a pan, sauté the celery stalk, carrot, shallot and peeled, sliced lemon. Add the cream base, black pepper and coriander. Let infuse for 15 minutes, then drain and chill. To finish, add a few drops of Tabasco, lemon juice and salt and pepper to taste. Refrigerate. Reserve half of the cream base and emulsify in a bowl.
PRESENTATION: Gently mix the emulsified langoustine cream with a bit of cooked coral lobster and caviar. Place in a Chinese cup. Put the rest of the langoustine cream (not emulsified) in a grease-proof paper cone and use cone to draw decorative lines on oval presentation platters. Build a tower using 5 langoustine pasta for volume. Add the lettuce on top of the tower and top with three domes of caviar. Present the plate with the Chinese cup on the side.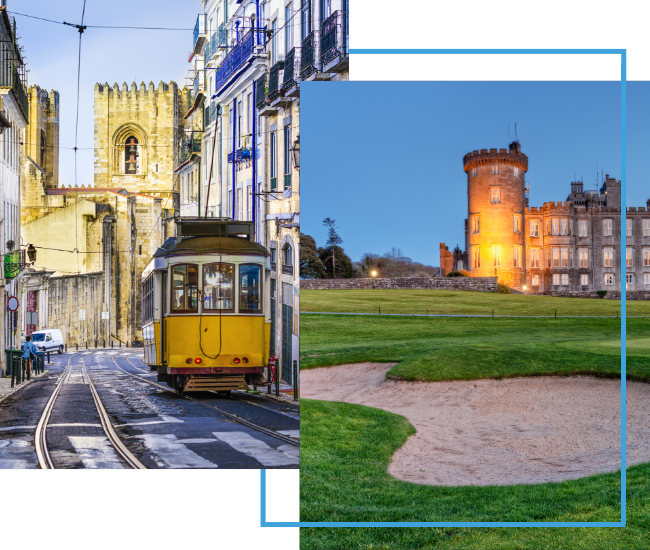 FX Excursions
FX Excursions offers the chance for once-in-a-lifetime experiences in destinations around the world.
Explore Excursions
There is something magical about sipping a glass of local wine while watching the sun slip into the Aegean Sea as the afterglow tinges traditional, white-washed Cycladic houses with glorious shades of rose, purple and gold. Ancient Greeks believed Helios, the Sun God, caused sunsets by driving his fiery chariot into the sea. Standing at water's edge in Mykonos, watching the sky slowly turn from purple to inky black, you almost believe it.
Sponsored Content
United Airlines is in the midst of a major initiative to modernize its fleet over the next several years. After first announcing the plan in 2021, planes fitted with United's signature interior are finally beginning to appear across the airline's narrowbody fleet of Boeing and Airbus planes. United flyers are sure to notice these enhancements from the moment they step on board: Each new or updated plane sports remodeled seats, seatback entertainment screens for everyone, Bluetooth connectivity and more, all adding up to a better experience on every journey.
The prospect of a post-visit treasure hunting session inside the shops of landmark museums such as the Louvre in Paris, the Uffizi Gallery in Florence and The British Museum in London can be irresistible. However, some of Europe's smaller and more unusual museums boast retail spaces with a surprising "wow" factor, often as well-curated as the galleries.