Nathan Outlaw, the 2-starred Michelin chef from England, brings his critically acclaimed culinary skills to Burj Al Arab Jumeirah in Dubai, marking his first international venture. Outlaw identifies his cooking style as "one of simplicity, but with complex flavor combinations." Diners at the recently reopened and refurbished Al Mahara can expect technical seafood cooking full of flavor using only the finest sourced ingredients. The menu at Al Mahara takes inspiration from Outlaw's restaurants in Cornwall and London.
Outlaw's first of many professional accolades came in 2014/15 when he was named AA Chef 's Chef of the Year. His career has spanned many aspects of the culinary world, from writing and education to television. And now, as his career takes him to new lands, the culinary world awaits his future successes.
WHAT THREE GO-TO INGREDIENTS ARE ALWAYS IN YOUR HOME KITCHEN? Vinegars: I use them for seasoning as much as I do salt. I have a variety in the cupboard so that I can use them to balance whatever I'm cooking. Cheese — I love Cheddar cheese (actually, I love most cheese), and it's so easy to whip something up quickly. I really like cheese on toast and, if I have a few minutes, I'll take the time to make proper Welsh rarebit. Cheese is a versatile ingredient. Free-range eggs, of course. I only ever use "happy eggs"; again, a go-to for versatility.
WHAT'S YOUR FAVORITE SEASON FOR COOKING, AND WHY? That's a difficult one! I like summer because I'm a big fan of cooking over coals, and in England that proves a bit problematic in the winter. There's nothing quite like catching mackerel from the beach and putting it straight on the barbecue. However, I also like spring and autumn — the fruit and vegetables available are wonderful, and it's exciting to see the first of a crop come into the kitchen. But then there's winter, which means hearty stews, casseroles and lovely British puds with lashings of custard.
ASIDE FROM YOUR CURRENT POSITION, WHAT'S THE BEST JOB YOU'VE EVER HAD? I've never done anything other than cook! When I was 16, I was cooking in a pub and a golf course on weekends. When I was younger, I did spend some time with a friend whose family had a market stall — that was fun. Really early mornings and hard work, but also a great laugh and my first experience being treated as an adult. Mind you, I spent most of the money I earned buying rubbish and bacon rolls.
WHAT'S THE FIRST MEAL YOU EVER COOKED? I have no idea! At school, the first task was to design a salad. At home, it was probably something easy like a Bolognese or a shepherd's pie. Once, at InterContinental Hyde Park Corner, I worked with chefs from all over the world and enjoyed cooking and learning about Asian and Middle Eastern dishes, which I still love to this day. When I worked for Rick Stein at The Seafood Restaurant, I spent a year prepping fish and never got anywhere near the stoves. At the time, it seemed harsh, but now I realize it was the best training.
AL MAHARA
Burj Al Arab Jumeirah
Dubai, United Arab Emirates
tel 971 4 301 7600
jumeirah.com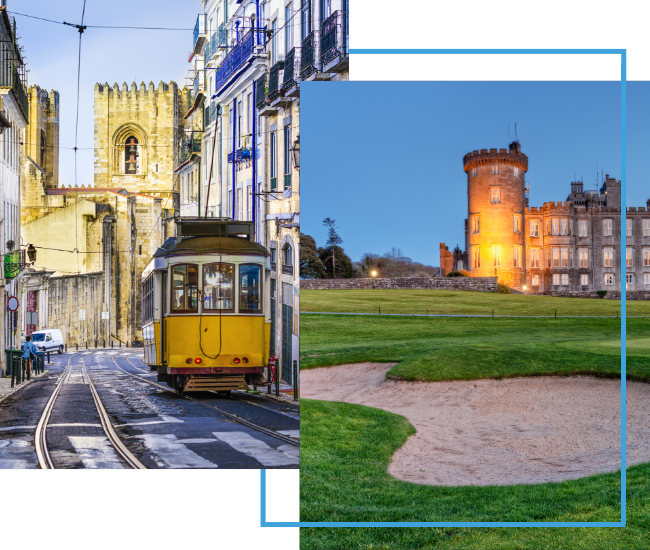 FX Excursions
FX Excursions offers the chance for once-in-a-lifetime experiences in destinations around the world.
Explore Excursions
It's time to start dreaming of your next trip. Here's some destination inspiration for you. Take a visual journey through these U.S. Christmas markets with us.
Sponsored Content
Don't risk losing all the money you've spent if you must cancel your trip at the last minute. Allianz Travel Insurance can give you:
Everyone loves a good Christmas tree, but these iconic hotels around the world take it one step further with designer-styled trees illuminating lobbies and public spaces, wowing all who enter. From Lela Rose to Louis Vuitton, don't miss these ultra-luxury trees redefining tree decorating as we know it.