Chef Grant MacPherson's career has taken him around the world and across many of the most celebrated dining and hospitality destinations, cooking 5-star cuisine, developing menus and opening restaurants while maintaining his wanderlust and passion for all things culinary.
"I believe truly great cooking to be a noble art. It's an expression of generosity engaging all five senses to elicit a response, generally underpinned by pleasure," said MacPherson. His pursuit of the noble art led him to Raffles Hotel Singapore, Bellagio Las Vegas, Wynn Las Vegas, Wynn Macau, three Regent Hotels, several Four Seasons, The Ritz-Carlton Big Island and Sandy Lane Hotel in Barbados. A Scotland native now based in Las Vegas, MacPherson heads up his company Scotch Myst, a food and beverage consultancy specializing in designing and executing custom solutions for boutique hotel and restaurant properties.
Current endeavors at Scotch Myst include helming The Merrywell gastro-pubs at the Crown Perth and Crown Melbourne, a new project in Beverly Hills and the restaurant remodel for St. Petersburg's Grand Hotel Europe by Orient-Express. Once called an "inspirer, innovator and perfectionist" by Wynn Macau's president, Ian M. Coughlan, MacPherson continues to mold the world of cuisine, spreading a love of food, camaraderie and respect.
Wild mushroom soup, woodland mushrooms
Serves 4
For the soup:
2 tablespoons olive oil
5 shallots, chopped
3 garlic cloves, chopped
1 pound wild mushrooms (chanterelle, oyster, button, lobster or shimeji)
6 cups vegetable stock
1 cup heavy cream
Salt, to taste
Ground white pepper, to taste
Lemon thyme, for garnish
In a large saucepan over medium-high heat, warm olive oil. Add shallots and garlic and cook 3 minutes. Meanwhile, cut the mushrooms into quarters. Add the mushrooms to the pan and cook 10 minutes longer, stirring occasionally. Add vegetable stock and bring to a boil over high heat. Reduce heat to low and simmer 45 minutes longer. Let cool. In a food processor, blend mixture well. Return to the pan, add cream, salt and pepper and heat through.
For the woodland mushrooms:
1 tablespoon vegetable oil
8 ounces wild mushrooms, cut into quarters
2 teaspoons red wine vinegar
1 teaspoon Dijon mustard
⅓ cup extra virgin olive oil
1 tablespoon chopped walnuts, toasted
1 tablespoon lemon thyme
While the soup simmers, prepare woodland mushrooms. In a 12-inch skillet over medium-high heat, warm oil, add mushrooms and cook until just tender, about 3 minutes, stirring frequently. In a large bowl, combine red wine vinegar and Dijon mustard. Whisk in olive oil until well blended. Stir in mushrooms, walnuts and lemon thyme. Mix well.
PRESENTATION: Place soup in a bowl. Garnish with lemon thyme and serve with warm woodland mushrooms.
Cajun ahi tuna salad, sea beans, Dijon mustard emulsion
Serves 4
For the Dijon mustard emulsion:
¾ cup chicken stock
¼ cup heavy cream
¼ cup crème fraîche
2 tablespoons Dijon mustard
4 ounces butter, cut into chunks
Salt
Ground black pepper
In a small saucepan over medium heat, bring chicken stock, cream, crème fraîche and mustard to a simmer. Cook until mixture is reduced to ½ cup; whisk in butter until melted. Put mixture in a blender and blend 30 seconds to emulsify. Season with salt and pepper and strain.
For the salad:
8 ounces Hawaiian ahi tuna
3 tablespoons Cajun seasoning
⅓ cup red wine vinegar
⅔ cup extra virgin olive oil
1 small head Boston lettuce
2 ounces sea beans or French-cut green beans, blanched
2 large shallots, finely chopped
1 tablespoon chopped chives
To prepare your salad, trim tuna into long, thin loin shape. Rub with Cajun seasoning. In a dry, 10-inch skillet over high heat, sear tuna until rare. In a medium bowl, combine red wine vinegar with olive oil until well blended. Toss with Boston lettuce leaves, beans, shallots and chives.
For the garnish:
Cajun seasoning
Coarse salt
PRESENTATION: Slice tuna into ½-inch slices. Arrange on serving plate. Add Boston lettuce salad and spoon some Dijon emulsion on each serving. Sprinkle tuna with additional Cajun seasoning and coarse salt.
Seared organic chicken, Wisconsin cheddar mac and cheese, rosemary jus
Serves 4
For the chicken:
4 boneless, skinless organic chicken breast halves, 5–6 ounces each
Salt
Ground black pepper
2 tablespoons vegetable oil
Preheat oven to 375 degrees. Season chicken with salt and pepper. In a 12-inch skillet over medium-high heat warm oil. Add chicken and brown on both sides. Transfer chicken to a baking pan and roast 8 minutes in the oven or until chicken is cooked through.
For the mac and cheese:
1 cup heavy cream
1 large garlic clove, chopped
6 ounces sharp Wisconsin cheddar cheese, shredded
12 ounces cooked elbow macaroni
Salt
Ground black pepper
In a saucepan over medium heat, bring cream and garlic to a simmer. Reduce heat to low and simmer until the mixture is reduced by half. Remove from the heat and whisk in cheddar cheese until blended. Stir in elbow macaroni, salt and pepper until well mixed.
For the rosemary jus:
1 cup dark chicken jus
1 tablespoon chopped rosemary
In a small saucepan over high heat bring chicken jus and rosemary to a boil. Reduce heat to low and simmer 10 minutes.
For the garnish:
1 large tomato, diced
Braised scallions or asparagus
PRESENTATION: Arrange chicken on plate, top with rosemary jus and diced tomatoes. Serve with mac and cheese. Garnish with braised scallions or asparagus.
Scotch Myst
5045 Mardon Ave.
Las Vegas, NV 89139
tel 702 301 3241
scotchmyst.com
Read Chef MacPherson's Lamb Drummette recipe.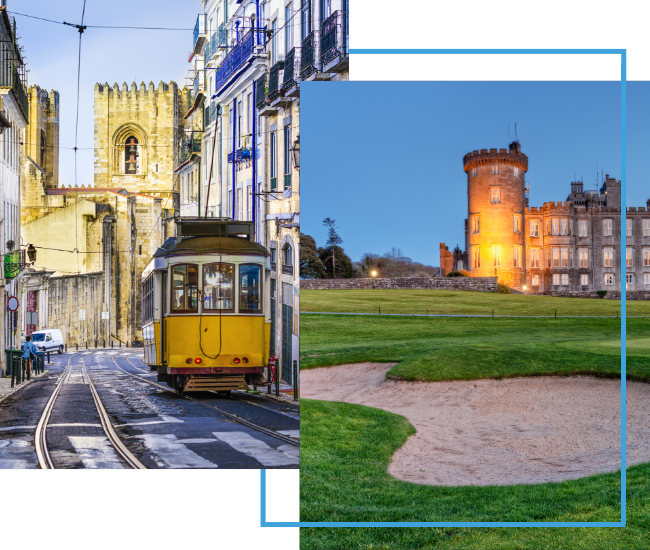 FX Excursions
FX Excursions offers the chance for once-in-a-lifetime experiences in destinations around the world.
Explore Excursions
Pleasant weather, autumn foliage and vibrant flowers are among the many delights awaiting nature lovers at botanical gardens and arboretums across the United States. However, some of these green spaces take on additional color this month and through Halloween when enterprising gardeners, landscape architects, management and other creative minds cast a spell with themed environments running the gamut from spooky to utterly bewitching.
Sponsored Content
Learning more about our readers' travel habits and preferences ensures Global Traveler delivers the content you desire. As the travel industry has adapted and changed over the last few years, it's more important than ever to connect. To best meet your short- and long-term travel content needs, please help us!
For travelers who love all things autumn, Crystal Springs Resort, New York City's closest destination resort, features special offers and experiences to meet the demands of everyone's fall bucket list. Located only 80 minutes outside New York City in Sussex County, New Jersey, Crystal Springs Resort offers a quick getaway to enjoy fall foliage. Are any of these new offers or experiences on your bucket list?