Stefan Jarausch's entrée into the world of cuisine — or cuisines of the world — began when he was a boy growing up in Bielefeld, Germany, where his Uncle Jürgen, a seasoned world traveler, shared his love of travel and food with friends and family by recreating the dishes he sampled during his junkets through Europe and beyond.
Serving as an amateur sous chef alongside his uncle as they prepared elaborate meals — often with a French influence — Stefan gained an appreciation for the way fine food enjoyed in good company had a way of bringing people together in boisterous celebration. He advanced his cooking skills with a three-year apprenticeship in Berlin, followed by a stint in Geneva that ultimately led to the adventure of a lifetime: With a Michelin Guide in hand, Stefan set out for Lyon, France, where he worked his way through the list, knocking on doors and inquiring about jobs.
The risky venture paid off when he landed a position at L'Auberge Du Pont de Collonges working under renowned Chef Paul Bocuse. Stefan's four years in France provided him with what he considers the foundation of his culinary methodology.
In 1994, Stefan relocated to the United States, where he joined the culinary team at The Ritz-Carlton, Boston, a move that led to a decade-long tenure with The Ritz-Carlton Hotel Co. In 2008, Stefan took the reins at the venerable Fairmont Copley Plaza's Oak Room. In his current role as executive chef at The Fairmont Copley Plaza's recently reimagined dining venue, OAK Long Bar + Kitchen, Stefan combines the elements of home cooking that originally inspired his interest in becoming a chef with the experience gained during his diverse culinary career. The result: food and drink designed to serve as a catalyst for conversation reminiscent of the meals he served with his uncle back in Germany.
Cranberry apricot chutney
1 large orange
1 lemon
½ grapefruit
1 cup dried apricots
1½ cups sugar
1 tablespoon fresh ginger, minced
1 cup cranberry juice
12 ounces fresh cranberries
Begin by zesting and juicing the orange, lemon and grapefruit. Set aside. Chop the dried apricots into ¼-inch pieces. In a thick-bottomed pan, caramelize the sugar to a light brown color. Add citrus zest and ginger. Cook for a minute or two. Add the citrus juice, cranberry juice and cranberries; cook until the cranberries begin to crack open. Remove from heat and let cool.
Oven-fired mussels
1 teaspoon extra virgin olive oil
1 teaspoon shallots, peeled and minced
2 garlic cloves, peeled and minced
½ cup Tasso ham
½ fennel bulb, sliced very thin
½ cup cherry tomatoes, halved
1 pound mussels, cleaned and scrubbed
½ cup white wine
1 tablespoon butter
Salt, pepper and red pepper flakes, to taste
1 tablespoon freshly chopped parsley
This dish is best cooked in a cast-iron pan with a cover, but any heavy-duty 4-quart pan with a cover is a suitable substitute. Heat the pan over a moderate flame or power. Add the oil, shallots and garlic. Sauté until the mixture is fragrant and sizzling. Add the Tasso ham, fennel and tomatoes. Cook for 2 minutes over high heat. Add the mussels, white wine and butter. Season moderately with salt, pepper and red pepper flakes. Cover the pan and let steam until most of the mussels are open. (Discard those that do not open.) Taste the liquid and adjust seasoning to taste. Sprinkle with fresh parsley.
Roast chicken
1 3- to 3½-pound whole chicken
1½ pounds potatoes of choice, cut into 2- to 3-inch pieces
1 tablespoon olive oil
1 tablespoon fresh rosemary, chopped
1 tablespoon shallots, peeled and minced
1 tablespoon garlic, peeled and sliced thin
2 tablespoons white wine
1 cup chicken stock, preferably homemade
2 tablespoons butter
Flaky sea salt, freshly ground pepper and Aleppo pepper (optional), to taste
Preheat the oven to 475 degrees. Pre-cook the potato pieces in boiling, salted water for about 10 minutes or until still firm. Set aside. Remove the legs from the chicken and cut them through the joint into 2 pieces. Remove the wings from the chicken. Heat a heavy-bottomed skillet on the stovetop until it is very hot. Rub oil all over the chicken pieces and coat them with chopped rosemary. Sear the seasoned chicken on all sides in the hot pan. Season the potato pieces to taste with salt and pepper and add to the pan. Transfer the pan into the preheated oven. Cook 20–25 minutes, until the chicken juices run clear and the potatoes are nicely browned. Add the shallots and garlic; brown slightly (they will cook fast). Add white wine to deglaze. Add chicken stock and butter; return the skillet to the oven. Continue to cook until the liquid is reduced to sauce consistency. Serve in the skillet.
Bardstown
1 ounce Maker's Mark 46 Bourbon
1 ounce Aperol
½ lime, juiced
3 ounces pink grapefruit juice
Combine all ingredients in a cocktail shaker. Add 4 or 5 ice cubes, close the shaker and shake vigorously at least 50 times. Place 1 large (2-inch by 2-inch) ice cube in a rocks glass. Strain the cocktail over the ice cube. Serve at once.
OAK Long Bar + Kitchen
The Fairmont Copley Plaza
138 St. James Ave.
Boston, MA 02116
tel 617 267 5300
fairmont.com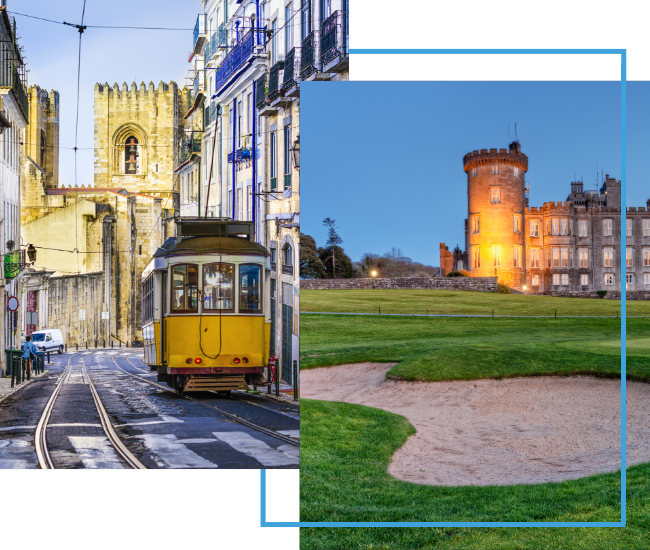 FX Excursions
FX Excursions offers the chance for once-in-a-lifetime experiences in destinations around the world.
Explore Excursions
There's no doubt the northern lights are awe-inspiring and spectacular. Unfortunately, they're also fickle and fleeting, and despite your best-laid plans of checking this item off your bucket list, sometimes Mother Nature's luminescent show just doesn't cooperate. But one cruise line has a new fail-safe in place.
Sponsored Content
Whether it's the people, the craic (fun) or the coasts, travelers always find something to love about the island of Ireland. What fills your heart?
Think you need a degree in sailing to enjoy a yachting holiday? Dream Yacht Worldwide, a leader in yacht charters, wants you to relax and enjoy the journey. Newly expanded to include the British Virgin Islands, Martinique, Tahiti and the Seychelles, the "Easy Crewed" offered by Dream Yacht Worldwide also include charter options in Greece and Croatia.