As a teen growing up in a small Austrian village where garden-centered cooking was the order of the day, Kurt Gutenbrunner knew he wanted to become a chef. At age 14, he enrolled in a professional hotel and restaurant school. Two years later, culinary arts degree in hand, Gutenbrunner signed on as an apprentice at Austria's prestigious Hotel Richard Lowenherz. There he developed an appreciation for the wines of the Wachau region — an influence that remains evident in his culinary style to this day.
Gutenbrunner subsequently served as chef in noteworthy restaurants in Vienna, Austria; Munich, Germany; and New York prior to opening his own New York City restaurants — Wallse, named after his hometown of Wallse-on-the-Danube, in 2000 and Café Sabarsky in 2001. Gutenbrunner's next challenge? Austrian Airlines recently tapped the culinary master to serve as executive chef and catering consultant for its eastbound trans-Atlantic service to Vienna from Washington, D.C.; Montreal, Quebec;and Toronto, Ontario.
"We want our Austrian Airlines passengers to experience the best of Austrian hospitality on board our aircraft," said Guenter Hude, Austrian Airlines' general manager for the Americas. "What better way than to offer them a five-course gourmet meal from Austrian Master Chef Kurt Gutenbrunner?"
In the mood for some authentic Austrian cuisine? Try these Gutenbrunner recipes in your own kitchen.
---
Palatschinken with smoked trout, apples, dill and horseradish yogurt — Serves 8
For the batter
1 cup plus 1 and 1/2 tablespoons milk
3 and 1/2 tablespoons flour
2 eggs
Salt and pepper
Sugar
Mix flour with salt and sugar. Whisk into milk. Add eggs and mix until smooth. Set aside. Heat a nonstick frying pan until very hot. Add a little butter and ladle in just enough batter to cover the bottom of the pan. Once the edges start getting brown, flip palatschinken with spatula and repeat on other side. Makes 8 palatschinken.
For the filling
1/3 cup smoked trout pieces
1/2 Golden Delicious apple,julienned
1/2 red onion,thinly sliced
4 and 1/4 teaspoons fresh grated horseradish
2 and 3/4 tablespoons plain yogurt
2 teaspoons dill
Lemon
Mix the horseradish and the yogurt with a little lemon juice. Lay palatschinken flat and spread with horseradish yogurt. In the middle of the palatschinken, place 3 or 4 slices of apple and a thin layer of red onion and dill. Place the trout directly on top and roll the palatschinken starting from the side closest to you. Cut ends at a 45 degree angle and, at the same angle, in half. Arrange each half on the plate. Garnish plate with dill.
---
Marinated asparagus with prosciutto and organic peppercress — Serves 4
For the asparagus
20 pieces white asparagus
1/3 cup plus 1 tablespoon butter
Salt
Sugar
1/3 cup sliced snow peas
8 slices prosciutto
4 and 1/4 teaspoons peppercress
For the vinaigrette
1/3 cup white wine vinegar
1/3 cup vegetable oil
1/3 cup olive oil
Lemon
Cayenne
Salt and pepper
Peel the asparagus. Cook in salt water and butter until 80 percent done. Let cool. Mix ingredients for vinaigrette. Add the warm asparagus and let cool. Cook the sliced snow peas for 10 seconds. Cool in ice water. Add to vinaigrette. Place asparagus on plate. Cover with thinly sliced prosciutto and top with vinaigrette. Garnish with peppercress.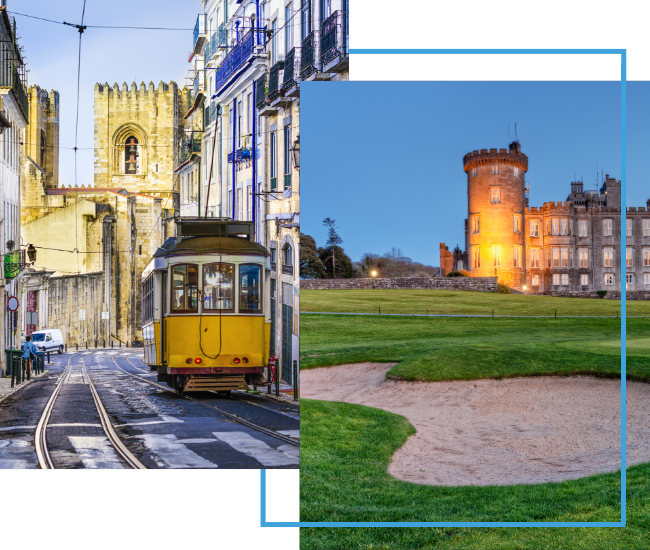 FX Excursions
FX Excursions offers the chance for once-in-a-lifetime experiences in destinations around the world.
Explore Excursions
Did the new film Oppenheimer rouse your interest in the nefarious world of international espionage? You can go straight to the real-life setting for covert actions this November (Nov. 10–12), when La Fonda on the Plaza in Santa Fe hosts a specially themed "Spies, Lies and Nukes" weekend. The hotel actually served as the retreat location for Manhattan Project scientists, who stayed at La Fonda on the Plaza to take a break from the stress of their work. During the weekend, the property's La Fiesta Lounge will make a tasty nod to those days by serving up a special Atomic Martini.
Sponsored Content
The Global Business Travel Association (GBTA) believes business travel is a fundamental force for good and brings the industry together to connect, innovate and set new standards. With members from across the globe, GBTA engages the many voices of business travel to build a collective future, providing a platform for buyers and suppliers to come together, connect with peers, grow their network and shape the future of the industry.
Ever want handcrafted martinis and freshly shucked oysters delivered straight to your room? The Read House's New Martinis & Pearls service has you covered. Shining in 1920s-themed decor, the historic hotel in the heart of Chattanooga offers a true Gatsby-esque experience, now further elevated with this upscale amenity. Guests can now indulge in their perfectly chilled martini, made to order, and "pearls" (oysters) in the comfort of their room.