KAYA PETERS FELL IN LOVE with cooking by watching and learning from her mother. However, she wasn't certain it was the career path for her until after a six-month solo backpacking trip through New Zealand. After graduating top of her class with a Certificate of Culinary Arts in February 2016, she returned to work in Canada's Okanagan region, where she grew up on an organic vegetable farm; she has been in her current role as chef de partie at OAK + CRU Social Kitchen & Wine Bar at Delta Grand Okanagan since 2018.
OAK + CRU draws its inspiration from the fresh ingredients of the area, which includes more than 200 wineries and many local purveyors and artisans. This complements Peters well, as she cites the abundance of fresh local fruits and vegetables as one of the reasons she loves working in the Okanagan.
WHICH FOOD IS YOUR GUILTY PLEASURE? AND, ON THE OPPOSITE END OF THE SPECTRUM, WHAT IS ONE INGREDIENT OR FOOD YOU HATE TO USE? Guilty pleasure would be a nice piece of 70 percent — or darker — chocolate. I'd like to say I would give up chocolate, but I'm not a quitter. I'm not fond of cumin. I got sick after eating a dish primarily spiced with cumin. I had a migraine and cold at the same time, and though that had nothing to do with the dish, I can't smell or eat cumin now without associating it with a migraine.
WHAT DISHES WOULD YOU SERVE AT A PRIVATE DINNER PARTY? I grew up on a vegetable farm, so seasonal produce is important to me. I would most certainly serve in-season dishes. In fall you can't go wrong with meat, cheese, crackers and an array of condiments. Charcuterie boards are one of my favorite plates to design. I would pair the ingredients with a local wine. Next I would prepare squash soup; a favorite of mine uses coconut milk and curry spices. For the main dish: a roast, preferably braised until the meat melts in your mouth. A hearty gravy made from the roasted vegetables and meat drippings would complement. To accompany the protein, butter carrots and mashed potatoes with brown butter and sesame seeds (Mom's recipe, of course) and a seasonal coleslaw. For dessert, there's nothing better than a warm Okanagan apple strudel with vanilla bean ice cream.
WHAT WAS THE FIRST MEAL YOU EVER PREPARED ON YOUR OWN? Growing up, I would make pancakes every Sunday. I was born in Germany, and we moved to Canada when I was 5, so I didn't learn to make fluffy, Canadian-style pancakes until later. Sunday breakfast always consisted of the thinner, German-style pancakes similar to crêpes. With just three ingredients (milk, flour and eggs), they were one of the first things my mom taught me how to make. Together with all the fixings, like homemade fruit compote, breakfast on Sunday was everyone's favorite meal of the week.
IF YOU COULD DESCRIBE YOUR PERSONAL STYLE IN ONE DISH, WHICH DISH WOULD IT BE AND WHY? I still have so much travel and learning to do, but I really enjoy tasting and cooking different styles of cuisines. More specifically, I would say a composed appetizer plate of seared scallops, a purée of creamy carrot, an herb vinaigrette, sautéed baby vegetables and pickled shaved vegetables. I love the way a quick pickle on a shaved vegetable adds brightness to a plate. One of the most important aspects of a good flavor profile — and something I always focus on — is balancing acidity and salt. With that plate, the buttery and salty seared scallops and smooth, decadent purée balance nicely with the acidity of the pickled vegetables and herb vinaigrette.
WHICH CULINARY TREND WOULD YOU LIKE TO DISAPPEAR? While I do appreciate the benefits of a good sous vide and what it brings to the culinary scene, I think the world is moving toward sustainable alternatives. I believe it is time to stop putting everything in plastic bags, for environmental reasons. There's value in learning how to properly cook chicken, steak or vegetables that still maintain the flavor and juices. Trust the process.
OAK + CRU SOCIAL KITCHEN & WINE BAR
Delta Hotels by Marriott Grand Okanagan
1310 Water St.
Kelowna, BC V1Y 9P3
Canada
tel 250 763 4500
marriott.com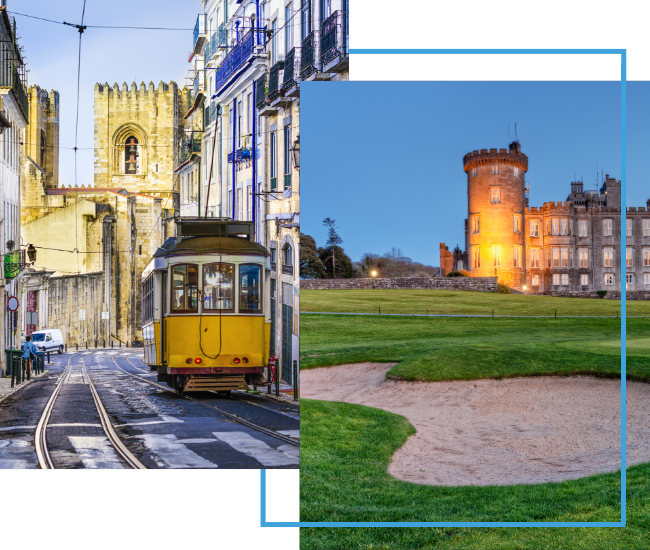 FX Excursions
FX Excursions offers the chance for once-in-a-lifetime experiences in destinations around the world.
Explore Excursions
Pleasant weather, autumn foliage and vibrant flowers are among the many delights awaiting nature lovers at botanical gardens and arboretums across the United States. However, some of these green spaces take on additional color this month and through Halloween when enterprising gardeners, landscape architects, management and other creative minds cast a spell with themed environments running the gamut from spooky to utterly bewitching.
Sponsored Content
Experience the life-changing destination of Greece by exploring its island gems in the Ionian Sea. Scattered off the western coastline of Central Greece, to the south of Peloponnese, the Ionian Islands are an island group comprising large and small islands.
For travelers who love all things autumn, Crystal Springs Resort, New York City's closest destination resort, features special offers and experiences to meet the demands of everyone's fall bucket list. Located only 80 minutes outside New York City in Sussex County, New Jersey, Crystal Springs Resort offers a quick getaway to enjoy fall foliage. Are any of these new offers or experiences on your bucket list?