When Magellan took charge of the first around-the-world voyage nearly 500 years ago, he did not survive the long ordeal, but modern passengers can survive a circumnavigation of the globe in comfort and style aboard a number of today's luxurious cruise ships.
Arrival/Check-In: The Queen Mary 2's New York home port is the Brooklyn Cruise Terminal. I drove to the terminal and upon arrival found a scene of what looked to be pure chaos — private cars, limos and taxis arriving with outbound passengers and picking up folks who just disembarked from a ship that arrived that morning. I eventually got to where I could deposit my luggage with redcaps who made sure it got to where it should be. I then parked my car and proceeded to check-in. I was impressed at how friendly and efficient the check-in process was. I received a QM2 credit card to be used on board and a group boarding number. Cunard has the boarding procedure down to a science, and I was soon on my way to my room, No. 4134 on Deck 4. My luggage arrived shortly thereafter, so I was ready to explore the ship. Guest Quarters: My room included a king-sized bed, a love seat, a desk with desktop outlets and American and European plugs, a desk chair, a coffee table and a fridge. The bathroom was compact and included a shower with a handheld showerhead. The toiletries were Gilchrist & Soames. A cutout balcony featured two recliners and a coffee table. Services/Amenities: The ship is classless except for the three Grill rooms and Grill lounges. Having a room on Deck 4 meant I dined in the Britannia Grill. (Queens Grill and Princess Grill are more exclusive.) Decks 2 and 3 are the main public areas/lobbies, which include the purser's desk, Cunard's travel agents for booking future cruises, duty-free shops, a casino, several restaurants/bars, the planetarium, the Royal Court Theatre, an art gallery, the Queens Room ballroom and the disco, G32. The ship offers a plethora of restaurants/bars/cafés throughout. Two of my favorites were the Commodore Club in the bow on Deck 9, where you can have a drink and enjoy a fantastic view of the ocean as the ship plows through the seas; and the Chart Room on Deck 3, a watering hole which hosts a great jazz band every night. I love jazz, so I was in heaven! The gym and Canyon Ranch Spa are on Deck 7, which also offers several dining venues such as the Winter Garden (perfect for tea/coffee and nosh). I spent a part of each morning in the Library in the bow on Deck 8, where you will also find the Bookshop. The Library stocks more than 8,000 volumes and offers a serene spot to while away an hour or two with your nose in a book or staring at the sea. One thing, or should I say several things, I was not expecting to find on the QM2: dogs. Several times a day I met several companion dogs being walked on the Promenade Deck (Deck 7). In fact, there is a 12-dog kennel (Deck 12) always fully booked. I visited it and found a facility that any vet would approve of. The dogs I met were a happy, tail-wagging bunch, and each had its own life vest. The Experience: When I was on board, Cunard was still celebrating the QM2's 10th anniversary, so there were several notable individuals about who were instrumental in making the ship a reality. They were present at several receptions and approachable for a private chat. Every other evening was formal, so the ladies were in ball gowns and the gents in tuxes, which made the whole experience special. There is so much to do on board that one review does not do the voyage justice. The nice thing is you can immerse yourself in all that is available, or you can sit and relax with a book or stare at the ocean. Experts in their fields conduct the lecture series and enrichment programs. If you love theater, a company of actors from the Royal Academy of Dramatic Art is there to entertain you. The food at all levels is excellent, from the grillrooms to the Todd English restaurant on Deck 8. My brothers and several friends decided to take a trans-Atlantic crossing after hearing me rave about it. I sailed the eastbound New York-to-Southampton crossing. Now I want to experience the westbound.
Sometimes an adventure cruise can be more than just a bit adventurous. On Christmas Day last year, 26 tourists, along with four journalists, 19 scientists, 22 crew members and the expedition leader's wife and two children, found themselves stuck in a solid field of ice aboard the Akademik Shokalskiy off Antarctica. The passengers had booked an adventure cruise retracing the route undertaken by famed Australian explorer Douglas Mawson to the South Pole 100 years earlier, but they did not anticipate making headlines worldwide when their ship was immobilized. Freed nine days later and evacuated by helicopter, everyone fared quite well, indulging themselves in the ship's amenities, as cruise passengers worldwide will. "We're in the ice like explorers of old!" tweeted one professor. "All are well and spirits are high. Happy Christmas."
DIYS.com, the world's largest D.I.Y. community, sought to find out which of the world's iconic Christmas trees are the most popular; the website analyzed monthly global search volume to rank the trees.
Sponsored Content
IHG® Business Edge: Working Together with SMEs for a smarter way to manage travel
Hilton Lake Como recently unveiled a new winter culinary offering at its exclusive rooftop restaurant and bar, Terrazza 241. Executive chef Alessandro Ramella crafted the new menu to ensure each dish complemented the garden and 360-degree panoramic views of the surrounding landscape and lake. The hotel first opened in 2018, continually drawing in visitors for its gorgeous scenery, fine dining and luxury accommodations.
For the 11th consecutive year, Global Traveler honors the best of the best in the industry, naming 2021's Airline of the Year and Hotel of the Year.
Sponsored Content
Since its prestige for attracting the world elite grew in the 1960s, Greece remains the go-to destination for glittering holidays. Each step of the journey is enrobed in luxury, from culinary traditions with the highest standard of execution and name-brand, high-end shopping to first-rate wellness locales and elite accommodations, like 5-star hotels, private villas and yachts.
It's not an overstatement to say we've been through it all in the past 18 months as milestones, celebrations, and even hallmarks of our day-to-day lives were upended. But 2021 has certainly brought us a bit more due north with vaccine deployment, a return to in-person everything, countries around the world re-welcoming Americans and, more recently, with U.S. borders re-opening to vaccinated individuals from around the world. With all that good news, we chose the theme "Open the World" to celebrate the 2021 winners of the GT Tested Reader Survey awards, our 18th year honoring the best of the best in the world of travel.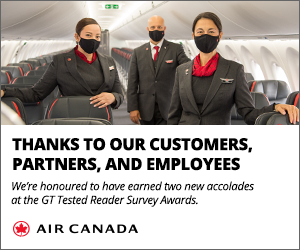 After being closed to travelers for a long period of time, Chile is officially ready to welcome fully vaccinated travelers from around the world. The National System of State Protected Wildlife Areas comprises 22 percent of domestic territory in Chile, and with 43 national parks, 45 national reserves and 18 natural monuments, the country is the perfect destination for travelers to participate in sustainable tourism.
Sponsored Content
History and culture are etched into every corner of Greece. Beginning with its language, the oldest written language still in existence, and moving from the traces of passing civilizations and religions to pre-historic findings and works from many movements, there's a wealth of culture to discover on your next trip to Greece.
Visitors to Paris are familiar with the Champs Elysées — the broad, tree-lined boulevard connecting the Place de la Concorde and Arc de Triomphe — and all the fashionable streets that lead from it, including Avenue George V. The flagship Louis Vuitton store and the red awning at Le Fouquets are the two gatekeepers to this stylish street, which boasts chic Hermes, Bulgari and Kenzo boutiques — and elegant hotels, including Prince de Galles, a Luxury Collection hotel.