Ryan Johnston is serious about working exclusively with the organic produce he handpicks from local growers. Still, the 32-year-old South Florida native brings a playful approach to his position as executive chef and partner at San Diego's Whisknladle.
Johnston's unique cooking style and distinctive philosophy take center stage in the tapas-style menu he created for Whisknladle and its affiliated scratchto- delivery eat-in/take-out market, Prepkitchen.
Known for creating "gourmet comfort food infused with Mediterranean influences," Johnston takes satisfaction in presenting a constantly evolving seasonal menu with a focus on "made in-house" bread, cured and aged meats, churned ice cream and fresh pasta.
A graduate of the Culinary Institute of America in Hyde Park, N.Y., Johnston's credits include tenure at Florida's Café Chardonnay and Darrel & Oliver's Café Maxx. In 1998, Johnston moved to Northern California where he honed his culinary skills in the kitchen of noted chef and restaurateur Thomas Keller at Bouchon Restaurant in Yountville, Calif.
Johnston has opened and established menus for a repertoire of dining venues including Loretta Keller's Bizou in San Francisco and Blackhorse Grille in Del Mar, Calif. In 2006, Arturo Kassel asked Johnston to oversee the menu development and back-of-the-house operations for Fresh[er] Restaurant in La Jolla, Calif. Johnston and Kassel are now partners at Whisknladle.
---
Squash blossoms stuffed with goat cheese Serves 4-6
12 squash blossoms
18 ounces goat cheese stuffing (recipe follows)
3 cups tempura batter (recipe follows)
4 ounces truffle, honey and walnut pesto (recipe follows)
2 quarts peanut oil
Trim and clean squash blossoms. Use a piping bag to stuff each blossom with 1-1/2 ounces of goat cheese filling. Dredge the stuffed blossoms in tempura batter. In a stock pot, heat oil to 350 degrees. Place stuffed blossoms into hot oil and fry until golden brown. Remove blossoms from oil and place on a paper towel to drain excess oil. Place three blossoms on each of four plates. Garnish with truffle, honey and walnut pesto.
For the goat cheese stuffing:
8 ounces baby squash
1 tablespoon olive oil
12 ounces fresh goat cheese, room temperature
2 tablespoons chopped herbs (chives, basil, thyme and parsley)
Salt and pepper, to taste
Cut baby squash into bite-size pieces and sauté in olive oil until tender. Combine cooked squash with goat cheese and herbs. Season with salt and pepper.
For the tempura batter:
1 cup flour
¾ cup warm beer
2 tablespoons olive oil
Whisk all ingredients together and let sit for one hour.
For the truffle, honey and walnut pesto:
1-½ ounces honey
White truffle oil, to taste
2 ounces walnuts, toasted and chopped
1 tablespoon red wine vinegar
1 teaspoon thyme, chopped
Salt and pepper, to taste
Combine first five ingredients. Season with salt and pepper.
---
Mussels with aioli and hand-cut fries Serves 6-8
For the mussels:
3 pounds mussels, cleaned and bearded
4 ounces butter
3 tablespoons diced shallots
3 tablespoons garlic confit (recipe follows)
3 bay leaves
4 ounces dry white wine
6 tablespoons aioli (recipe follows)
Melt butter in pot big enough to fit mussels comfortably. Add shallots, garlic confit and bay leaves. Sauté until shallots are soft. Add mussels. Heat for 1 minute. Add wine. Cover and steam 3 to 5 minutes. When mussels are done, use a slotted spoon to divide them among four serving bowls. Add aioli to the liquid remaining in the pot and whisk over low heat to desired thickness. Pour aioli sauce over the mussels and serve with hand-cut fries.
For the garlic confit:
8 garlic cloves
4 ounces olive oil
Heat oil in sauté pan. Add garlic and sauté slowly until garlic is soft.
For the aioli:
6 cloves raw garlic
1 pinch salt
2 tablespoons water
2 egg yolks
2 cups olive oil
Lemon juice, to taste
Salt, to taste
Using a mortar and pestle, crush garlic and salt until smooth. Whisk together garlic, water and egg yolks in a mixing bowl. Continue whisking and slowly add olive oil to create an emulsion. Season with salt and lemon juice.
For the hand-cut fries:
3 pounds Kennebec potatoes
2 quarts peanut oil
Cut potatoes into ¼-inch by ¼-inch by 2-inch pieces. Soak potato pieces in water for 1 hour. Remove potatoes from water and dry well. Heat oil to 300 degrees. Blanch potatoes in oil for 2 minutes. Place potatoes on a sheet pan and cool in the refrigerator. Reheat oil to 350 degrees. Add cooled potatoes and fry until golden brown.
---
Roasted leg of lamb stuffed with black olive tapenade Serves 6-8
For the lamb:
1 leg of lamb, boned, rolled and netted
8 ounces black olive tapenade (recipe follows)
3 tablespoons chopped thyme
Salt and pepper
Olive oil
Heat oven to 350 degrees. Remove netting from lamb. Place lamb on a cutting board. Spread tapenade over the inside of the lamb leg. Re-roll leg and replace netting. Season with salt, pepper, chopped thyme and olive oil. Place lamb in oven and roast to internal temperature of 135 degrees. Let rest for 15 minutes before cutting.
For the black olive tapenade:
8 ounces Niçoise olives
2 salted anchovies, rinsed and filleted
3 ounces capers
1 clove raw garlic, chopped
1 teaspoon chopped thyme
4 tablespoons olive oil
Combine all ingredients in food processor and blend until smooth.
Whisknladle
1044 Wall St.
La Jolla CA 92037
tel 858 551 7575
http://whisknladle.com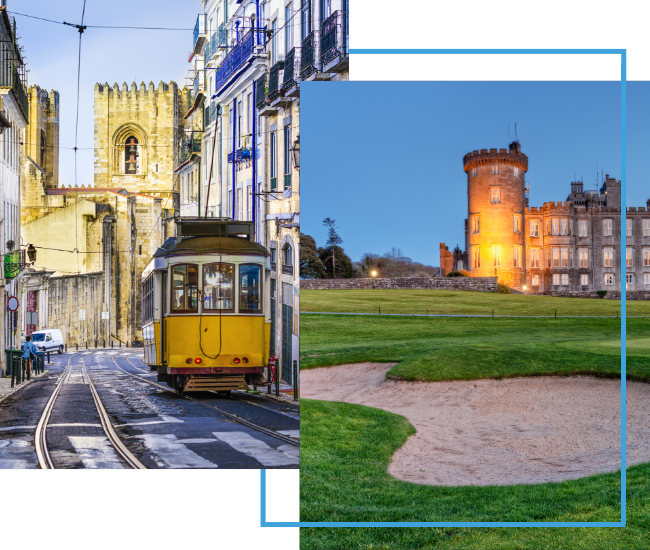 FX Excursions
FX Excursions offers the chance for once-in-a-lifetime experiences in destinations around the world.
Explore Excursions
The Perelman Performing Arts Center (PAC NYC), the cultural cornerstone and final public element of the World Trade Center site, opened this September.  The new performing arts center in Lower Manhattan provides a dynamic home for the arts, serving audiences and creators through flexible venues enabling the facility to embrace wide-ranging artistic programs.
Sponsored Content
Learning more about our readers' travel habits and preferences ensures Global Traveler delivers the content you desire. As the travel industry has adapted and changed over the last few years, it's more important than ever to connect. To best meet your short- and long-term travel content needs, please help us!
Whether you call secondhand fashion treasure troves "thrift stores," "fripperies," "charity shops," "vintage boutiques" or something else, shifting the paradigm from "old clothes" to "new finds," you may find the best, most conversation-starting souvenirs inside these shops and neighborhoods located in the world's most fashionable cities and a few unexpected places.