Chef Theo Randall, of the eponymous Theo Randall at the InterContinental in London's Park Lane, began a love affair with food and cooking at an early age, inspired by his artistic, food-centric family. At 18, he launched his professional career during a four-year classic French apprenticeship under Chef Max Magarian at Chez Max in London.
He found his home at London's popular River Café, where he served as head chef for 10 years, with a brief stint at California's Chez Panisse, cultivating an appreciation for incorporating fresh produce into his cuisine.
All his lifelong influences converge at his namesake restaurant, opened in 2006. His produce-driven, Italian-inspired dishes have won over critics and earned numerous accolades, including "Italian Restaurant of the Year" at the London Restaurant Awards.
Likely to be found in the restaurant's kitchen, Randall often also can be found on national television. His latest TV gig is The Chef's Protégé on BBC2. Alongside chefs Michael Roux, Jr., and Tom Kitchin, the chefs select two trainees and mentor them before choosing one to cook for the chef's own mentor. Randall will select a protégé to cook for Ruth Rogers of the River Café. Randall has also published PASTA, a successful cookbook.
Beef Carpaccio with marinated radicchio, pine nuts, aged balsamic vinegar and Parmesan
Serves 4
⅔ pound beef filet
Lemon juice
2 teaspoons olive oil
Salt and pepper, to taste
1 tablespoon aged balsamic vinegar; extra to taste
1 head radicchio
3 tablespoons roasted pine nuts
⅔ cup fresh Parmesan shavings
Slice beef thinly and place carefully between two pieces of waxed paper. Using a rolling pin, thin the beef filet. Place on a plate, season to taste with lemon juice, 1 teaspoon olive oil, salt, pepper and balsamic vinegar.
Take off the outer leaves of radicchio, leaving the young heart. Blanche the outer leaves in boiling, salted water for 2 minutes, drain. When cool, lightly squeeze and marinate in a bowl with 1 tablespoon balsamic vinegar, a squeeze of lemon juice and 1 teaspoon olive oil. Break the young heart of radicchio into pieces and mix with the outer leaves.
PRESENTATION: Season radicchio mixture. On a plate, place the beef Carpaccio. Top the Carpaccio with the radicchio mixture and scatter pine nuts and Parmesan shavings on top.
Fish stew
Serves 2
3 tablespoons olive oil
1 head fennel, finely diced
1 small onion, finely diced
1 celery stick, finely diced
¾ ounce dried porcini mushrooms, soaked and chopped
1 teaspoon thyme leaves
1 can chopped tomatoes
1¼ cups fish stock
8 Charlotte potatoes
Pinch of saffron
½ pound small clams
⅓ pound monkfish, cut into ¾-inch slices
½ lobster, cut into pieces
2 filets red mullet
½ cup dry white wine
2 tablespoons flat-leaf parsley
1 clove garlic, finely chopped
In a heavy-based saucepan, heat 2 tablespoons olive oil and add fennel, onion and celery. Cook for 5 minutes gently. Add the porcini mushrooms and thyme and cook for an additional 2 minutes. Pour in the tomatoes and reduce by half. Add the fish stock and season, then use an immersion blender to liquidize until you have a smooth texture.
Peel and cut the potatoes into four pieces, then boil in water with a pinch of saffron and drain. In a saucepan, add the remaining olive oil and throw in the clams, followed by the monkfish, lobster and red mullet. Pour in the stew base you have already prepared and add the wine and potatoes. Place a lid on top and cook gently for 6–8 minutes.
PRESENTATION: When all the clams have opened and the fish is almost cooked, sprinkle the stew with the chopped parsely and garlic. Season to taste and serve.
Pan-fried scallops
Serves 2
½ cup lentils de Castelluccio
2 cloves garlic Sprig of sage
¼ cup olive oil
12 cleaned scallops
Salt and pepper, to taste
2 fresh red chilies
4 sprigs flat-leaf parsley
¾ cup Datterini tomatoes, cut in half and seeded
Juice of 2 lemons
¾ cup rocket, chopped
Boil the lentils with 1 clove garlic and sage until cooked through. Drain off the water, season and add a good dash of olive oil.
Heat a heavy-based frying pan. Toss the scallops in a bowl with salt, pepper and olive oil. When the pan is very hot, place each scallop in the pan carefully and cook for 1 minute on each side until golden brown. Add chilies, parsley, tomatoes and lemon juice.
PRESENTATION: Serve in the shell with lentils and dressed rocket.
Theo Randall at the InterContinental
InterContinental London Park Lane
One Hamilton Place Park Lane
London, W1J 7QY
United Kingdom
tel 44 20 7318 8747
theorandall.com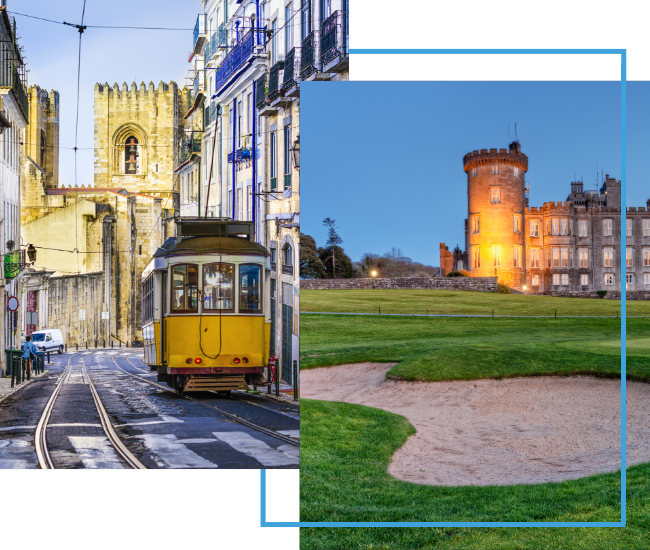 FX Excursions
FX Excursions offers the chance for once-in-a-lifetime experiences in destinations around the world.
Explore Excursions
One thing  surprising about the Prince Edward Island capital is its abundance of shops specializing in affordable, fashion-forward jewelry rendered in sterling silver, vermeil, 14K gold and semi-precious stones. Whether you prefer delicate pieces or bold wearable art, you can be assured the pieces for sale are inspired by the maritime island setting and, therefore, specific to the place where they are created. Here are a few shining, woman-owned examples:
Norway, a haven for visionary artists, architects and designers, showcases an exceptionally diverse array of cultural attractions. This year, the country commemorates exciting milestones and unveilings captivating enthusiasts of the arts, from iconic scenic routes to new museums to gallery openings. Up Norway features these new offerings in personalized itineraries catered to aesthetes.