To head the global culinary innovation, strategy and execution for The Ritz-Carlton Hotel Co. and Bulgari Hotels & Resorts, the luxury hotel chains looked to Rainer Zinngrebe, whose illustrious career spans more than 30 award-winning years. Zinngrebe inspires Ritz-Carlton chefs globally to "cook with passion, relevance and with the cultural preferences of their guests in mind." His leadership and influence can be found in kitchens around the world including the United States, Canada, China, Japan, France, Germany, Italy, the United Kingdom, Egypt and more.
Zinngrebe joined the brand in 2002, creating The Ritz-Carlton, Cancun Culinary Center, a recreational kitchen facility. In Cancún, he led the hotel's two fine-dining restaurants to multiple AAA Five Diamond awards.
Prior to joining The Ritz-Carlton, Zinngrebe held multiple executive chef positions at hotels around Asia, including Mandarin Oriental, Kuala Lumpur; Sheraton Grande Sukhumvit, a Luxury Collection Hotel, Bangkok; and The Fullerton Hotel Singapore. He's authored two cookbooks, Beyond Fusion and Small Bites Big Taste, and co-authored several others.
Under Zinngrebe's direction, The Ritz-Carlton Hotel Co. earned 13 Michelin stars for 2016 across eight restaurants in six hotels in Asia and Europe, securing the hotel company's reputation as a leader in culinary excellence and innovation.
What three go-to ingredients are always in your home kitchen?
It sounds basic, but besides the obvious salt, pepper, garlic and onions, I always have chicken stock, pasta and a good olive oil around — and some Parmesan cheese. Those few ingredients allow me to whip up a dinner for the family pretty quickly from a simple pasta dish to a risotto or a chicken noodle soup.
What's your favorite season for cooking, and why?
From late spring to early summer, as it is probably the best season as far as ingredient availability goes, particularly the abundance of white asparagus, peas, wild mushrooms, fresh fruit and more. It's really a chef's dream, as you can have a lot of fun with many things that grow in that season.
Aside from your current position, what's the best job you've ever had?
Wow, that's a difficult one! I guess my entire career has been a series of wonderful jobs that allowed me to see the world, work with interesting people and learn about different cultures and cuisine. It is hard to pick one that was better than the other. I always say different jobs taught me different things — working in Korea taught me how to manage a large number of staff in a difficult cultural environment and made me a better leader, while working at La Tante Claire in London made me a better cook. Each position allowed me to learn, grow and experience, making me successful in my role today.
What's the first meal you ever cooked?
I don't remember the first meal I ever cooked, but it was probably a schnitzel and French fries at my parents' pub at the age of 10 or 11. I do remember my first "event" I cooked all on my own, which was my parents' 25th wedding anniversary when I was a second-year apprentice. I cooked a full buffet from scratch for about 60 people. It took me three days, and I was proud when it all came together and people enjoyed it.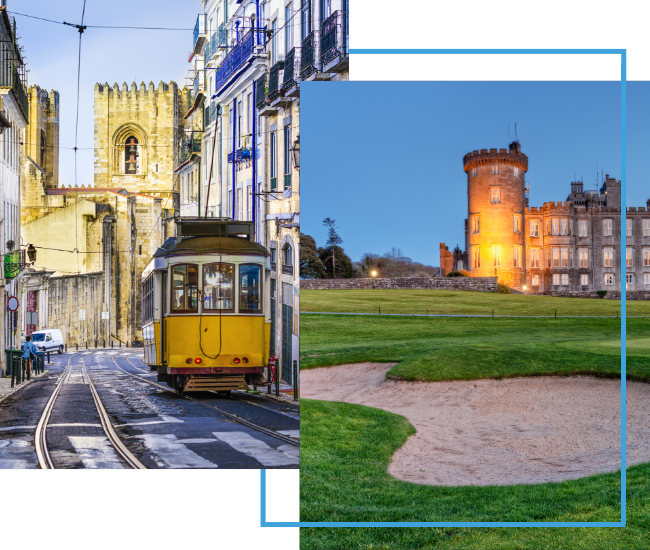 FX Excursions
FX Excursions offers the chance for once-in-a-lifetime experiences in destinations around the world.
Explore Excursions
As first-time restaurateurs, but with plenty of hospitality-related experience, Ria and Kevol (Kev) Graham were not entirely comfortable opening their first restaurant in the Brooklyn neighborhood of Williamsburg, where several upscale restaurants and 5-star hotel dining is just a block away. And to make matters worse, they opened in July 2020, when New York City was in the middle of the COVID-19 pandemic.
Sponsored Content
Many small- and medium-sized businesses face time and budget constraints when organizing corporate hotel travel for employees. To address this problem, IHG® Business Edge emerged as a cost-free business travel solution for small- to medium-sized enterprises, offering travel managers exclusive access to enticing perks, handpicked educational resources and comprehensive company travel metrics. IHG Business Edge connects our loyal customers to our portfolio of 5,800 hotels and resorts across 18 brands in more than 100 countries.
In addition to intimate settings, smaller staff-to-passenger ratios, and personalized food and beverage options, river cruises have the advantage of providing a deeper dive into a region's culture, food and history. The Rhine, Rhône and Danube in Europe and the Mississippi River and St. Lawrence in North America have much to offer travelers with their itineraries, tying together beloved cities and lesser-known destinations along their routes.