Toronto native Massimo De Francesca grew up with a firm appreciation of his Italian heritage. His parents, immigrants from southern Italy, took pride in teaching their children how to prepare the culinary delights of their homeland.
A graduate of the George Brown College Culinary Arts School in Toronto, De Francesca honed his skills on the Adriatic Coast, where he trained with Michelin star Chef Vincenzo Cammerucci at Ristorante Lido Lido in the port town of Cesenatico. He returned to Toronto in 1999 where he was fortunate to work under the tutelage of world-class French chef Jean Pierre Challet before leaving again, this time for warmer climes in the sunny Cayman Islands.
These days De Francesca is the executive chef at Hotel Palomar's Domaso Trattoria Moderna in Arlington, Va., where patrons savor cuisine that marries his Italian heritage with the flavors of his global experience in a setting that offers a spectacular view of the Georgetown skyline.
---
Spaghetti carbonara Serves 4
12 ounces spaghetti, fresh or dry
5 ounces Virginia ham, sliced into 1/4-inch matchsticks
2 cloves garlic, peeled and finely chopped
2 small shallots, peeled and finely chopped
1 tablespoon black peppercorns, coarsely ground
4 egg yolks
8 ounces heavy cream
4 ounces Parmigiano cheese, finely grated
1 tablespoon extra virgin olive oil
1 tablespoon unsalted butter
2 ounces dry white wine (Pinot Grigio or Chardonnay)
4 quail yolks (optional)
Salt, to taste
In a medium pot, bring 5 quarts of salted water to a boil.
Combine egg yolks and half the heavy cream (reserve the other half) in a mixing bowl. Mix until smooth with whisk.
In sauté pan, sauté shallots, garlic, peppercorns and ham in olive oil and butter for 5 minutes on medium heat. Do not brown. Add wine and simmer until dry. Add the reserved cream to the shallot mixture and bring to simmer. Reduce by half.
Submerge the spaghetti in the boiling water and stir for a few minutes to ensure the pasta does not stick. Cook to desired doneness, 9 to 11 minutes. When cooked to preference, drain the spaghetti while reserving some of the pasta water. Add the reserved pasta water to the sauté pan. Return to medium heat and bring back to a simmer. Remove sauté pan from heat and stir in egg yolk mixture and grated cheese. Stir rapidly until egg yolks and cream cook and become thick. Adjust thickness with reserved pasta water.
PRESENTATION: Serve in warmed pasta bowls or on a warm platter. Garnish with freshly grated Parmigiano cheese. For added richness, top each serving with a quail yolk (optional). Season with fresh ground pepper.
---
Scallops carpaccio Serves 1
For the vinaigrette:
¼ teaspoon Dijon mustard
Juice of ¼ lemon
½ ounce extra virgin olive oil
1 pinch pink peppercorns, crushed
Combine the mustard and lemon juice in a small bowl. Mix until smooth. Slowly add the olive oil, whisking at a steady pace until it is incorporated. Add crushed peppercorns. Set aside.
1½ dry scallops
¼ ounce pancetta, cut into small cubes
1 pinch sea salt
1 pinch fennel pollen
½ radish, julienned
Micro celery, for garnish
Place the pancetta cubes in small pan over medium heat to slowly render the fat. Continue cooking until the pancetta is crispy. Set aside. Cutting across the grain, slice the scallops paper thin and layer pieces onto a plate. Sprinkle scallops with sea salt, fennel pollen, radish slices and crispy pancetta. Drizzle with vinaigrette and garnish with micro celery or micro greens.
Domaso Trattoria Moderna
Hotel Palomar
1121 N. 19th St.
Arlington, VA 22209
tel 703 351 1211
www.hotelpalomar-arlington.com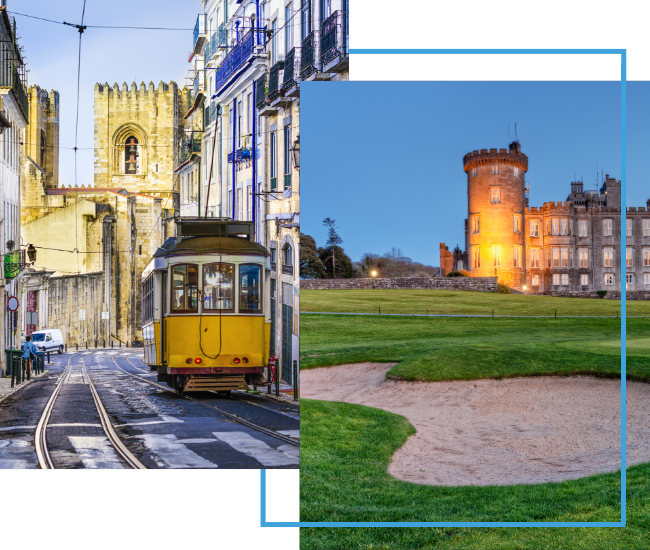 FX Excursions
FX Excursions offers the chance for once-in-a-lifetime experiences in destinations around the world.
Explore Excursions
Did the new film Oppenheimer rouse your interest in the nefarious world of international espionage? You can go straight to the real-life setting for covert actions this November (Nov. 10–12), when La Fonda on the Plaza in Santa Fe hosts a specially themed "Spies, Lies and Nukes" weekend. The hotel actually served as the retreat location for Manhattan Project scientists, who stayed at La Fonda on the Plaza to take a break from the stress of their work. During the weekend, the property's La Fiesta Lounge will make a tasty nod to those days by serving up a special Atomic Martini.
Sponsored Content
Learning more about our readers' travel habits and preferences ensures Global Traveler delivers the content you desire. As the travel industry has adapted and changed over the last few years, it's more important than ever to connect. To best meet your short- and long-term travel content needs, please help us!
Ever want handcrafted martinis and freshly shucked oysters delivered straight to your room? The Read House's New Martinis & Pearls service has you covered. Shining in 1920s-themed decor, the historic hotel in the heart of Chattanooga offers a true Gatsby-esque experience, now further elevated with this upscale amenity. Guests can now indulge in their perfectly chilled martini, made to order, and "pearls" (oysters) in the comfort of their room.