Whether he's cooking for family in his hometown of Avignon, France, or firing up the wood-burning ovens and grills at Las Ventanas al Paraíso in Los Cabos, Mexico, Chef Fabrice Guisset is known for bridging culinary cultures.
A master at the art of cocina del fuego (cooking with fire), Guisset is the executive chef at the ultra-luxe beachfront Las Ventanas al Paraíso, where he creates wood-fired cuisine imbued with the flavors of Provence: fine olive oils and fresh herbs from the resort's own garden.
Practicing the art of "fire cooking," Guisset's method involves the use of specific types of wood — and varying flame, heat and seasoning — to infuse foods with deep flavor.
Prior to signing on at Las Ventanas al Paraíso in January 2007, Guisset was affiliated with Paraíso de la Bonita in Puerto Morelos, Mexico, and La Jolla de Mismaloya Hotel in Puerto Vallarta, Mexico.
---
Toasted heirloom tomato and feta cheese on a virgin olive oil sourdough tartin Serves 4
2 loaves round sourdough bread
8 medium heirloom tomatoes
1 clove garlic, chopped
1 bunch fresh basil, chopped
3 ounces feta cheese
2 ounces virgin olive oil
3 ounces mesclun lettuce
1 lime
Salt and pepper, to taste
Grill four whole tomatoes. Finely chop the grilled tomatoes. Add chopped garlic and chopped basil. Season the tomato mixture with salt and pepper. Set aside.
Cut each loaf of sourdough bread into two pieces to create four round bases. Sprinkle the bread with olive oil. Top each bread base with grilled tomato mixture. Cut each of the remaining four tomatoes into six slices. Layer the tomato slices on top of the grilled tomato mixture. Sprinkle each round with feta cheese and a bit of olive oil. Bake at 325 degrees until the feta takes on a golden color and crunch.
Mix the mesclun leaves with lime juice, olive oil, salt and pepper. Toss.
PRESENTATION: Place a tomato-covered sourdough round on each of four plates. Top with seasoned mesclun.
---
Parrot fish ceviche Serves 4
10 ounces parrot fish fillet
1⁄4 cup lime juice
2 tablespoons apple juice
2 tablespoons orange juice
1⁄2 onion, chopped
1 habanero chile, chopped
1 green apple, peeled and chopped
2 tablespoons mint, chopped
1 tablespoon olive oil
White pepper, to taste
Salt, to taste
Cut the parrot fish filet into small cubes. Combine lime, apple and orange juice. Add cubed fish and marinate for five minutes. Add onion, habanero chile, green apple and mint. Toss to coat. Add olive oil, salt and pepper. Serve.
---
Grilled sea bass with sea beans Serves 4
2 pounds sea bass filet
3⁄4 pound sea beans (salicorne available in specialty markets)
4 ounces extra virgin olive oil
Salt and pepper, to taste
1 lemon, halved and seeded
Sea salt, for garnish
Poach the sea beans in boiling water for two minutes. Set aside. Combine olive oil, salt and pepper. Add sea bass filet and marinate for five minutes. Grill the fish fillet and lemon halves to desired doneness.
PRESENTATION: Heat the sea beans. Place a portion of the beans on each of four plates. Top each with a piece of sea bass. Garnish with sea salt.
---
Clay-pot oven-cooked black mussels in rested tequila and cilantro Serves 4
4 pounds fresh black
Mediterranean mussels, cleaned
8 ounces rested tequila
12 ounces cherry tomatoes, diced
8 red-hot chili peppers, diced
1 bunch flat parsley, chopped
1 bunch cilantro, chopped
1 bunch chives, chopped
Place mussels into a clay pot. Add tequila, cherry tomatoes and red-hot chili pepper. Cover and cook in a wood-fired oven for 15 minutes. In a separate bowl, mix chopped parsley, cilantro and chives. Pour cooked mussels and sauce over chopped herbs. Mix well and serve.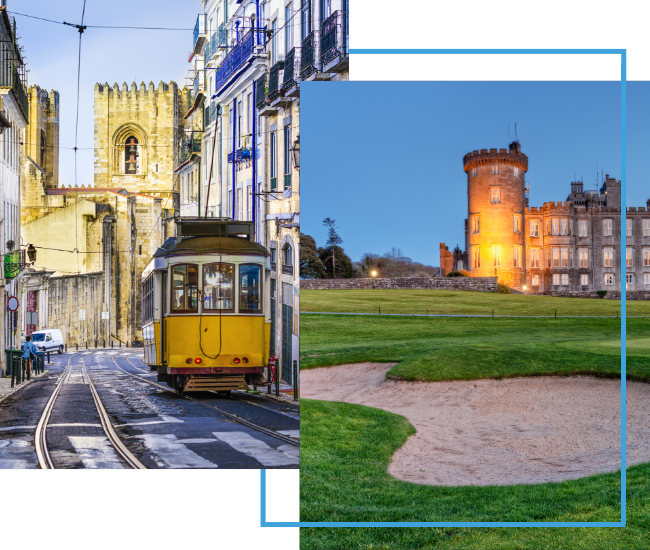 FX Excursions
FX Excursions offers the chance for once-in-a-lifetime experiences in destinations around the world.
Explore Excursions
Corsica with steep, gray cliffs overlooking the Mediterranean and sandy beaches attracting summer visitors, is a French-governed island sometimes confused with Sardinia and Sicily, Italian islands to the south. Fortunately, all three islands share the same love for good wine, food and sun-splashed beaches.
Sponsored Content
Whether it's the people, the craic (fun) or the coasts, travelers always find something to love about the island of Ireland. What fills your heart?
If you're ready to do a little holiday catch-up with your besties, make a beeline for Conrad New York Downtown. The lobby metamorphosed into a holiday forest of heavenly scented, decorated Virginia Spruce trees. Make your first stop ATRIO Barista Station in the lobby for a complimentary hot spiced apple cider (until Dec. 3) or hot chocolate (Dec. 22­–24).