Southern coastal-style cuisine has arrived in the Cayman Islands by way of The Big Easy. Award-winning chef Michael Farrell is the new executive chef at The Westin Grand Cayman Seven Mile Beach Resort & Spa, overseeing all of the resort's culinary outlets, including the AAA Four Diamond-rated Casa Havana. Farrell's appointment follows a multimillion-dollar resort renovation, unveiled in early 2013.
Before relocating to the "culinary capital of the Caribbean," Farrell opened Le Meritage restaurant at New Orleans' Maison Dupuy Hotel. New Orleans took notice of his signature Southern coastal-style cuisine, earning Farrell a distinction as one of the Top Five Chefs of Louisiana by New Orleans Magazine. The magazine also named Le Meritage, a critical delight, Best New Restaurant six months after its opening. Farrell's second outpost at Maison Dupuy was the more casual, inspired comfort food Bistreaux New Orleans.
Bringing his James Beard-recognized talents to the Cayman Islands, Farrell looks to implement a fusion of New Orleans- and island-style cuisines in every aspect of the resort's culinary program using fresh, local ingredients.
Seared Foie Gras
Serves 5
½ pound lobe of foie gras
3 apples
¼ pound butter
½ teaspoon cinnamon
Olive oil
Sea salt
Balsamic vinegar reduction (can be purchased at a good market)
Cut the foie gras into 5 pieces (approximately 1 inch thick). Keep it cool. Peel, core and cut the apples into chunks and place in a sauté pan with butter and cinnamon. Let cook on low heat for 45 minutes with the lid on.
Sear the foie gras in olive oil in a pan over medium-high heat until dark brown on both sides. Place on a napkin.
PRESENTATION: Put apples on a plate and place foie gras on top. Drizzle balsamic reduction over plate and sprinkle sea salt on top of the foie gras to finish.
Seared Sea Scallops with Corn Nage
Serves 4
For the seared sea scallops:
4 large scallops
1 teaspoon olive oil
1 tablespoon lemon zest
Pinch white pepper
Pinch sea salt
Marinate 4 large scallops in a bowl with olive oil, zest, salt and pepper. Let sit 2 hours.
Heat pan on high heat and sear scallops on each side until golden brown.
For the corn nage:
5 ears of raw corn, kernels cut off the cob
1 cup corn stock or chicken stock, heated
2 tablespoons cream, brought to a boil
Combine all ingredients in a blender and purée.
For the garnish:
Fresh peas
Micro greens
PRESENTATION: Divide the warm corn nage between 4 plates. Place a scallop on the corn nage. Garnish with fresh peas and micro greens.
Rabbit Tenderloin
Serves 4
For the rabbit:
4 rabbit loins
24 slices thin pancetta
Fresh thyme
Salt, to taste
Pepper, to taste
Olive oil
English peas, for presentation
Clean and marinate the loins in the thyme, salt, pepper and olive oil for 4 hours. Wrap the loins with 5 slices of pancetta each.
Set the 4 extra slices of pancetta in a sheet pan between two sheets of parchment paper and bake in a 250-degree oven for 10 minutes (or until crispy).
For the herb butter:
½ pound salted butter, soft
3 teaspoons fresh thyme
3 teaspoons chopped chives
1 teaspoon chopped parsley
When the butter is soft, mix with the herbs.
For the pasta:
8 ounces high-gluten flour
1 tablespoon extra virgin olive oil
1 egg
3 egg yolks
½ ounce salt
Mix all the ingredients to make a dough and knead to strengthen it. Rest the dough for 2 hours in the refrigerator. Then take the dough out and roll it 1/16-inch thin. (If you have a pasta maker, you can use it.) Cut the dough into strips ½-inch wide by 8 inches long.
For rabbit demi-glace sauce:
5 pounds rabbit bones
2 celery sticks, diced
1 carrot, diced
1 large onion, diced
Salt and pepper, to taste
Sear the bones and the chopped vegetables in a pot; add cold water until it covers the bones. When the water boils, turn the flame low and simmer for 4 to 5 hours; strain and reduce until the stock has a sauce consistency. Salt and pepper to taste.
PRESENTATION: Sear the rabbit loins in olive oil in a flat pan until golden; season with salt and pepper, to taste. Finish in the oven. Cook the pasta in boiling water until al dente and toss in a bowl with the herb butter and English peas.
For each serving, set pasta on a plate and add sliced rabbit loin. Spoon sauce on top of the rabbit and top with crispy pancetta.
The Westin Grand Cayman Seven Mile Beach Resort & Spa
Seven Mile Beach
Grand Cayman, BWI
tel 345 945 3800
westingrandcayman.com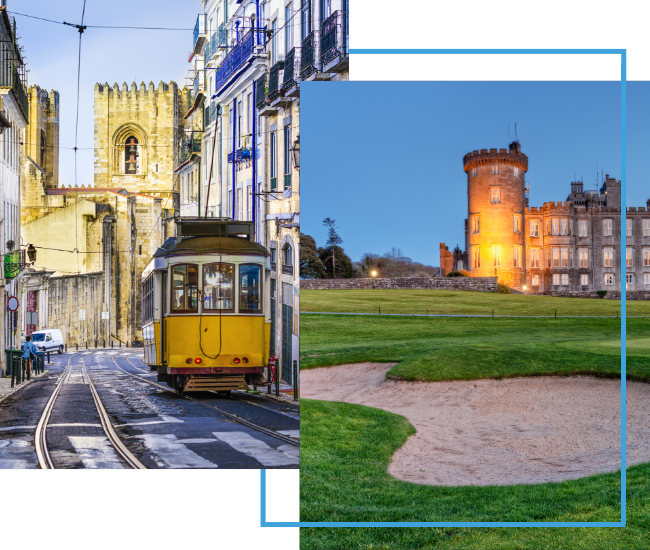 FX Excursions
FX Excursions offers the chance for once-in-a-lifetime experiences in destinations around the world.
Explore Excursions
Pleasant weather, autumn foliage and vibrant flowers are among the many delights awaiting nature lovers at botanical gardens and arboretums across the United States. However, some of these green spaces take on additional color this month and through Halloween when enterprising gardeners, landscape architects, management and other creative minds cast a spell with themed environments running the gamut from spooky to utterly bewitching.
Sponsored Content
Don't risk losing all the money you've spent if you must cancel your trip at the last minute. Allianz Travel Insurance can give you:
For travelers who love all things autumn, Crystal Springs Resort, New York City's closest destination resort, features special offers and experiences to meet the demands of everyone's fall bucket list. Located only 80 minutes outside New York City in Sussex County, New Jersey, Crystal Springs Resort offers a quick getaway to enjoy fall foliage. Are any of these new offers or experiences on your bucket list?