Chef Daniel García celebrates the legacy of Mexican artist Frida Kahlo in the cuisine he creates at the restaurant named in her honor. García, chef at Frida, one of several innovative dining venues at Grand Velas Riviera Maya in Mexico, uses bold flavors to entice diners with his take on traditional, rustic Mexican dishes. Dining venues at Grand Velas Riviera Maya, a luxury, all-inclusive property on the Mexican Riviera, are open to the public.
---
Cranberry and apricot panbazo with potato and pineapple purée and crisp chorizo Serves 2
For the guajillo sauce:
1 1⁄2 cups chicken consommé
3 1⁄2 ounces dried guajillo chili
2 cloves roasted garlic
1 roasted red tomato
1 3⁄4 teaspoons refined salt
1 3⁄4 teaspoons ground white pepper
Bring the chicken consommé to a boil. Add the dried guajillo and heat until it is soft. Strain the consommé and set the broth aside. Blend the consommé broth with the roasted garlic cloves and the roasted tomato. Strain and season with salt and pepper. Set the sauce aside.
For the panbazo:
2 crusty bread rolls (baguette or bolillo)
1 avocado, sliced thin
1 ounce dried cranberries, finely chopped
1 ounce dried apricots, finely chopped
1 boiled potato
1 ounce goat cheese
1 1⁄2 tablespoons butter
1⁄2 ounce fresh pineapple, finely chopped
Chicken consommé, as needed
1 ounce sour cream
1 3⁄4 teaspoons refined salt
3⁄4 teaspoon ground white pepper
3 ounces Spanish chorizo
Slice each roll and fill with avocado, cranberries and apricots. Close the roll and soak it in the prepared guajillo chili sauce. Grill the panbazos in a hot pan until they are crisp and golden brown.
Peel and purée the potato. Add the goat cheese and set aside. Heat the butter in a pan and sauté the pineapple. Remove from the pan and blend with the potato and goat cheese mixture, adding chicken consommé as necessary until smooth. Add the sour cream and season to taste. The purée should have a slightly thin consistency.
De-fat the Spanish chorizo by frying it in a very hot pan; separate the meat from the fat drippings. Bake for 2 minutes in a 180-degree oven, until it reaches a very dry consistency. Set aside.
Presentation: Spoon some of the purée onto a plate. Place a crispy grilled fruit-filled panbazo on top of the purée. Sprinkle with crumbled chorizo.
---
Fried sea bass with tomatillo sauce, grilled nopal cactus leaves, fried tortilla strips and Cotija cheese Serves 2
2 6-ounce sea bass filets
3 1⁄2 ounces green tomatillos
5 garlic cloves, finely chopped
1⁄4 cup fresh cilantro, chopped
1⁄2 cup of chicken consommé
Juice of 5 lemons
2 cups vegetable oil
Salt and pepper, to taste
1 grilled nopal cactus leaf
1 tortilla, cut into fine strips and fried
1 ounce grated Cotija cheese
For the sauce:
Blend the raw tomatillos with one garlic clove, the fresh cilantro and the chicken consommé. Pour into a pan, season with salt and pepper. Bring to a boil. Strain and set aside.
For the fish:
Combine lemon juice and remaining garlic; season with salt and pepper. Marinate the fish in the lemon juice mixture for 30 minutes. Heat the oil in a sauté pan. Add the fish and fry to desired doneness. Finish for 2 minutes in a 180-degree oven.
Presentation: Spread sauce on a plate. Top with fish. Garnish with grilled nopal cactus leaf and fried tortilla strips. Sprinkle with Cotija cheese.
---
Cookie-covered orange ice cream with sweet Veracruz-style sauce Serves 2
1 1⁄2 cups orange ice cream
2 tablespoons butter
1 ounce raw onion, finely sliced
1 ounce green peppers, seeded and finely sliced
1 ounce red peppers, seeded and finely sliced
1 ounce black olives, finely sliced (reserve 1 tablespoon olive juice)
1⁄4 cup sugar
1 bunch whole rosemary leaves
3⁄4 cup butter cookies of your choice, grated in a blender until they reach a powdery consistency
1⁄2 cup water
1 1⁄2 tablespoons sweet balsamic vinegar
For the ice cream:
Use a spoon to shape the ice cream into two quenelles. Place quenelles on a baking sheet and freeze until solid.
For the sauce:
Melt butter in a pan and sauté onions and peppers, adding the olives at the end of the cooking process and approximately a tablespoon of the olive juice. Add just enough water to cover the mixture and then add the sugar and bring to a boil. When the mixture has come to a boil, add the whole rosemary and remove it once it begins to release its scent. Set aside and allow the sauce to cool and thicken.
Presentation: Roll each quenelle in cookie powder. Place a quenelle on each plate. Top with sauce. Garnish with a few drops of sweet balsamic vinegar.
---
Grand Velas Riviera Maya
Carretera Cancun Tulum Km. 62
Playa del Carmen, Solidaridad
Quintana Roo 77710, Mexico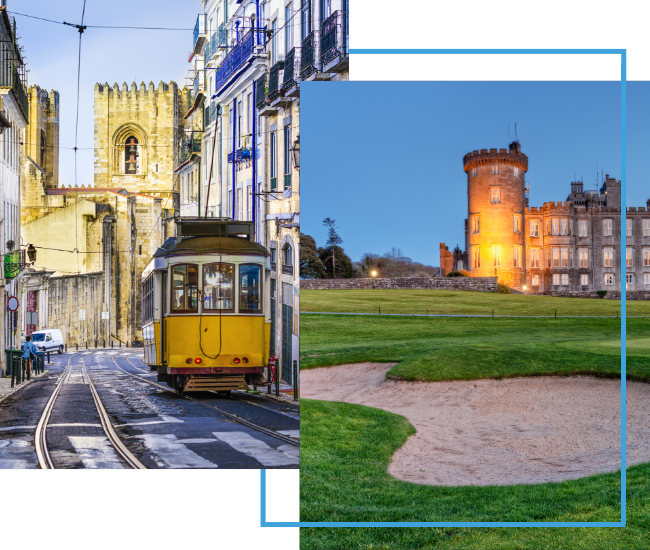 FX Excursions
FX Excursions offers the chance for once-in-a-lifetime experiences in destinations around the world.
Explore Excursions
Pleasant weather, autumn foliage and vibrant flowers are among the many delights awaiting nature lovers at botanical gardens and arboretums across the United States. However, some of these green spaces take on additional color this month and through Halloween when enterprising gardeners, landscape architects, management and other creative minds cast a spell with themed environments running the gamut from spooky to utterly bewitching.
Sponsored Content
The Islands of Tahiti offer a range of captivating activities for travelers with diverse interests, from hiking to breathtaking waterfalls, riding horses on secluded beaches; swimming with sharks; or immersing in Polynesian culture through traditional dance, music and art. For watersports enthusiasts, the crystal-clear lagoons offer exhilarating experiences like surfing, kiteboarding and paddleboarding. And if you're looking to relax, the pristine beaches, overwater bungalows and tropical sun offer the perfect setting. With 118 islands and atolls to explore, island hopping is an excellent way to experience the full diversity of The Islands of Tahiti. With its blend of adventure, culture and relaxation, The Islands of Tahiti offer a truly unique travel experience.
For travelers who love all things autumn, Crystal Springs Resort, New York City's closest destination resort, features special offers and experiences to meet the demands of everyone's fall bucket list. Located only 80 minutes outside New York City in Sussex County, New Jersey, Crystal Springs Resort offers a quick getaway to enjoy fall foliage. Are any of these new offers or experiences on your bucket list?