Boasting a resume that includes cooking Thanksgiving dinner at the James Beard House in New York and stints as a guest instructor at the Culinary Institute of America at Greystone, the California Culinary Academy and Draeger's Culinary Center in California, Chef David Machado began his culinary journey in San Francisco. A native of Fall River, Mass. — a city known for its strong Portuguese heritage — Machado made stops in Portland, Ore., Vancouver, British Columbia, and Washington state before returning to Portland, where he is chef/owner, with business partner Daren Hamilton, of Lauro Kitchen. The 54-seat family-owned and operated "neighborhood" restaurant in Portland's Richmond district features a menu that highlights Machado's signature Mediterranean-inspired fare — a unique blend of Spanish, Portuguese, Moroccan, Italian and Greek influences.
Can't get to the neighborhood? Head for your own kitchen and whip up some of Machado's most popular dishes at home.
---
Gazpacho cocktail with fresh bay shrimp Serves 8
For the base:
10 large, ripe tomatoes, peeled and roughly chopped
4 slices dry bread, crust removed
1 large cucumber, peeled and seeded
1 large red onion, roughly chopped
6 cloves garlic, peeled
½ cup sherry vinegar
½ cup extra virgin olive oil
1 teaspoon lemon juice
½ cup cold water
Salt and pepper, to taste
Cover the bread with water and soak for 5 minutes. Working in batches, puree the tomatoes, peppers, cucumbers and garlic in a blender. Push the mixture through a strainer into a container.
Remove the bread from the water and squeeze out the excess water. Place it in the blender and puree. With the motor running, slowly incorporate the olive oil. Add the vinegar and lemon juice. Add some of the tomato mixture back into the blender and then mix everything back into the container. Season with the salt and pepper and adjust the consistency with the cold water. Makes 1 gallon.
PRESENTATION: For each serving, spoon 6 ounces of gazpacho base into a bowl. Add 1 ounce fresh bay shrimp (cooked, peeled and deveined). Garnish with extra virgin olive oil.
---
Portuguese mussels in cataplana Serves 2
For the soffrito (sauce):
½ cup olive oil
1 pound chourico (Portuguese sausage), diced
2 yellow onions, julienne
2 red bell peppers, julienne
2 yellow bell peppers, julienne
6 cloves garlic, minced
4 bay leaves
2 teaspoons sweet paprika
1 teaspoon pimenton (smoked paprika)
½ teaspoon chili flakes
1 16-ounce can plum or roma tomatoes, drained and chopped
1½ cup white wine
1 bunch parsley, chopped
1 bunch cilantro, chopped
Salt and pepper, to taste
Heat the olive oil in a saucepan and sweat the onions, peppers, chourico and garlic. Add the spices and bay leaves. Add the white wine and chopped tomatoes and simmer for 30 minutes. Add the herbs and season with the salt and pepper. Cool. Set aside until ready to use. Makes about 2 quarts.
For the mussels:
8-12 mussels cleaned and debearded
3 ounces soffrito (see above)
1 ounce white wine
1 tablepoon chopped cilantro
Salt and pepper, to taste
PRESENTATION: Spoon 2 ounces of the soffrito into the bottom of the cataplana (the name for both the seafood dish and the copper pan in which it is cooked). Place the mussels on the sauce. Top with the remaining 1 ounce of sauce and a splash of white wine. Bring to a simmer on the stovetop (about 4 minutes) and clasp shut. Place in a hot oven for 5 to 7 minutes. Remove from the oven and open. Shake well and discard any mussels that have not opened. Taste for seasoning and garnish with chopped cilantro. Clasp shut and serve.
---
Chicken tagine with pumpking, currants and chickpeas Serves 6
For the braised chicken:
20 chicken legs (with thighs attached)
½ cup olive oil
3 large yellow onions, peeled and grated
3 large yellow onions, pe eled and sliced
4 teaspoons chopped garlic
3 teaspoons coriander seeds, toasted and ground
1½ teaspoons cumin seeds, toasted and ground
1 teaspoon ground black pepper
1½ teaspoons sweet paprika
1 pinch saffron
1 bunch parsley, chopped
1 bunch cilantro, chopped
2 quarts water
Salt and pepper, to taste
In a large saucepan, combine the oil, garlic and spices. Add the grated onions and slowly stir in the water. Bring to a simmer over medium heat. Add the chicken and the herbs and cover. Cook for 20 to 25 minutes, until the chicken is tender and just cooked through. Remove the chicken and add the sliced onions. Simmer for about another 15 minutes, until the onions are limp and the sauce is slightly reduced. Adjust the seasoning. Cool. Set aside until ready to serve.
For the couscous:
2 quarts dry couscous
2 quarts hot chicken stock
1 cinnamon stick
1 cup chopped toasted almonds
1 cup golden raisins
½ cup extra-virgin olive oil
Salt and pepper, to taste
Bring the chicken stock to a simmer with the spices. Put the couscous into a large mixing bowl and stir in the oil. Pour the stock evenly over the couscous and stir. Cover the bowl with plastic wrap and let steam for about 15 minutes. Uncover the bowl and stir, breaking up the clumps with your hands. Adjust the seasoning and pour into a container. Keep in a warm place until ready to serve.
Preparation:
2 legs and thighs of chicken (already braised)
4 ounces reserved braising sauce
½ cup cooked chickpeas
½ cup cubed roasted pumpkin
1 teaspoon rehydrated currants
2 teaspoons honey
Salt and pepper, to taste
Place the chicken legs in a cazuela (oven-safe terra-cotta dish) and put in preheated 550° F oven for 8 to 10 minutes, until slightly browned and crisp. Add the reserved braising liquid with cubed pumpkin, currants and chickpeas and return to the oven for about 5 minutes until cooked through.
PRESENTATION: Lift up the chicken and mound the couscous into the center of the cazuela. Replace chicken. Taste and adjust the seasoning. Garnish with the chopped cilantro.
LAURO KITCHEN
3377 S.E. Division #106, Portland, OR 97202
tel 503 239 7000, www.laurokitchen.com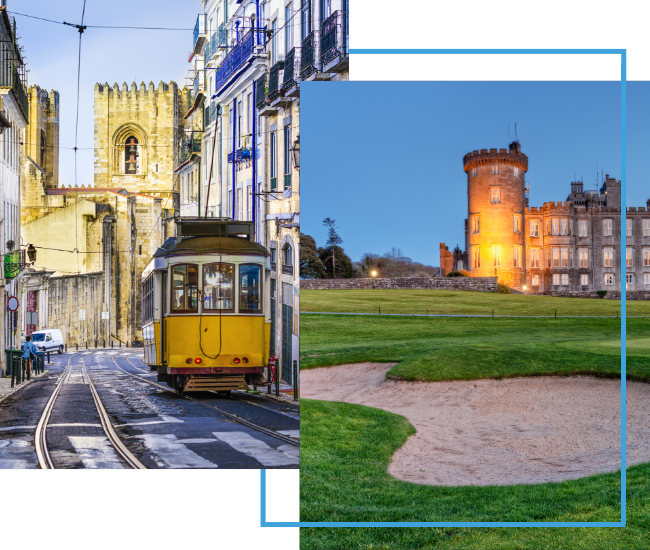 FX Excursions
FX Excursions offers the chance for once-in-a-lifetime experiences in destinations around the world.
Explore Excursions
There may not be snow in Los Angeles this season, but Waldorf Astoria Beverly Hills is certainly full of the holiday spirit, with Christmas, Hanukkah and New Year's events happening in the hotel's gorgeous event spaces.
Sponsored Content
IHG Hotels & Resorts is thrilled to announce the launch of a new mobile product feature for members: IHG Wi-Fi Auto Connect. This feature is now available exclusively in the IHG One Rewards mobile app for both iOS and Android users and will automatically connect IHG One Rewards members to WiFi upon arrival at more than 5,000 IHG hotels worldwide — no separate passwords or log-ins needed. This is in addition to the exciting benefits of being an IHG Business Edge member. IHG Business Edge provides small- and medium-sized businesses access to a user-friendly portal that displays comprehensive spending and savings data while providing the convenience of direct booking with a guaranteed discount.
Looking for fun things to stuff into the toe of a few holiday stockings? Here are some great choices: