Tuscan-born Chef Renato De Pirro has a soft spot for the kitchen. It's where he spent his childhood learning to cook in the company of his mother and grandmother and where he began to build a culinary legacy rooted in family tradition.
"Italians are about family, cooking and tradition," says De Pirro. "The kitchen is where we spent all of our time with family and friends; creating recipes, enjoying wines and creating meaningful traditions and techniques that I still rely on to this day."
With more than 20 years of experience in some of the finest kitchens in Europe, South America and the United States, the executive chef at Houston's Hotel Granduca and its signature Ristorante Cavour combines traditional Italian culinary principles with his extensive travel experience. The core of his style, though, remains firmly rooted in understanding the origins and finely fragmented diversities of Italian cuisine.
"The best part of preparing Italian cuisine is tradition: Every region, province, community and valley has different traditions and eating habits. I've always believed it's critical to study and understand the cuisines of the past in order to work the present and build the future," says De Pirro.
---
Mixed greens with heirloom tomatoes, pesto dressing and pine nuts Serves 4
For the salad:
8 long, very thin slices of cucumber
6 ounces salad mix
8 ounces baby heirloom tomatoes, sliced in half
4 teaspoons toasted pine nuts
For the dressing:
3 tablespoons extra virgin olive oil
1 tablespoon Champagne vinegar
1 cup basil leaves
1 clove garlic
1 tablespoon grated Parmesan Reggiano cheese
Salt and pepper, to taste
Place all ingredients for the dressing in a blender and blend until smooth.
For the garnish:
4 Grissini breadsticks
Presentation:
For each serving, use 2 cucumber slices to make a crown in the middle of the plate. Place 1/4 of the dressed salad mix into the cucumber crown. Top with tomatoes and pine nuts. Garnish with a bread stick.
Gnocchi with eggplant tomato sauce and fresh ricotta cheese Serves 4
For the gnocchi:
1 pound Idaho potatoes, skin on
5 ounces all-purpose flour
2 tablespoons grated Parmesan Reggiano cheese
2 egg yolks
Salt and pepper, to taste
Boil the potatoes until well done. Mash cooked potatoes through a food mill to a fine consistency. Set aside and let cool completely. Add the remaining ingredients and mix well until a dough forms. On a lightly floured board, roll the dough into a 1⁄2-inch "snake." Cut the dough into 1⁄2-inch pieces. Roll each piece of dough on the back of a fork to give it the classic gnocchi shape. Set aside. When ready to plate, cook the gnocchi in boiling, salted water. Gnocchi is ready when it rises to the top of the water.
For the eggplant tomato sauce:
2 tablespoons extra virgin olive oil
1 clove garlic
1 medium eggplant, peeled and diced to 1⁄4-inch
1 small can imported Italian tomatoes, pureed
1 tablespoon basil chiffonade
Salt and pepper, to taste
Heat the oil and garlic in a pan. Add eggplant and fry for a few minutes. Add the tomatoes and cook for about 5 minutes. Add the basil. Season with salt and pepper, to taste.
For the garnish:
Fresh ricotta cheese Basil sprig
Presentation:
Toss the gnocchi with the eggplant tomato sauce and place on the serving dish. Finish with a dollop of fresh ricotta cheese. Garnish with a sprig of basil.
Pan-seared branzino with heirloom tomato sauce and fennel salad Serves 4
1-1⁄2 pounds branzino (Mediterranean sea bass)
8 ounces baby heirloom tomatoes, cut in half
1 teaspoon garlic, minced
1 tablespoon basil chiffonade
6 tablespoons extra virgin olive oil
8 ounces fennel, shaved
Salt and pepper, to taste
Heat 2 tablespoons of olive oil in a sauté pan. Season fish with salt and pepper and sear in heated oil on both sides until done. In another pan, heat 2 tablespoons of olive oil. Add garlic and tomatoes. Cook for 4 minutes. Season to taste with salt, pepper and basil. Season fennel with remaining 2 tablespoons of oil and salt and pepper, to taste.
Presentation:
Place the seasoned fennel on the side of a plate. Place the fish on the other side. Top the fish with garlic tomato sauce.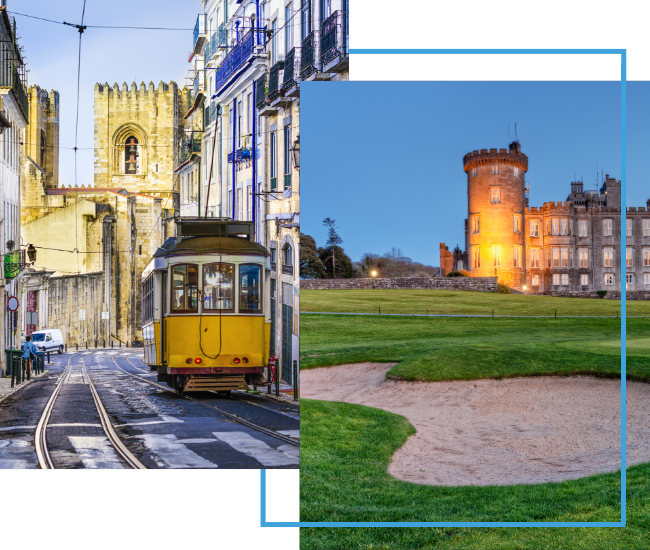 FX Excursions
FX Excursions offers the chance for once-in-a-lifetime experiences in destinations around the world.
Explore Excursions
Did the new film Oppenheimer rouse your interest in the nefarious world of international espionage? You can go straight to the real-life setting for covert actions this November (Nov. 10–12), when La Fonda on the Plaza in Santa Fe hosts a specially themed "Spies, Lies and Nukes" weekend. The hotel actually served as the retreat location for Manhattan Project scientists, who stayed at La Fonda on the Plaza to take a break from the stress of their work. During the weekend, the property's La Fiesta Lounge will make a tasty nod to those days by serving up a special Atomic Martini.
Sponsored Content
In an increasingly digital and interconnected world, the Global Business Travel Association (GBTA) Convention remains an indispensable platform for business travel industry professionals seeking to make the most of the power of face-to-face connections. Taking place August 13–15 in Dallas, the 2023 GBTA Convention provides the unique opportunity for professionals and companies to join visionaries, thought leaders and industry experts for meaningful networking, cutting-edge insights and inspiring innovation.
Ever want handcrafted martinis and freshly shucked oysters delivered straight to your room? The Read House's New Martinis & Pearls service has you covered. Shining in 1920s-themed decor, the historic hotel in the heart of Chattanooga offers a true Gatsby-esque experience, now further elevated with this upscale amenity. Guests can now indulge in their perfectly chilled martini, made to order, and "pearls" (oysters) in the comfort of their room.