Kerry Heffernan's earliest food memories center on her mother's handmade manicotti and other authentic, home-style Napolitano recipes. Raised in Southern California, Heffernan hails from a culinary family. Her grandmother worked as a personal chef for actor Clifton Webb ("Cheaper by the Dozen," 1950; "Stars and Stripes Forever," 1952) and one of her favorite after-school hangouts was her uncle's Italian restaurant. Suffice it to say, Heffernan brings a full range of personal experience to the award-winning dishes on the menu at Fairmont San Francisco's Laurel Court dining room.
Heffernan's culinary philosophy involves complementing a simple yet delicious abundance of bold flavors with fresh seasonal ingredients. Highlights of Heffernan's Laurel Court dinner menu include seared dayboat sea scallops served on a cornmeal pancake with chive beurre fondue; fresh butternut squash ravioli with basil asiago panna sauce and toasted pine nuts; Niman Ranch ribeye steak with truffled mashed potatoes and red wine sauce; and fresh Meyer lemon and black pepper linguini with seared Ahi tuna served with a saffron, sun-dried tomato and fennel sauce.
Fresh Meyer lemon and black pepper linguini and seared Ahi tuna with saffron, sun-dried tomato and fennel sauce-Serves 4
Ingredients
2 pounds Meyer lemon and black pepper fresh
linguini or other nice fresh linguini
4 portions of grade "A" Ahi tuna (approx. 7 ounces each)
Saffron, sun-dried tomato and fennel sauce (recipe below)
2 tablespoons butter
2 tablespoons extra virgin olive oil
1 teaspoon chopped parsley
1 tablespoon chopped chives
Kosher salt and freshly ground black pepper
Sear the tuna in a hot pan or on the grill, making sure to keep it rare to medium rare.
Cook the pasta in rapidly boiling salted water.
Toss the pasta with the sauce, butter, olive oil and herbs.
Slice the tuna and lay across the pasta.
Sprinkle herbs onto the tuna and serve with saffron, sun-dried tomato and fennel sauce.
Saffron,sun-dried tomato and fennel sauce
2 red bell pepper, finely diced
11/2 cup diced red onion
1/8 cup minced garlic
Pinch of saffron
1 quart vegetable stock
11/2 cup sun-dried tomatoes, julienned
1 tablespoon lemon juice
4 fresh fennel bulb-roasted soft
1/3 cup extra virgin olive oil
Sauté the pepper and onion to sweat (sauté without coloration until translucent).
Add the garlic and sweat a little more.
Add the pinch of saffron and the vegetable stock.
Bring to a boil.
Add the julienned sun-dried tomato and lemon juice.
Cook 10 minutes on medium heat.
Purée the fennel bulbs in a robot coupe and pass through a food mill with the extra virgin olive oil.
Whisk the fennel puree into the saffron sauce.
Season to taste.
---
Seared dayboat sea scallops,cornmeal pancake and chive beurre fondue–Serves 4
Ingredients
12 U-10 dayboat scallops
Cornmeal pancakes (recipe below)
3 tablespoons bacon lardons (cubes), cut 1/4-inch
square and cooked crisp
Chive beurre fondue (recipe below)
1 cup cleaned curly endive
1/2 cup sweet potato angel hair, fried crisp
2 tablespoons chopped chives
Cook the cornmeal pancakes and set aside, keeping warm.
Season the scallops with kosher salt and freshly ground black pepper.
Sear the scallops in a smoking hot pan getting them brown and caramel-colored on one side.
Turn the scallops and immediately turn off the heat.
Allow the scallops to stay in the hot pan until you are ready to assemble the plate.
Assemble by putting a cornmeal pancake on the plate and stacking the scallops on top.
Then place the curly endive between the scallops and add a sprinkling of crispy sweet potato on top of the scallops.
Finish with a drizzle of the sauce and a dusting of chives and lardons.
Cornmeal pancakes
1 egg
2 cups white or yellow cornmeal
1 teaspoon salt
11/4 to 11/2 cup milk
Beat 1 egg.
Stir in 2 cups white or yellow cornmeal, 1 teaspoon salt, 11/4 to 11/2 cups milk (  to make batter thick).
Drop spoonfuls of batter onto a well-greased hot griddle and fry to a golden brown on each side.
Stir batter occasionally to keep well mixed.
Makes 12 cakes.
Chive beurre fondue
1 tablespoon olive oil
11/2 tablespoons minced shallots
1 star anise
1/2 tablespoon coriander seed
1/2 bay leaf
1/2 dried red pepper, whole
1/2 cup vegetable stock
1/2 cup dry white wine
1 pound butter
1 bunch fresh chives, minced
Salt and pepper
In saucepan over medium heat, add olive oil and sweat minced shallots for a few minutes.
Add star anise, coriander, bay leaf and red pepper; sweat a few minutes more.
Add white wine.
Bring to a boil and reduce by half.
Add stock and bring back to a boil.
Add butter slowly and whisk consistently to emulsify.
Strain out shallot and spices and add fresh chives.
Salt and pepper to taste.
Uncovering a Hidden Gem
Crowned by three ornate domes, The Laurel Court served as the original dining room in The Fairmont Hotel from 1907 through 1937. Returned to its original grandeur in 1999 during an $85 million hotel renovation, The Laurel Court once again reflects the vision of Julia Morgan, the early 20th century architect-and first female graduate of the prestigious Ecole des Beaux Arts in Paris-who led restoration efforts at the hotel following the devastating San Francisco Earthquake in 1906.
In a manner reminiscent of an archaeological dig, craftsmen participating in the 1999 renovation uncovered long-hidden marble floors, ornate domes and other intricate architectural flourishes. Following more than six decades of closure, The Laurel Court was restored to its original design and once again functions as the hotel's main dining room and bar. The landmark Fairmont San Francisco stands without peer among hostelries in San Francisco. The hotel's ornate terra cotta facade and sumptuous interior decor resemble a European palace. Located atop Nob Hill, The Fairmont San Francisco is just minutes away from the Financial District, Union Square, Chinatown, North Beach, Fisherman's Wharf and Ghiradelli Square.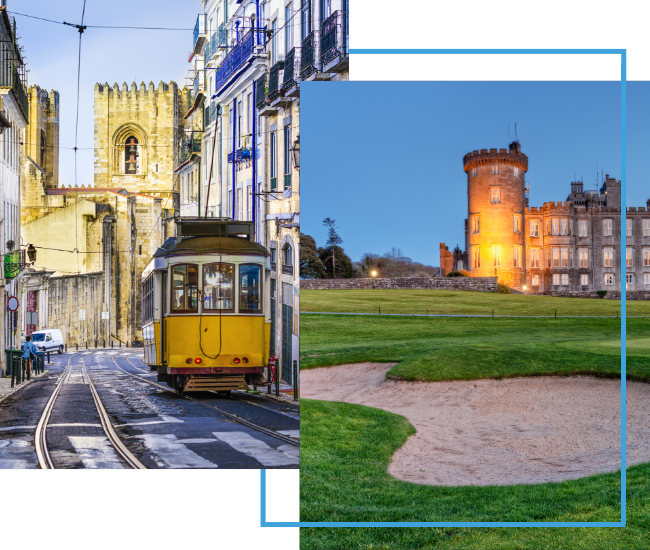 FX Excursions
FX Excursions offers the chance for once-in-a-lifetime experiences in destinations around the world.
Explore Excursions
In addition to intimate settings, smaller staff-to-passenger ratios, and personalized food and beverage options, river cruises have the advantage of providing a deeper dive into a region's culture, food and history. The Rhine, Rhône and Danube in Europe and the Mississippi River and St. Lawrence in North America have much to offer travelers with their itineraries, tying together beloved cities and lesser-known destinations along their routes.
Sponsored Content
Are you looking to enhance your business trip with a little leisure? Look no further than Portugal, a country renowned for its captivating blend of history, culture and natural beauty. And with TAP Air Portugal, you can effortlessly transform your business trip into an unforgettable bleisure adventure. Discover why Portugal and TAP Air Portugal are the perfect combination for an enriching and rejuvenating experience.
With the holidays right around the corner, travelers are preparing for holiday travels. For those looking for a last-minute getaway filled with holiday cheer, consider Croatia. With a variety of winter activities perfect for travelers and locals alike, the Christmas countdown in Croatia is in full swing. Leading up to Christmas, Advent in Croatia makes it even more worth your while to visit the country with free winter incentives. If you plan on visiting Croatia, here are five cities going all out for the holiday season: