Charles Muther's Cajun panseared tiger prawns on sweet pumpkin and purple potatoes with shellfish and arugula sauce Serves 2
6 large prawns
1 tablespoon Cajun seasoning
1 tablespoon extra virgin olive oil
De-vein and shell the prawns. Set the shells aside to be used in the shellfish sauce. Season the prawns with Cajun seasoning. Heat olive oil in a small pan. Pan-fry the prawns. Set aside and keep warm.
---
For the pumpkin and purple potatoes:
3 ½ ounces sweet pumpkin
3 ½ ounces purple potato
2 cups boiling salted water
Peel purple potatoes and sweet pumpkin and cut into ¾-inch cubes. Boil in salted water for five minutes. Set aside and keep warm.
---
For the arugula sauce:
1½ cups arugula
2¼ teaspoons extra virgin olive oil
1 dash of lemon juice Salt and pepper, to taste
Wash the arugula. Combine all ingredients in a blender and blend until the mixture resembles a thick salsa. Season to taste. Set aside.
---
For the shellfish sauce:
Shells from 6 prawns
1 1/8 teaspoon extra virgin olive oil
1¾ teaspoons tomato paste
1½ teaspoon chopped onion
1 dash white wine
1 cup fish stock
½ cup fresh cream
1½ tablespoons cold French butter
Fresh lemon juice, to taste
Salt and pepper, to taste
In a small saucepan combine the extra virgin olive oil with the prawn shells. Add onion and tomato paste and sauté for about 10 minutes. Deglaze the pan with the white wine and the fish stock. Reduce liquid by one-half. Pour liquid into a blender. Blend at high speed. Pass the mixture through a sieve, retaining shellfish sauce. Add fresh cream and heat to combine. Season to taste with fresh lemon juice and pepper. Set aside and keep warm. Right before serving, mix in cold butter to create a creamy texture.
---
For the organic greens:
1½ cup organic greens
1 1/8 teaspoon extra virgin olive oil
1 pinch freshly ground rock salt
1 pinch freshly ground pepper
¼ teaspoon fresh lemon juice
Combine organic greens or mixed greens in a bowl. Season with rock salt, pepper, lemon juice and extra virgin olive oil. Mix well.
PRESENTATION: Pour a serving of the arugula sauce and a portion of the shellfish sauce onto a plate. Arrange the sweet pumpkin and purple potatoes on the plate. Place three prawns on each plate. Top with organic greens.
---
Charles Muther's charcoal-grilled Australian beef tournedos with pumpkin gnocchi, red winecooked shallot and gorgonzola sauce served with baby greens Serves 2
2 6-ounce Australian beef tournedos
11/8 teaspoons extra virgin olive oil
Salt and pepper, to taste
Sprinkle the beef tournedos with salt and pepper and pan-sear in hot olive oil in a heavy skillet until meat is crispy on all sides. Preheat oven to 450 degrees. Bake for about 12 minutes or until done to your liking.
---
For the gorgonzola sauce:
½ cup demi-glace sauce
3½ tablespoons gorgonzola cheese
Salt and pepper, to taste
In a sauce pan, heat the demi-glace. Add the gorgonzola cheese and heat. Mix sauce in a blender to attain a foamy consistency. Season to taste.
---
For the pumpkin gnocchi:
1 cup fresh yellow sweet pumpkin
¼ cup fresh boiled potato
1 egg yolk
2½ tablespoons flour
2¼ cup salted water
2¼ teaspoons French butter
Salt and pepper, to taste
Peel the potato and the sweet pumpkin. Cook both in hot, salted water until soft. Remove from water and mash in a bowl. Add egg yolk, flour and seasoning. Form dough into small gnocchi. Sprinkle with flour. Boil gnocchi in salted water for about 4 minutes. Remove from water and pan-fry in a sauté pan coated with butter.
---
For the red wine-cooked shallots:
½ cup Bordeaux wine
3 ounces fresh purple shallots
3 2/3 tablespoons brown sugar
2¼ teaspoons French butter
Peel purple shallots. Put brown sugar into a skillet. Add Bordeaux wine and let the sugar dissolve over low heat. Add the peeled shallots and cook over medium heat for about 5 minutes, turning and tossing the pan so the shallots are coated with the caramelized red wine.
---
For the garnish:
¼ cup red beet greens
1 1/3 tablespoons baby chives
1½ teaspoons sautéed sunflower seeds
PRESENTATION: Arrange the beef tournedos on the center of each plate. Place gnocchi and the red winecooked shallots around the beef. Pour sauce around the beef tournedos. Garnish with a beet root leaf and chives. Sprinkle sautéed sunflower seeds over the top.
---
Tae Kyun Kim's pan-fried king prawns with avocado and mango sauce Serves 2
2 pieces phyllo dough, cut/folded to 1 ½ by 8 inches
Preheat over to 325 degrees. Line 2, 2½-inch diameter round molds with the phyllo dough to form a ring. Bake dough in the oven until it turns light brown.
---
For the pan-fried king prawn:
2 king prawns, tail on
1½ teaspoons chopped shallot
1 teaspoon chopped parsley
3 tablespoons rosemary
4 teaspoons extra virgin olive oil
Salt and pepper, to taste
Clean and de-vein the king prawns. Heat olive oil in a skillet. Add the king prawns and cook until they turn pink. Add shallots, rosemary and parsley. Set aside to cool.
---
For the micro salad:
¼ cup micro salad
2 tablespoons mango coulis with lemon juice (blend mangos with lemon juice and sugar to taste)
4 thin wedges of avocado, skin removed
2 teaspoons basil pesto
---
For the garnish:
Deep-fried julienne of beet root
PRESENTATION: Place phyllo ring onto center of plate. Arrange micro salad, two wedges of avocado and king prawn into ring. Spoon on the mango coulis and basil pesto. Garnish with deep-fried julienne of beet root.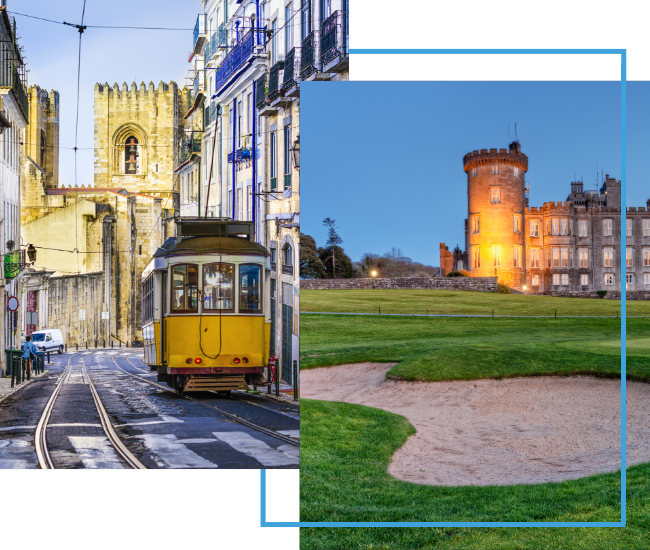 FX Excursions
FX Excursions offers the chance for once-in-a-lifetime experiences in destinations around the world.
Explore Excursions
Did the new film Oppenheimer rouse your interest in the nefarious world of international espionage? You can go straight to the real-life setting for covert actions this November (Nov. 10–12), when La Fonda on the Plaza in Santa Fe hosts a specially themed "Spies, Lies and Nukes" weekend. The hotel actually served as the retreat location for Manhattan Project scientists, who stayed at La Fonda on the Plaza to take a break from the stress of their work. During the weekend, the property's La Fiesta Lounge will make a tasty nod to those days by serving up a special Atomic Martini.
Sponsored Content
Don't risk losing all the money you've spent if you must cancel your trip at the last minute. Allianz Travel Insurance can give you:
Ever want handcrafted martinis and freshly shucked oysters delivered straight to your room? The Read House's New Martinis & Pearls service has you covered. Shining in 1920s-themed decor, the historic hotel in the heart of Chattanooga offers a true Gatsby-esque experience, now further elevated with this upscale amenity. Guests can now indulge in their perfectly chilled martini, made to order, and "pearls" (oysters) in the comfort of their room.