It's not often a country's most iconic ingredient is not native to the area; however, that is exactly the case with bacalhau, or dried and salted cod, one of the most popular ingredients in Portuguese cuisine. While the old adage goes, "There are 365 ways to prepare bacalhau in Portugal, one for every day of the year," in actuality, there are said to be 1,001 recipes including bacalhau in the country.
Typically produced in Norway, Iceland and Newfoundland, bacalhau was first discovered 500 years ago. Due to a lack of refrigeration, the Portuguese people tried salting and preserving the many varieties of fish found off its Atlantic coast. Eventually, they discovered the ideal fish for this process off the coast of Newfoundland and began fishing its waters. Soon, it was pervasive in Portuguese cooking, an everyday staple in many households. It became especially popular in the predominantly Roman Catholic country because it could be enjoyed on the many days per year the Church forbade eating meat. Today, due to overfishing, among other reasons, bacalhau is more expensive. It is now served mostly on special occasions and, in some parts of the country, is the traditional Christmas dinner.
Before preparing any of Portugal's popular bacalhau dishes, the soaking process is fundamental. In a large pot of cold, clean water, soak the fish for at least 24 hours, changing the water several times. The salted cod must then be boiled; to flavor, vinegar, carrots, celery, onions, parsley, peppercorns and such can be added before boiling for 15 minutes. Once skinned and de-boned, the bacalhau is ready to transform.
From here, bacalhau can be broiled, fried, stewed, grilled, roasted — you name it — and is traditionally served with potatoes. Among the most common, and tasty, transformations are bacalhau com todos, served boiled with vegetables, hard-boiled egg, olive oil and garlic; bacalhau à Brás, prepared fried rice-style with potatoes, onion, scrambled eggs and olives; and bacalhau à Gomes de Sá, similar to the à Brás preparation, but the fish is soaked first in milk, then roasted and served with hard-boiled egg. Also frequently seen are bolinhos de bacalhau, fried balls of bacalhau and potatoes. Oven-baked varieties include à ze do pipo, when milk-soaked cod is baked with onion, mashed potatoes and mayonnaise and garnished with olives; and bacalhau com natas, like a potato gratin with cream and béchamel.
Whichever way you prefer your bacalhau, there's no denying the many ways this non-native ingredient has come to characterize Portuguese cuisine.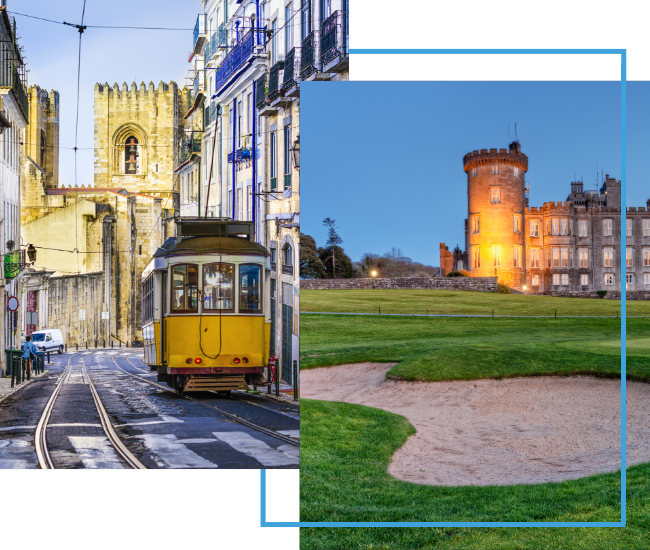 FX Excursions
FX Excursions offers the chance for once-in-a-lifetime experiences in destinations around the world.
Explore Excursions
Did the new film Oppenheimer rouse your interest in the nefarious world of international espionage? You can go straight to the real-life setting for covert actions this November (Nov. 10–12), when La Fonda on the Plaza in Santa Fe hosts a specially themed "Spies, Lies and Nukes" weekend. The hotel actually served as the retreat location for Manhattan Project scientists, who stayed at La Fonda on the Plaza to take a break from the stress of their work. During the weekend, the property's La Fiesta Lounge will make a tasty nod to those days by serving up a special Atomic Martini.
Sponsored Content
The Islands of Tahiti are among the most beautiful and sought-after vacation destinations in the world. The endless images of overwater bungalows with Bora Bora's majestic peak towering over waters of every shade of blue have an intrinsic pull. But with 118 islands and atolls to explore, there is so much more to this spectacular region of the Pacific.
Ever want handcrafted martinis and freshly shucked oysters delivered straight to your room? The Read House's New Martinis & Pearls service has you covered. Shining in 1920s-themed decor, the historic hotel in the heart of Chattanooga offers a true Gatsby-esque experience, now further elevated with this upscale amenity. Guests can now indulge in their perfectly chilled martini, made to order, and "pearls" (oysters) in the comfort of their room.