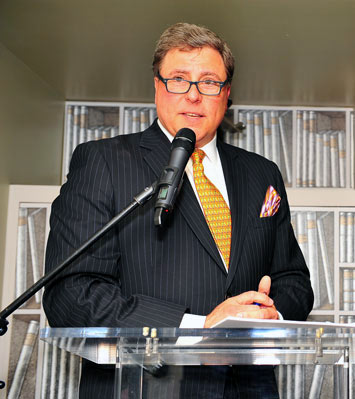 Fran Gallagher
Francis X. Gallagher decided to pursue his lifelong dream in 2004 when he launched Global Traveler. A graduate of St. Joseph's University, in Philadelphia, Pennsylvania, he began his career at Knight Ridder Newspapers, followed by a brief tenure with Cresmer, Woodward, O'Mara & Ormsbee (represented more than 150 daily U.S. newspapers across the country).
He launched Business Traveler and served as the publisher for 17 years (a British-owned, monthly publication), growing the circulation and revenue year after year and taking it from a British rewrite to a true American voice for travelers.
In February 2004, he settled into his true calling — owning and running Global Traveler, the only AAM-audited monthly magazine for the business and luxury traveler. Yardley, Pennsylvania, nestled between New York City and Philadelphia, is home to Global Traveler's world headquarters. Since its inception in 2004, FXExpress Publications Inc.'s growth has included globaltravelerusa.com, digital newsletters, respected annual surveys and awards, and two sister web publications, trazeetravel.com and whereverfamily.com.
Francis and his wife, Michele, also reside in Yardley, and have two adult children, Nathan and Laura.
He is an avid golfer, playing rounds wherever he touches down worldwide and shares these experiences in Global Traveler's monthly golf column, often teeing up with key global clients.
Opening an office in Sarasota in 2020 was a challenge but offered the company a footprint further south to closer to even more clients. Gallagher splits his time between these two offices, frequently flying back and forth based on need.
Gallagher frequently travels around the world — from Korea to Los Angeles and from India to Europe. He often settles in the Outer Banks, North Carolina, where he has a second home. He enjoys traveling, playing golf, gardening and spending time with his family.
The idea of a boutique hotel in the center of Rome's busiest crossroads may seem counterintuitive, but Singer Palace Hotel pulls off the impossible thanks to its minimalist exteriors, 30 gorgeous one-of-a-kind rooms and suites, smart-but-whimsical décor, simple-yet-elegant Roman cuisine and a stellar mixology-driven rooftop bar. It's a delightful study in contrasts — a quiet, intimate and plush setting nestled within a maze containing many of Rome's most noteworthy sites.
Sponsored Content
Nashville's once-modest skyline continues to evolve as its luxury market grows. Lavish hotel properties are added to the landscape while acclaimed chefs stake claim in the robust culinary scene and premier cultural offerings round out the city's repertoire.
Uber app users can now book an Uber Boat in Mykonos this summer to enjoy even more of the Greek island's beauty. Uber announced the new addition allows up to eight guests to cruise to popular destinations and sites around Mykonos.