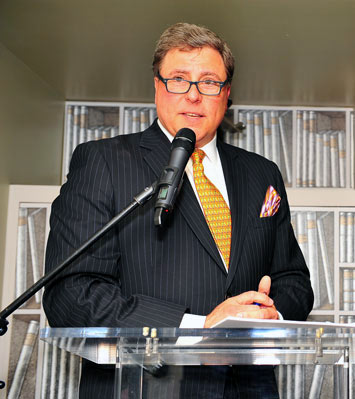 Fran Gallagher
Francis X. Gallagher decided to pursue his lifelong dream in 2004 when he launched Global Traveler magazine. A graduate of St. Joseph's University, in Philadelphia, Pa., he began his career at Knight Ridder Newspapers, followed by a brief tenure with Cresmer, Woodward, O'Mara & Ormsbee (represented more than 150 daily U.S. newspapers across the country).
He launched Business Traveler and served as the publisher for 17 years (a British-owned, monthly publication), growing the circulation and revenue year after year and taking it from a British rewrite to a true American voice for travelers.
In February 2004, he settled into his true calling – owning and running Global Traveler, the only AAM-audited monthly magazine for the business and luxury traveler. Yardley, Pa., nestled between New York City and Philadelphia, is home to Global Traveler's world headquarters. Since its inception in 2004, FXExpress Publications Inc.'s growth has included globaltravelerusa.com, digital newsletters, a jump to 16 annual issues, respected annual surveys and awards, and two sister web publications, trazeetravel.com and whereverfamily.com.
Francis and his wife, Michele, also reside in Yardley and have two children, Nate and Laura.
Francis is involved with a number of charities, including The Leukemia & Lymphoma Society, for which he serves on the Board of Trustees, and The Mentor Foundation. Over the years, he has been actively involved with youth athletics and coaching. He is a long-standing patron of Villa Joseph Marie High School, a private girl's school in suburban Philadelphia.
He is an avid golfer, playing rounds wherever he touches down worldwide and shares these experiences in Global Traveler's monthly golf column, often teeing up with key global clients. He is a member of the Union League of Philadelphia.
Gallagher frequently travels around the world — from China to Los Angeles and from India to Europe. He often settles in the Outer Banks, N.C., where he has a second home. He enjoys traveling, playing golf, gardening and spending time with his family.
Mövenpick, Accor's premium Swiss-born hospitality brand, officially launched its first property in New Zealand. Situated in Auckland, Mövenpick Hotel Auckland sets a new standard in the world of hospitality with unique and exciting amenities and a warm, contemporary design found throughout the property.
Sponsored Content
Whether you prefer a villa on the beach or an ultra-luxe suite downtown, you'll find everything you're looking for in Los Cabos.
Turkish Airlines offers premium travelers something new. After signing an agreement with fashion brands Coccinelle and Hackett, the carrier introduced redesigned premium amenity kits for its business-class passengers flying eight hours or more on long-distance flights. The new kits were introduced April 29.