Los Angeles (LAX) to Auckland (AKL)
On the Ground: Once I arrived at Incheon International Airport, I headed to Asiana Airlines' first-class desk and received swift service, my credentials reviewed and my boarding pass delivered. I was eagerly anticipating my first flight on Asiana's Airbus A380 in its first-class suite. An Asiana employee stood ready to help me through security and to the first-class lounge. I have enjoyed the Asiana Airlines' first-class lounge many times — a welcoming and restful place where you can sit back, work, recharge your electronics and have something to eat and drink. (I am particularly fond of the steamed dim sum.) I stepped out for a few minutes to purchase some traditional items and gifts from Incheon Duty Free and returned to the lounge. When my flight was ready to board, my Asiana representative escorted me onto the plane and to my first-class suite. Pre-Flight: As I boarded, the flight team greeted me by name and offered reading material — newspapers and, of course, Global Traveler magazine. They hung up my sport coat and offered a pre-flight drink, Johnny Walker Blue on the rocks, served with warm nuts. On this flight, specialty cocktails ranged from Manhattans to mimosas. I planned to watch a movie while enjoying lunch and then take advantage of the comfortable flat-bed suite and sleep my way to JFK. In-Flight: First class occupies the front of the A380 on the lower lever and consists of 12 seats in a 1-2-1 configuration. I was located on the left side in a single window seat. Each suite can fully close with a sliding door to provide privacy for sleeping. The 32-inch TV screen — nearly the size of the standard house TV a few years ago — makes watching a movie a must. I immediately hooked up the supplied headphones and plugged in my laptop, ready to turn everything on once we achieved cruising altitude. The first-class suite includes a great number of compartments as well as a large area along the windows for storage. The tray tables are massive and easy to put into place. Electronic amenities feature easy-to-use controls and plentiful audio and video options. For lunch, the traditional Western menu offered Wagyu beef or roasted chicken, with starters of caviar and other canapés. Instead, I chose the Korean Royal Cuisine menu, bibimbap with poached king prawn. Bibimbap is a traditional meal of rice, vegetables and meat served with gochujang (red pepper paste). Fresh fruit and Korean cookies followed. Asiana flight attendants volunteer to join many specialty teams, such as the Magic Team, which performs magic tricks to entertain children on long flights, and the Charming Team, which offers facials and manicures on board. The Sommelier Team on my flight specialized in educating passengers about wine and proper serving. My flight attendant expertly decanted the 2007 Louis Jadot Corton-Pougets Grand Cru (Burgundy) I ordered, and we discussed the many wine awards Asiana has received from Global Traveler over the years. After lunch, I took full advantage of the comfortable suite and closed the door while I restfully slept until it was time for a light breakfast before landing. The Experience: Asiana Airlines has always provided wonderful service, and its flight attendants are known as the best in the world. Add the A380 first-class suite to this mix, and you have a traveler's dream come true.
On the Ground: Upon arriving at Los Angeles International Airport for my flight to Singapore, I waited about five minutes in line at the China Airlines business-class counter. The attendant was helpful and handled my bags with care. I needed a lock for one of my bags, and he gladly tethered it with a plastic tie. He provided thorough instruction on where to go and how to get to the China Airlines lounge. I was off to a good start for my 15-day tour of Asia.
DIYS.com, the world's largest D.I.Y. community, sought to find out which of the world's iconic Christmas trees are the most popular; the website analyzed monthly global search volume to rank the trees.
Sponsored Content
IHG® Business Edge: Working Together with SMEs for a smarter way to manage travel
Hilton Lake Como recently unveiled a new winter culinary offering at its exclusive rooftop restaurant and bar, Terrazza 241. Executive chef Alessandro Ramella crafted the new menu to ensure each dish complemented the garden and 360-degree panoramic views of the surrounding landscape and lake. The hotel first opened in 2018, continually drawing in visitors for its gorgeous scenery, fine dining and luxury accommodations.
For the 11th consecutive year, Global Traveler honors the best of the best in the industry, naming 2021's Airline of the Year and Hotel of the Year.
Sponsored Content
Since its prestige for attracting the world elite grew in the 1960s, Greece remains the go-to destination for glittering holidays. Each step of the journey is enrobed in luxury, from culinary traditions with the highest standard of execution and name-brand, high-end shopping to first-rate wellness locales and elite accommodations, like 5-star hotels, private villas and yachts.
It's not an overstatement to say we've been through it all in the past 18 months as milestones, celebrations, and even hallmarks of our day-to-day lives were upended. But 2021 has certainly brought us a bit more due north with vaccine deployment, a return to in-person everything, countries around the world re-welcoming Americans and, more recently, with U.S. borders re-opening to vaccinated individuals from around the world. With all that good news, we chose the theme "Open the World" to celebrate the 2021 winners of the GT Tested Reader Survey awards, our 18th year honoring the best of the best in the world of travel.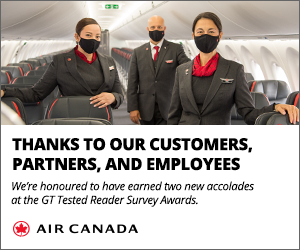 After being closed to travelers for a long period of time, Chile is officially ready to welcome fully vaccinated travelers from around the world. The National System of State Protected Wildlife Areas comprises 22 percent of domestic territory in Chile, and with 43 national parks, 45 national reserves and 18 natural monuments, the country is the perfect destination for travelers to participate in sustainable tourism.
Sponsored Content
GBTA's Convention 2021 will bring the business travel industry together for the first time in a long time. Once again, you'll learn and connect with experts and each other, along with discussions with leading thinkers, entrepreneurs and change makers addressing the issues that matter most.
Visitors to Paris are familiar with the Champs Elysées — the broad, tree-lined boulevard connecting the Place de la Concorde and Arc de Triomphe — and all the fashionable streets that lead from it, including Avenue George V. The flagship Louis Vuitton store and the red awning at Le Fouquets are the two gatekeepers to this stylish street, which boasts chic Hermes, Bulgari and Kenzo boutiques — and elegant hotels, including Prince de Galles, a Luxury Collection hotel.