High in the sky, there's intense competition to win the allegiance of premium passengers — and when it comes to airline loyalty, the pledge to get you there safely and on time is no longer sufficient. Among the strategies leveraged in the quest to make an enduring, positive impact is the promise of epicurean delicacies designed by brilliant chefs, accompanied by dazzling wines. And though no one is likely to mistake a lobster's natural habitat as 30,000 feet in the clouds, that means reflecting a strong sense of place: taking into account the nationality of the airline, the season, passenger demographics and a flight's destination.
Since food is often perceived as a reward — on both a conscious and subconscious level — an added benefit of a great in-flight meal may well be the association of having received a tangible bonus for choosing a particular airline. When coupled with a ritual, such as the afternoon tea served on board British Airways and Virgin Atlantic or the elegant staging that accompanies meal service on Japan Airlines, customers are left with a sense of reaping extraordinary treatment.
"Great culinary experiences are very important to premium passengers," acknowledges Sarah Klatt-Walsh, Swiss International Air Lines' director of in-flight products and services. "Although very few customers admit they would select an airline based on its food, the dining experience does make a significant contribution to overall customer satisfaction. Our aim is to bring Switzerland's culinary diversity to our customers and out to the world."
To that end, intercontinental flights feature SWISS Taste of Switzerland, a regional concept focusing on the various cantons of Switzerland with menus created from the best kitchen chefs of each, served with regional specialties. On European flights, passengers can enjoy SWISS Traditions, with dishes that highlight traditional Swiss cuisine and historic and cultural events.
Airplane environments offer numerous challenges to menu planning. Not only must selections please a wide diversity of palates and food requirements, they must also work successfully within the unique atmosphere and conditions of an airplane cabin, which can markedly dull the sense of taste by up to 30 percent.
"Chefs must create dishes that retain their full flavor," points out sommelier Bongi Tshazi-Sodladla, manager of food and beverages for South African Airways, who works closely with SAA's chefs to assess whether the quality of the food and wine will withstand pressurized cabins. "I look for wines that tell a story, wines that will still shine at 30,000 feet."
Rather than use a celebrity chef or sommelier who may not understand how food and wine are affected by altitude, Simon Soni, head of in-flight services for Virgin Atlantic Airways, collaborates directly with industry experts to curate what he describes as exceptional dining experiences. Part of this initiative includes sourcing local products that complement specific gateways.
"Our aim is great quality and accessible food done really well, not overly complicated fancy food which would be much better suited to a restaurant on the ground," explains Soni. "To illustrate our approach, we work with one of the top wine merchants in the U.K., Berry Bros. & Rudd, who have been choosing wine for the royal family since the 1600s. Their skill and experience help us select some of the best wines to offer our customers, wines which are both accessible and which may be less well known, such as the little-known Greek Okto Red we are currently flying in Upper Class."
Soni and his team also work with top experts in the flight catering industry as well as smaller suppliers in the U.K. and around the world to develop items not necessarily available everywhere, or which they've identified as exceptional. Currently, they're working with The Indulgence Cupcake Co., located not far from Virgin Atlantic's home base in the U.K. Cupcakes are hand baked using the finest ingredients and free-range eggs.
Food trends around the world are also a source of inspiration for airline chefs hoping to achieve that elusive state of je ne sais quoi that brings passengers back. At United, Jane Bernier-Tran, managing director of food and beverage planning and design, food services, explains that the corporate and celebrity chefs that form the airline's Congress of Chefs design in-flight dining experiences to showcase signature elements based on current restaurant trends. After developing new premium entrées, United's team occasionally conducts tasting sessions with customers and then implements selections with the highest scores. Bernier-Tran says the team closely monitors customer and crew feedback to determine when recipes or entrées require adjustments or if they should be removed from the menu due to lack of popularity.
Sometimes it's necessary to take the concept of fine dining to extremes. Paloma Manzaneque, director of customer relations for Iberia Airlines, explains the objective at the airline was to actually change the present model for food on board. The result was four of Spain's renowned master chefs — Toño Pérez, Dani García, Ramón Freixa and Paco Roncero — were challenged with redesigning the dining experience offered to Iberia's premier guests.
"We thought the best way to do so was to contract a team of the greatest proponents of the country's haute cuisine in Spain — all four from different regions, as each region has its own peculiarities," Manzaneque elaborates. As a result, the menus, food service and presentation reflect the culinary idiosyncrasies of the various regions in Spain expressed by some of the creative geniuses responsible for elevating Spanish cuisine to the top of world rankings.
"The composition of the dishes, the tableware and, above all, the service," admits Chef Roncero, "are almost as important, or even more important, than the quality of the food itself — a ritual that transforms the intake of food from a necessity into a unique and unforgettable hedonistic experience."
The importance of a national angle certainly hasn't been lost on airline strategy teams. The goal of the food and beverage staff at Air France is to convey French dining values and pleasures while celebrating the country's world-famous cuisine. Thierry Beragne, the airline's in-flight product director, is well aware the expectations of customers who choose Air France, especially premium customers, are high.
"In-flight catering and service are an integral part of the pleasure of air travel and greatly contribute to a moment of relaxation — a moment when time stops," says Beragne. "Traveling on Air France is a unique, sumptuous and delicious experience, one that includes wine selections made by renowned sommelier Olivier Poussier, who's served as Air France's wine advisor since 2005. In the La Première cabin, our aim is to offer an exclusive experience, à la carte, in accordance with the seasons, combining the tradition of the great French classics with the surprises of modern cuisine."
To complete the experience, Air France called on Servair's Culinary Studio, presided over by Joël Robuchon, the most Michelin-starred chef in the world, along with Guy Martin and Jacques Le Divellec. Together they help design menus and choose the products and recipes that make up the La Première menu on flights departing from Paris.
Wine selections have become an increasingly important component of in-flight fine dining. As the wine consultant for American Airlines, classically trained vintner and viticulturist Ken Chase makes the in-flight wine selections. His partnership with American is a collaborative effort that draws upon his expertise in selecting fine wines from the major wine-producing regions of the world. In addition to the menu, one of the components that influences his choices is the cultural diversity of the market being served — details that are carefully incorporated into planning.
"As a frequent traveler," says Doug Frost, master sommelier and master of wine for United, "I have a strong personal affection for the Champagnes we carry. I'll typically wait until the flight takes off and service begins and then, as I settle in and have made my food choices, order a glass of Champagne. Champagne goes with everything, so it's an ideal choice. But that glass of bubbly also represents my aspiration for our wine program; as a customer, I can now relax and have a celebratory moment."
Then, there's more science. Fine-dining initiatives play on a wealth of research data demonstrating the link between pleasure and reduced stress. Some research, including a 2010 University of Cincinnati study appearing in the Proceedings of the National Academy of Sciences, revealed that when food is the source of pleasure, even small amounts could be highly effective. The body's physiological response to stressful situations — like those commonly experienced, say, in airports and while airborne — can be significantly mitigated by the anticipation and enjoyment of a pleasurable food, especially one personally perceived as a comfort food. It turns out when it comes to its effectiveness at diminishing stress, caloric content is less a factor than the food's inherently enjoyable aspect. So regardless of whether your idea of comfort food is sushi or crème brûlée, it's all win-win.
Passionate traveler, television chef and winner of multiple awards for his cookbooks, including the Gourmand World Cookbook Award, SATA International's Chef Chakall offers this thought: "As Virginia Woolf once said, 'One cannot think well, love well, sleep well, if one has not dined well.' That said, it might not be an overstatement to say airlines conceive their executive-class menus as if they were a Michelin-starred restaurant. In fact, food is not being served to passengers only because they may be hungry. It plays an important psychological and physiological role, especially on long-haul flights, where it can work as a distraction."
The next time you find yourself stressing over a delayed flight, bumpy air or the annoying cologne worn by the passenger across the aisle, remember that's what your call button is for. Simply tell your flight attendant you'll have the truffled macaroni and melted Asiago cheese, followed by a triple-dense chocolate torte. You can tell yourself it's essential to your peace of mind.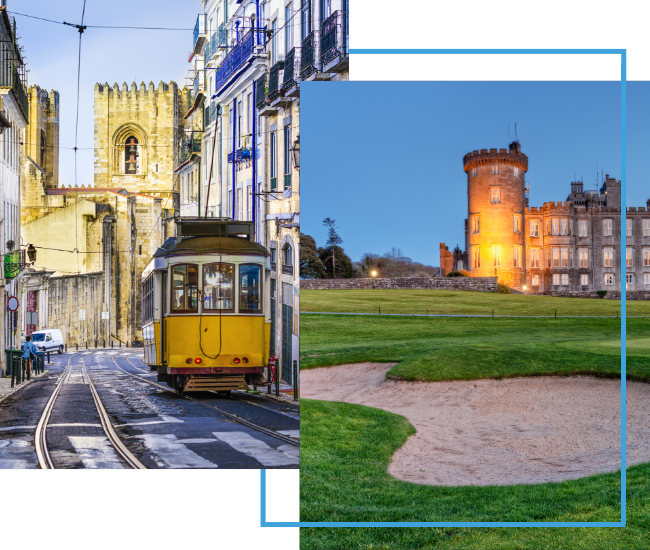 FX Excursions
FX Excursions offers the chance for once-in-a-lifetime experiences in destinations around the world.
Explore Excursions
One thing  surprising about the Prince Edward Island capital is its abundance of shops specializing in affordable, fashion-forward jewelry rendered in sterling silver, vermeil, 14K gold and semi-precious stones. Whether you prefer delicate pieces or bold wearable art, you can be assured the pieces for sale are inspired by the maritime island setting and, therefore, specific to the place where they are created. Here are a few shining, woman-owned examples:
Sponsored Content
IHG Hotels & Resorts is thrilled to announce the launch of a new mobile product feature for members: IHG Wi-Fi Auto Connect. This feature is now available exclusively in the IHG One Rewards mobile app for both iOS and Android users and will automatically connect IHG One Rewards members to WiFi upon arrival at more than 5,000 IHG hotels worldwide — no separate passwords or log-ins needed. This is in addition to the exciting benefits of being an IHG Business Edge member. IHG Business Edge provides small- and medium-sized businesses access to a user-friendly portal that displays comprehensive spending and savings data while providing the convenience of direct booking with a guaranteed discount.
Norway, a haven for visionary artists, architects and designers, showcases an exceptionally diverse array of cultural attractions. This year, the country commemorates exciting milestones and unveilings captivating enthusiasts of the arts, from iconic scenic routes to new museums to gallery openings. Up Norway features these new offerings in personalized itineraries catered to aesthetes.