The secret to creating world-class cuisine in a remote island location? Make the most of the best local ingredients and use them to create dishes guests will never forget. That's exactly what Executive Chef Mark Long does in his post at Lizard Island. Located just 13 miles from the Great Barrier Reef off the coast of North Queensland, Australia, Lizard Island is a study in contemporary elegance. Since reopening in 2000 following a multi-million-dollar refurbishment, the exclusive resort has earned a reputation as one of Australia's most celebrated getaway destinations. That's due in no small part to the culinary creativity of Chef Long.
Since it's the only dining location — in fact, the only resort on an island with no permanent inhabitants other than resort staff — Chef Long faces the daily challenge of tempting even the most discriminating guests with world-class cuisine. And he succeeds. Happily, we've convinced Chef Long to share some of his favorite recipes. Read on for a taste of Lizard Island.
---
Almond-crusted goat's cheese with charred Mandalong lamb and zucchini spaghetti Serves 4
For the goat's cheese:
4 goat's cheese rounds
1⁄4 cup almond flakes
1⁄4 cup plain flour
1 egg white
4 teaspoons milk
Salt and freshly ground black pepper
Whisk the egg, milk, salt and pepper together. Dust the goat's cheese in the flour, and then dip it into the egg mix, followed by dipping into the almond flakes. Place the goat's cheese into the refrigerator for six minutes. To fry the goat's cheese, coat a fry pan with 3 tablespoons of hot vegetable oil. Brown goats cheese on both sides, approximately one minute per side.
For the lamb:
2 lamb loins, halved
4 tomatoes
16 basil leaves, cut into strips
2⁄3 cup extra-virgin olive oil
Sea salt and freshly ground black pepper
3 tablespoons lemon juice
2 teaspoons crushed coriander seeds
To cook the lamb loins, season with sea salt and freshly ground black pepper. In a hot fry pan, cook the lamb for seven to eight minutes to get a pink color. Remove the lamb and leave in a warm place to rest for 10 minutes.
For the zucchini spaghetti:
3 zucchini
21⁄8 sticks butter
3 teaspoons finely chopped parsley
3 teaspoons finely chopped chili
3 teaspoons chopped garlic
Heat olive oil in a heavy-bottomed saucepan for two to three minutes until hot. Add lemon juice. Remove from heat straight away. Add coriander, tomato and basil and infuse in the warm oil. Cut the zucchini into long thin matchsticks and fry in butter mixture. To create the butter mixture, in a heavy-based bowl, beat the butter with parsley, chili and garlic with a touch of salt and pepper.
Presentation: Place the zucchini spaghetti in the center of the plate in a pastry cutter so that a neat round shape is formed. Remove the pastry cutter and place the rested lamb on top, covering with the goat's cheese. Garnish around the lamb dish with tomato basil salsa.
---
Wasabi leaf, house-smoked salmon, caviar and Thai herb salad Serves 4
For the wasabi leaves and smoked salmon:
4 wasabi or betal leaves (available in Asian food stores)
3⁄4 pound fresh salmon
4 tablespoons salmon caviar
6 leaves opal basil
6 leaves green Thai basil
4 Vietnamese mint leaves
4 spearmint leaves
13 coriander leaves
To smoke the salmon, line a baking tray with aluminum foil. Place the smoking mixture into the tray, then place a wire cake rack over the mixture. Brush salmon with olive oil and sprinkle it with sea salt, then place on the rack. Place a lid on top and smoke for six to eight minutes, cooking until the salmon is pink and moist.
For the smoking mixture:
2 cups rice
1 1⁄2 cups brown sugar
2 cups tea leaves
1 orange peel
1 chili, cut in half
1 star anise
2 cinnamon sticks, roughly broken
Mix all ingredients together.
For the dressing:
4 red chilis
5 shallots
4 garlic cloves
6 coriander roots
1⁄4 cup palm sugar
11⁄8 cup lime juice
1⁄2 cup fish sauce
Pound the first four ingredients into a paste in a mortar and pestle, then pound in the palm sugar until combined with other ingredients. Mix well with the lime juice and fish sauce.
Presentation: Place a wasabi leaf in the center of each of four plates. Mix together the smoked salmon, herbs and dressing and divide among the plates, placing mixture into the center of each leaf. Garnish with salmon caviar, crispy fried garlic (available in Asian food stores), chili and shallots.
---
Olive oil poached salmon with caviar dressing and avocado salsa Serves 4
For the salmon:
11⁄2 pounds fresh salmon
3 cups extra-virgin olive oil
3 cups duck fat
3 sprigs thyme
3 sprigs rosemary
Sea salt
Combine the olive oil and duck fat and place in a baking dish. Add the salmon, thyme and rosemary, and sprinkle the sea salt over the fish. Completely cover the salmon in the oil mixture and cook at 110 degrees for eight minutes. Allow the salmon to cool once cooked. (Note: The salmon and oil must reach room temperature.)
For the caviar dressing:
1⁄2 cup extra-virgin olive oil
2 tablespoons Yarra Valley salmon caviar
3 teaspoons finely chopped chives
Mix together all ingredients of the caviar dressing in a bowl.
For the avocado salsa:
2 avocados, peeled
3 tomatoes, peeled and seeded
1⁄2 Spanish onion, diced fine
2 tablespoons lime juice
6 drops Tabasco sauce
Sea salt and freshly ground pepper
3 tablespoons chives, finely chopped
Mash the avocado and add the rest of the ingredients.
Presentation: To serve, place the avocado salsa into a pastry cutter in the center of each of four plates to form a neat round. Drain the salmon of oil and cut it into four pieces with a sharp knife. Place a piece of salmon on top of each mound of avocado salsa. Drizzle each plate with caviar dressing and garnish with chive batons.
---
Soft-centered bittersweet chocolate pyramids Serves 4
Corverture-quality bittersweet chocolate
Unsalted butter
1 egg
1 egg yolk
Caster sugar
Plain flour
13⁄8 cups mascarpone cheese at room temperature
13⁄8 cups melted milk chocolate corverture
Cointreau, to taste
Roughly chop the bittersweet chocolate corverture into 1⁄2-inch pieces. Combine the chopped corverture in a large stainless-steel mixing bowl. Set over a medium-sized pot of simmering water (double boiler) and gently stir until melted. In a separate bowl, combine the egg, extra egg yolk and caster sugar, and whisk until thoroughly combined. Remove the chocolate mixture from the heat. Fold the egg-and-sugar mixture into the chocolate mixture. (The chocolate mixture will thicken as a result.) Finally, add the flour to the chocolate mix and stir until all is fully mixed.
Lightly grease four 1⁄2-inch-by-1⁄2-inch pyramid molds (butter or oil will be sufficient), and fill halfway with the chocolate batter. Bake in the oven for seven to eight minutes (base of cake will have a little give when lightly pressed). Carefully fold the melted milk chocolate and mascarpone in a bowl, then add the Cointreau (or similar orange liquor) to desired strength.
Presentation: Allow cakes to cool in mold for 3 minutes before turning out onto warmed plates. Garnish with orange-flavored mascarpone on the side.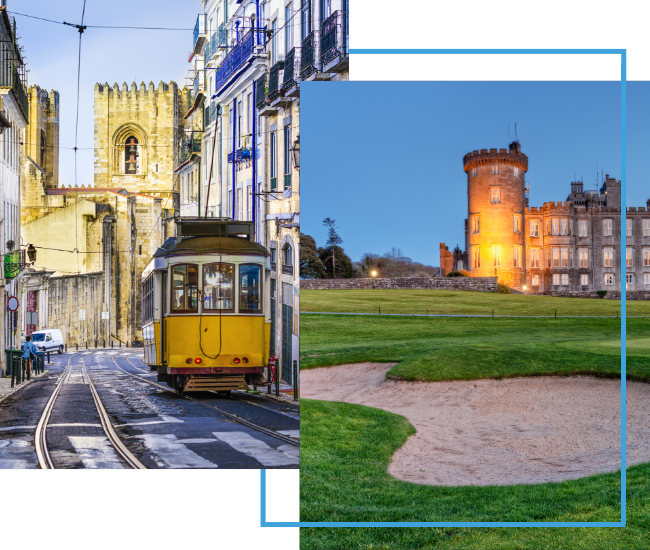 FX Excursions
FX Excursions offers the chance for once-in-a-lifetime experiences in destinations around the world.
Explore Excursions
Think of Tokyo and your mind may wander to the neon signs and bustling crowds of Shibuya and Shinjuku, or the tranquility of the Meiji Jingu shrine, but this huge city offers much to those who explore away from the main tourist areas.
Sponsored Content
The Global Business Travel Association (GBTA) believes business travel is a fundamental force for good and brings the industry together to connect, innovate and set new standards. With members from across the globe, GBTA engages the many voices of business travel to build a collective future, providing a platform for buyers and suppliers to come together, connect with peers, grow their network and shape the future of the industry.
Automotive museums of all sizes will always capture the imaginations of car and racing aficionados. However, the best deliver a lot of substance beyond the machine itself. Some place an emphasis on science and technology or history, while others display iconic cars from film and television. Museums established and operated by the world's top automakers (think Mercedes, BMW, Audi and Porsche in Germany, and Toyota, Honda and Nissan in Japan) have built-in followings.