Chef Catherine Medrano's love of cooking reaches far beyond the kitchen. As she notes, cooking for the ones she loves is a favorite activity, and her style was largely influenced by her upbringing in a large New Jersey family known for trying different cuisines at its own dinner table. Today she brings those influences and passions to her role as executive chef at The Regency Bar & Grill inside Park Avenue's Loews Regency New York.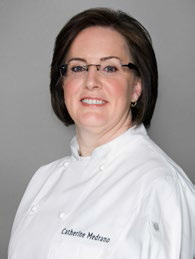 Her focus on local, seasonal foods and the carbon footprint align well with the flavors and menu at The Regency Bar & Grill, home of the famed "Power Breakfast." The restaurant's revamped menus offer approachable, ingredient-forward dishes simply prepared and executed. Medrano also oversees menu development and staff training and supervises culinary presentations and in-room dining. Medrano's career began at Johnson & Wales University in Providence, R.I., and The Greenbrier Culinary Apprenticeship Program. From there she moved to hotels, first with The Stanhope Park Hyatt New York before relocating to the Midwest as executive sous chef at Park Hyatt Chicago. The East Coast beckoned once again, and Medrano returned as executive chef at The Hyatt Regency Jersey City in 2007. She joined Loews Regency New York in 2016. Her passion for her craft seeps into her personal time with her husband, three children and two grandchildren, gardening at her New Jersey home, where she grows everything from melons to squash and peach, fig and olive trees. Outside of the kitchen, she enjoys traveling to Key West, Fla., and visiting extended family in Ireland and the Dominican Republic — all, of course, while keeping up with food and restaurant trends through food blogs and cookbooks. WHAT THREE GO-TO INGREDIENTS ARE ALWAYS IN YOUR HOME KITCHEN? Vinegars … all kinds, I love acidity; kosher salt for a million uses; and fresh vegetables, including aromats — we do a lot of "from scratch" cooking. WHAT'S YOUR FAVORITE SEASON FOR COOKING, AND WHY? Autumn, without a doubt — it's all about root vegetables, slow cooking, great aromas and satisfying meals. ASIDE FROM YOUR CURRENT POSITION, WHAT'S THE BEST JOB YOU'VE EVER HAD? I was a lifeguard in another life a looooong time ago. I won't go into details about how much fun it was. WHAT'S THE FIRST MEAL YOU EVER COOKED? It was steak and potatoes I cooked for my siblings. I remember clearly "changing things up" and trying things they weren't used to. It went over well, and I did a lot more cooking over the years for them. Cooking for the people I love is truly one of life's great joys for me.
Loews Regency New York
540 Park Ave. New York, NY 10065 tel 212 759 4100 loewshotels.com
FX Excursions
FX Excursions offers the chance for once-in-a-lifetime experiences in destinations around the world.
The Dean Galway recently opened in the western coastal Irish city, making waves in the hospitality industry. Spanning 5,000 square feet, the property incorporates historic structures of the city, including part of the 19th-century Galway Clifden railway tunnel and a 19th-century stone building.
Sponsored Content
THE MOST EXCLUSIVE TOURS OF EGYPT EVER OFFERED
45 Park Lane recently opened CUT Terrace, a new alfresco dining experience created by Chef Elliot Grove. Featuring dishes from Wolfgang Puck's CUT menu and drinks from BAR 45, Grove celebrates U.K. producers and flavors with each dish.