With a flair for highlighting the best of Eastern and Western culinary traditions, Executive Chef Sara Lin brings a world of flavor to passengers traveling the globe with China Airlines.
Lin, whose curriculum vitae includes stints at Grand Hyatt Taipei and such Michelin-starred eateries as Per Se and Le Bernadin, studied at the Royal Melbourne Institute of Technology, the French Culinary Institute and the American Sommelier Association.
At China Airlines, she creates dishes that highlight fresh seasonal ingredients while elegantly combining the best flavors from the East and the West.
SWEET CORN SOUP WITH FOIE GRAS, BABY CORN AND POPCORN
Serves 4
For the soup:
100 grams unsalted butter
1 bay leaf
30 grams parsley sprigs
200 grams chopped onion
60 grams chopped garlic
60 grams chopped carrot
1200 grams frozen corn kernels
2.4 liters chicken stock
200 grams cream
Ground white pepper, to taste
Salt, to taste
Melt the butter in a sauté pan. Add the bay leaf, parsley sprigs, onion, garlic and carrots and sweat until the vegetables are translucent. Add the frozen corn kernels and sweat until the corn is soft. Add the chicken stock and cook for 30 minutes. Discard the parsley sprigs and bay leaf. Cool the soup slightly. Working in batches, purée the soup in a blender until smooth. Strain the soup into a large bowl, pressing on solids to extract as much liquid as possible. Add the cream to the strained soup and heat until it simmers without boiling. Season to taste with salt and white pepper.
For the garnish:
5 grams foie gras, seasoned with salt and pepper, and seared
3 grams fresh-popped popcorn, grated in a blender or coffee grinder
3 grams baby corn, diced
PRESENTATION: Place a serving of foie gras, grated popcorn and diced baby corn into each of four bowls. Pour the soup into the bowls.
GRILLED YOGURT-MARINATED LAMB RACK WITH GRILLED BEEF SHORT RIBS, BRUSSELS SPROUTS, ARTICHOKE, TOMATO, SAFFRON MASHED-POTATO CAKE AND BLUEBERRY SAUCE
Serves 4
For the lamb racks:
4 lamb racks, 70 grams each
15 grams garlic, peeled and chopped
5 grams ginger juice
5 grams fresh red chili, seeded
20 grams yogurt
1 pinch salt
1 pinch pepper
25 grams olive oil
Combine the garlic, ginger juice, red chili, yogurt, salt, pepper and olive oil in a bowl. Add the racks of lamb. Refrigerate for at least 3 hours. Grill the lamb racks to desired doneness. Set aside and keep warm until ready to plate.
For the beef short ribs:
4 beef short ribs, 70 grams
Salt, to taste
Pepper, to taste
Season the short ribs with salt and pepper. Grill the beef short ribs to desired doneness. Set aside and keep warm until ready to plate.
For the saffron mashed-potato cakes:
1 kilogram potatoes, peeled, washed and cut into large pieces
1 pinch saffron
250 milliliters milk
100 grams butter
Salt, to taste
Pepper, to taste
Place the potatoes in a saucepan. Cover with water, add salt and cook until the potatoes are completely tender. Drain well and pass the potatoes through a food mill. Place the saffron and milk in a saucepan. Bring to a simmer. Stir the hot milk into the puréed potatoes. Beat in the butter. Season to taste with salt and pepper. Form the potato mixture into 4 round cakes. Set aside and keep warm until ready to plate.
For the blueberry sauce:
50 grams butter
50 grams flour
750 milliliters milk
100 grams fresh blueberries (or substitute frozen berries)
Salt, to taste
Cayenne pepper, to taste
Melt the butter in a saucepan over low heat. Slowly mix in the flour to create a roux. Cook the roux for 1–2 minutes, until it becomes frothy with bubbles. Remove the roux from the heat. In another saucepan, combine the milk and blueberries. Bring to a boil. Whisk the hot milk and blueberries into the roux. Return the saucepan to the heat and bring to a boil. Season to taste with salt and cayenne pepper. Cook for 10–15 minutes. Pass the cooked sauce through a fine chinois to prevent a skin from forming.
For the garnish:
4 Brussels sprouts, boiled in salted water
1 beefsteak tomato, cored and cut into 4 pieces and grilled
4 fresh artichoke hearts (or substitute canned artichokes)
4 thyme sprigs
For each serving, place a grilled lamb rack and beef short rib on the left side of the plate. Place a potato cake, Brussels sprout, beefsteak tomato wedge and artichoke heart on the right side. Garnish with thyme sprigs. Drizzle blueberry sauce in the center of the plate.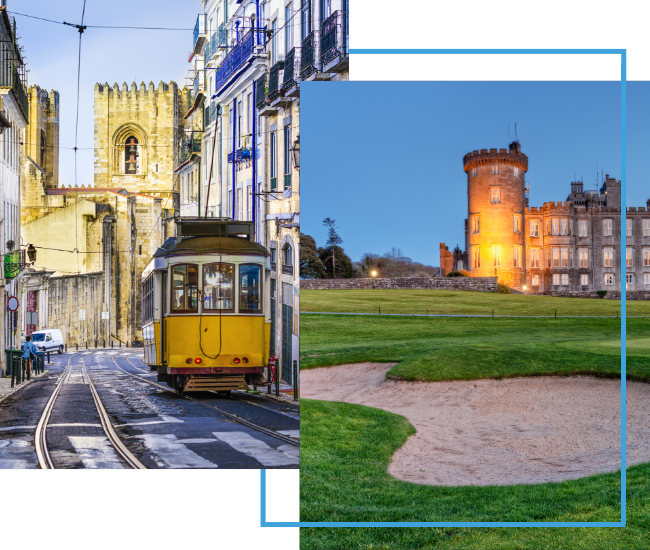 FX Excursions
FX Excursions offers the chance for once-in-a-lifetime experiences in destinations around the world.
Explore Excursions
Pleasant weather, autumn foliage and vibrant flowers are among the many delights awaiting nature lovers at botanical gardens and arboretums across the United States. However, some of these green spaces take on additional color this month and through Halloween when enterprising gardeners, landscape architects, management and other creative minds cast a spell with themed environments running the gamut from spooky to utterly bewitching.
Sponsored Content
The Islands of Tahiti are among the most beautiful and sought-after vacation destinations in the world. The endless images of overwater bungalows with Bora Bora's majestic peak towering over waters of every shade of blue have an intrinsic pull. But with 118 islands and atolls to explore, there is so much more to this spectacular region of the Pacific.
For travelers who love all things autumn, Crystal Springs Resort, New York City's closest destination resort, features special offers and experiences to meet the demands of everyone's fall bucket list. Located only 80 minutes outside New York City in Sussex County, New Jersey, Crystal Springs Resort offers a quick getaway to enjoy fall foliage. Are any of these new offers or experiences on your bucket list?