Airports have long been temples of travel where you could buy almost anything — newspapers, magazines, over-the-counter medication, euros. But until recently, what you could rarely buy — not for dollars, euros or any other currency — was a fine meal. Now, in a trend that is almost in direct contrast to the changes in air travel itself, airport food is soaring to epicurean heights. No longer is the traveler with a long wait limited to hot dogs, hamburgers and pizza. Today, in many of the world's busiest airports, travelers can do more than simply eat: They can dine.
The move toward finer culinary choices at airports came about for several reasons. In the United States, seeds of change were sown after Sept. 11, 2001, when the airport experience became fraught with tension. We had to arrive earlier, wait in lines longer, doff our jackets, remove our shoes, place watches and necklaces in plastic bins and stand barefoot, arms spread out, to — as gracefully as possible — endure a thorough frisk search.
We had to spend more time at airports and endure lengthy delays only to discover, once on board, that services once considered standard had been eliminated. One of the first to be affected was food service, an airline's prime sacrifice to the bottom line. No wonder more travelers seek a restaurant before boarding, where they can sit quietly and relax while enjoying a pre-flight meal. For those who find airport clamor particularly bothersome, these restaurants have become an oasis of calm in the midst of chaos. For people who seek out fresh and organic foods, there are airport restaurants that fill the need. Those who feel an airport's fast food aims for every taste — and thus sacrifices tang — look to the individuality in these restaurants' fare. Still others find airport restaurants the place of choice for a gastronomic take-out — or take-on — for the plane.
Of course, fine airport restaurants have their challenges. Their clientele is limited to travelers with time to enjoy a sit-down meal. And at the same time they offer comfort, rest and fine food, they must also offer speed. First-rate food, first-rate service — all in record time.
---
O'Hare International Airport (ORD)
Chicago O'Hare International Airport has made it its goal to provide a wide choice of outstanding dining options, and it plans to bring still more local flavor to the airport. Prime among its restaurants is the Wolfgang Puck Café. Here you can dine on Chinoise chicken salad, pan-seared salmon, rotisserie chicken, rib-eye steak, pastas and, not to be overlooked, Puck's famous four-cheese pizza. For those with less time before their flights, the well-known chef offers Wolfgang Puck Express.
New at O'Hare is Stefani's Tuscany Café. The airport outpost of Stefani's Tuscany Café in Chicago's Little Italy, it is a trattoria specializing in the foods of northern Italy and known especially for its homemade pasta and seafood. The airport's Romano's Macaroni Grill offers a selection of grilled foods and such Italian favorites as chicken Florentine, pasta Milano and penne rustica. Romano's also features a Sensible Fare section that stresses low-carbohydrate and low-fat options. All three restaurants offer a wide selection of wines.
Berghoff Café is the airport arm of the Chicago restaurant begun in the 1880s by German brewer Herman Joseph Berghoff. Here, beer is on tap to go with roast beef, corned beef and Reuben sandwiches. The service is buffet style, no waiters.
---
Denver International Airport (DEN)
Colorado has more breweries than any other state and more than 100 microbreweries, the largest concentration in the country. So it is no surprise that six of them have also set up sh op at the Denver International Airport. One is New Belgium Brewing Co. which, as its name implies, brews Belgium-inspired beers, among them Fat Tire Amber Ale, Sunshine Wheat Beer and Blue Paddle Pilsner. New Belgium also serves sandwiches and salads, each seemingly fighting to be bigger than the other.
Denver Airport also has Pour Le France Café serving French and Continental dishes. And for an interesting informal meal, there is Lefty's Front Range Grille, known especially for its Reuben and its portobello mushroom sandwiches.
---
London Heathrow Airport (LHR)
Heathrow Airport seems to have it all. Famed chef Gordon Ramsay's restaurant, Plane Food, is anything but plain. The menu is based on his Boxwood Café at the Berkeley in Knightsbridge, London, and a meal might begin, for example, with Sevruga caviar and crème fraîche downed with a glass of Chablis, go on to wild sea bass and Chardonnay and end with a platter of English cheeses and Port. Other choices include foie gras and chicken liver parfait or roast Barbary duck breast with orange braised chicory. Enjoy a meal like this at Plane Food, and you have no need to indulge in plane food. That is why travelers with epicurean taste but no time to dine before embarking like to buy take-out — or take-on — at Plane Food to bring on board, packaged in an insulated, zippered tote.
For another kind of airport gastronomic indulgence, Heathrow houses the Caviar House & Prunier Seafood Bar. New Yorkers Marsha Palanchi and her husband often stop in when passing through Heathrow. "A plate of oysters and a bottle of dry French white, and we're ready to endure the next flight," she said. Others report stopping here between flights for a platter of Scottish salmon.
---
Munich Airport (MUC)
Munich Airport's pride is Airbräu, the first and only airport brewery. For the past 10 years, diners have watched the brewmaster concoct seven types of beer on premise. Two — FliegerQuell, a lager, and Kumulus, a wheat beer — are always available; others are seasonal beers. And to match these fresh brews, there is the local and traditional Bavarian cuisine, a choice of such dishes as Weisswürst (a Bavarian sausage of minced veal and bacon), Schnitzel, roast pork in Bavarian beer sauce and Apfelstrudel. In summer, Airbräu opens its outdoor beer garden, where patrons enjoy a meal under an umbrella of chestnut trees. From local to the world, Munich Airport also has Il Mondo, an Italian restaurant; Mangostin Airport, a restaurant that specializes in Thai cuisine and sushi; and Safran with its Thai and Mediterranean menu. For interesting, informal dining, other enticing eateries include Bistro Organicwith its serene terra cotta and earth-green setting; and Aran, whose specialty is dark German bread with an assortment of more than a dozen toppings.
---
Dubai International Airport (DXB)
The Sheikh Rashid Departures Concourse of Dubai International Airport is home to a number of upscale eating spots. Safar Restaurant (safar means "traveler" in Arabic) specializes in Arabic, Asian and Continental cuisines. Cadiz, which recently opened, is a Spanish tapas bar with a good choice of wines and beer. Bistro Maison is the place for French cuisine. And there is the Whiskey & Beer Bar, whose name describes it clearly, although rumor has it that it is considering changing that to The Hub.
---
Incheon International Airport (ICN)
From its beginning, Incheon Airport has featured an array of dining rooms under three categories: Korean cuisine that takes the traveler far beyond kimchi, Japanese cuisine and Western cuisine. At its Food on Air Restaurant, it gathers those and other cuisines together and calls itself the Kitchens of Seven Countries — Korea, China, Japan, the United States, Italy, Thailand and Vietnam. And to finish a meal, there are handmade chocolates at the Dessert Boutique and freshly brewed coffee and fresh juice at the Fresh Bar in Incheon's Airstar Terrace.
---
As well as the public restaurants at these airports, there are private dining experiences for those with business- and first-class lounge privileges. Nigel Page, Emirates' senior vice president of commercial operations for the Americas, hasn't tried the restaurants at Dubai Airport. Instead, he eats in the new Emirates First Class Lounge. "There's an open kitchen where we can watch the chefs prepare our meals. The food is top quality, and the wait staff is very attentive." Add to that the lounge's wine collection and a sommelier on hand to help — either to order wine with a meal or to purchase a bottle.
At one time, getting there was half the fun. If today's travel is often more frantic than fun, a journey can still begin with pleasure — with an interesting, satisfying meal on the ground.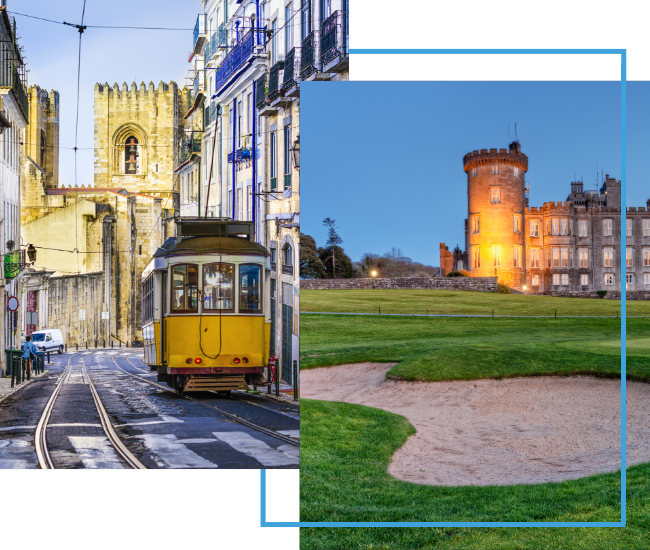 FX Excursions
FX Excursions offers the chance for once-in-a-lifetime experiences in destinations around the world.
Explore Excursions
If fabulous food and beverages are a must-have for any weekend getaway, then look no further than the City of Brotherly Love. Whether your palate has a penchant for vibrant Latin American fare or cozy French cuisine, whether you're an oenophile looking to swirl, sniff and sip your way around the globe or you'd rather sample farm-to-glass cocktails, Philly's got it all this fall. (With the exception of Bolo, which is a short taxi or Uber ride away and definitely worth the trip, the rest of these spots are all within walking distance of each other.)
Sponsored Content
One affordable plan can protect an entire year of trips: business or pleasure, short or long, domestic or international.
From Santoríni to Dubai to New York, some hotels just have that "it" factor that draws visitors far and wide. For some hotels it's their proximity to popular landmarks and attractions, for others it's their amenities. But these hotels have something few can claim: a true room with a view.