AS JUMEIRAH GROUP LOOKED ahead to the future and its goal to further pursue its position as a leading international luxury hospitality brand, the company knew offering elevated dining experiences was one way to achieve its mission. And with that goal in mind, Jumeirah Group created the position of chief culinary officer and tapped Michael Ellis, the former managing director of the Michelin Guide, to fill the vacancy.
With Ellis at the helm, the luxury hotel group focuses on delivering culinary sensations like no other, starting at the iconic Burj Al Arab Jumeirah. The property recently announced the addition of three new chefs to its current collection of 10 celebrity restaurants. The three — Francky Semblat, Kim Joinié-Maurin and Kasper Kurdahl — enjoy a combined total of seven Michelin stars.
The future is bright for Jumeirah Group as the brand prepares to dazzle and delight taste buds around the globe.
WHICH DESTINATIONS INSPIRED YOU, AND HOW HAS THAT INSPIRATION TRANSLATED INTO YOUR CULINARY CONCEPTS? I think almost everywhere I have visited inspired me in some way. Whether it is fermentation in Seoul, chawanmushi custard in Tokyo or open fire-cooked paella in Valencia, there are an almost unlimited number of cooking styles, ingredients and techniques I have admired. Our job at Jumeirah is to take these different elements and incorporate them into our menus in a way that is accessible and popular with our diverse guests from around the world.
WHOM DO YOU CONSIDER TO BE YOUR CULINARY HERO? I was in awe of Joël Robuchon; his brilliant technique, sense of flavor, texture and presentation were truly unique. He trained and inspired a whole generation of chefs from around the globe. Of course now we have two of his chefs (Chef Francky Semblat, most recently at L'Atelier de Joël Robuchon Shanghai, and Chef Kim Joinié-Maurin, most recently at Joël Robuchon in Singapore) working with us at Burj Al Arab, which is hugely exciting. Working alongside Chef Kasper Kurdahl, most recently at Le Chalet de La Foret in Belgium, these new chefs (and indeed the teams they lead) personify our ambitious plans for fine dining at Jumeirah Group perfectly.
WHAT ONE PERSON MOST INFLUENCED YOUR COOKING STYLE? It was no doubt my first boss in France when I was working as a commis cook in Paris many years ago, Chef Andre. He taught me whatever you do in the kitchen, whether peeling potatoes, turning artichokes or making a béarnaise sauce, attention to detail and no cutting corners were the keys to success.
WHAT IS YOUR FAVORITE FOOD CITY? I have many favorites, and my top 10 would include Paris, Tokyo, Dubai, Singapore, Hong Kong, Bangkok, San Sebastián, Seoul, New York and London … but I could go on and on!
WHAT DO YOU THINK THE NEXT BIG TREND ON THE FOOD SCENE WILL BE? There is no question sustainability, the reduction of food waste and one-use plastic and other packaging is going to become an even bigger issue than it is today.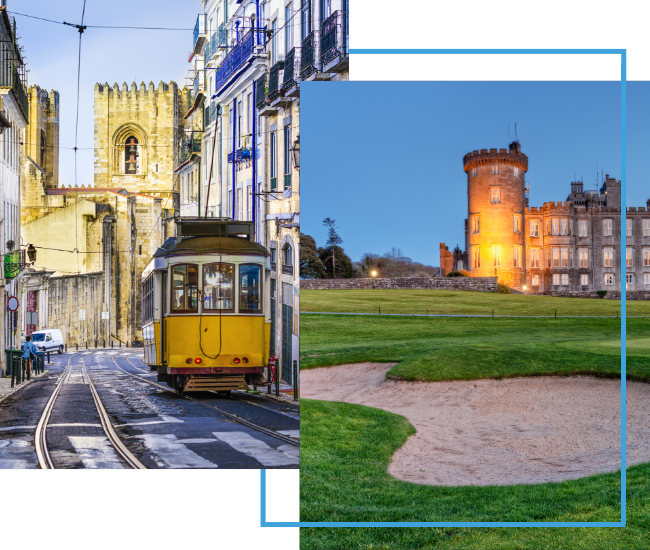 FX Excursions
FX Excursions offers the chance for once-in-a-lifetime experiences in destinations around the world.
Explore Excursions
Corsica with steep, gray cliffs overlooking the Mediterranean and sandy beaches attracting summer visitors, is a French-governed island sometimes confused with Sardinia and Sicily, Italian islands to the south. Fortunately, all three islands share the same love for good wine, food and sun-splashed beaches.
Sponsored Content
The Saronic or Argo Saronic Islands of Greece call travelers to explore its seven small islands and islets brimming with history, natural sites and more. With most easily accessible by boat, the islands' proximity to ports of Athens make the Saronic Islands an ideal destination for those preferring shorter boat rides. In fact, trips from Athens ports to the islands take only between 10 minutes and two hours, depending on the island you choose, making them perfect for day or weekend trips. From Piraeus port, you can access Hydra, Spetses, Aegina and Poros directly. Come explore these stunning islands with us and find the inspiration to plan your next trip to these islands. Hydra Hydra town curves around a slope overlooking the Argosaronic Gulf like an amphitheater and is considered one of the most romantic destinations in Greece. Most unique to the island is its lack of vehicles. People on the island get around on mules and donkeys as well as water taxis, making for a peaceful and laid-back day. Hydra lies a two-hour ferry ride from Piraeus port in Athens.
If you're ready to do a little holiday catch-up with your besties, make a beeline for Conrad New York Downtown. The lobby metamorphosed into a holiday forest of heavenly scented, decorated Virginia Spruce trees. Make your first stop ATRIO Barista Station in the lobby for a complimentary hot spiced apple cider (until Dec. 3) or hot chocolate (Dec. 22­–24).