A native of the Dominican Republic, Máximo Tejada grew up in a household surrounded by the colors, textures, sounds and aromas of cooking. Intrigued by his grandmother's "soulful" approach to cooking, Tejada decided to pursue his interest in culinary arts. After graduating from the French Culinary Institute in New York City in 1996, Tejada followed his mentor, Douglas Rodriguez — often regarded as the "father" of Nuevo Latino cuisine — through positions at several wellknown eateries before partnering with emerging restaurateur Héctor Sanz and entrepreneur Paul Fernandez to open Rayuela in June 2007.
At Rayuela, Tejada is developing a following for his Estilo Libre Latino cuisine, a style that puts his personal mark on contemporary Latin American and Spanish dishes including ceviche and tapas. The result is an unpretentious — yet soulful — menu that leaves patrons coming back for more.
---
Vieras con passion Serves 2
4 large scallops
½ cup mango juice
1 cup passion fruit juice
1 ounce lime juice
½ ounce lemon juice
1 ounce orange juice
1 small jalapeno, diced
2 tablespoons chopped lemongrass
1 tablespoon chopped cilantro
2 tablespoons sliced red onion
1 tablespoon sliced scallion Salt,
to taste
Parsley leaves for garnish
In small saucepan over medium heat, combine the passion fruit juice and mango juice. Reduce to half. Pour over ice to cool. Combine lemon juice and lime juice. Slice each scallop in half and marinate in lemon-lime mixture for 8 to 10 minutes. Mix scallops with the remaining ingredients. Toss lightly. Add salt to taste.
PRESENTATION: Serve in a martini glass. Garnish with parsley.
---
Paella de coco Serves 2
For the seafood:
4 langostinos
8 large shrimp
8 bay scallops
2 medium-sized calamari, julienned
1 cup sliced octopus
½ cup peas
6 manila clams
For the rice:
4 ounces Valencia rice
½ ounce vegetable oil or melted butter
3 ounces clam juice
3 ounces unsweetened coconut milk
Salt, to taste
1 tablespoon grated fresh ginger
1 tablespoon chopped lemongrass
1 tablespoon diced white onion
For the garnish:
1 tablespoon cilantro
1 tablespoon olive oil
Heat the oil or butter in a heavy pot over medium heat. Add ginger, lemongrass and white onion, and sauté. Add clam juice and coconut milk. Bring to a simmer for about 5 minutes then strain mixture, discarding the ginger, lemongrass and onions, but keeping the liquid. Add the rice to the spiced coconut liquid and salt to taste. Let simmer, add the seafood and peas, cover and cook in pre-heated 350 degree oven for 12 to 15 minutes.
PRESENTATION: Fluff paella with a fork and divide evenly onto two plates. Sprinkle with chopped cilantro and drizzle with olive oil.
---
Churrasco con camarones Serves 2
2 7-ounce beef tenderloins
Salt, pepper and garlic, to taste
Prepare accompaniments. Season beef with salt, pepper and garlic to taste. Cook to medium rare.
For the potato fondue:
1 cup mashed Peruvian blue potatoes
3 tablespoons Cabrales cheese
3 tablespoons Manchego cheese
3 tablespoons Tetilla cheese
½ cup heavy cream
1 tablespoon roasted garlic
Salt, to taste
In a sauté pan, heat the heavy cream to a simmer. Mix in garlic, blue potatoes, and one cheese at a time until well blended. Add salt to taste. Set aside.
For the wild mushrooms:
3 tablespoons chopped button mushrooms
3 tablespoons chopped Portobello mushrooms
3 tablespoons chopped shiitake mushrooms
1 teaspoon chopped garlic
1 teaspoon rosemary
1 tablespoon olive oil
Salt and pepper, to taste
Heat the oil in a sauté pan. Add garlic and chopped mushrooms. Season with rosemary, salt and pepper. Cook until th e mushrooms are tender. Set aside.
For the chimichurri:
6 large shrimp
Olive oil, to sauté shrimp
Salt and pepper, to taste
1 bay leaf
2 cloves garlic
1 tablespoon white vinegar
1½ large jalapenos
1 small shallot, diced
1 teaspoon salt
1 teaspoon black pepper
1 teaspoon oregano
1 teaspoon chopped cilantro
3 tablespoons canola oil
Heat olive oil in a sauté pan. Add bay leaf, 1 clove garlic and shrimp. Season with salt and pepper. Cook until shrimp turn pink. Remove bay leaf. Set aside to cool. In a blender, combine remaining garlic clove, vinegar, jalapenos, shallot, salt, pepper and oregano. Place blended ingredients into a mixing bowl. Whisk in cilantro and canola oil. Dice the cooked shrimp and combine with chimichurri mixture.
PRESENTATION: On a long plate place potato fondue, mixed mushrooms, then beef. Finish by topping beef with the shrimp chimichurri.
---
Crema de requeson Serves 8
½ cup sugar
½ cup milk
2 cups heavy cream
3 egg yolks
3 gelatin sheets
1 cup ricotta cheese
2 cups pitted green olives
1 bottle cava (Spanish sparkling wine)
Agave, to taste
Mix together the sugar, milk and cream in a saucepan and bring to a boil. Temper the egg yolks with the sugar, milk and cream mixture. Bloom the gelatin in cool water and add to the mixture. Stir in the ricotta cheese and strain. Return mixture to pan and add the olives, cava and agave. Boil to reduce the mixture, then blend to puree.
PRESENTATION: Pour the mixture into individual glasses.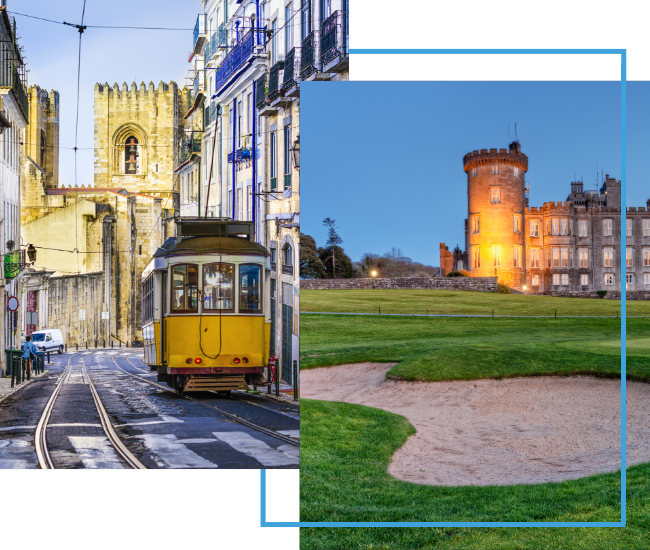 FX Excursions
FX Excursions offers the chance for once-in-a-lifetime experiences in destinations around the world.
Explore Excursions
Pleasant weather, autumn foliage and vibrant flowers are among the many delights awaiting nature lovers at botanical gardens and arboretums across the United States. However, some of these green spaces take on additional color this month and through Halloween when enterprising gardeners, landscape architects, management and other creative minds cast a spell with themed environments running the gamut from spooky to utterly bewitching.
Sponsored Content
The Islands of Tahiti offer a range of captivating activities for travelers with diverse interests, from hiking to breathtaking waterfalls, riding horses on secluded beaches; swimming with sharks; or immersing in Polynesian culture through traditional dance, music and art. For watersports enthusiasts, the crystal-clear lagoons offer exhilarating experiences like surfing, kiteboarding and paddleboarding. And if you're looking to relax, the pristine beaches, overwater bungalows and tropical sun offer the perfect setting. With 118 islands and atolls to explore, island hopping is an excellent way to experience the full diversity of The Islands of Tahiti. With its blend of adventure, culture and relaxation, The Islands of Tahiti offer a truly unique travel experience.
For travelers who love all things autumn, Crystal Springs Resort, New York City's closest destination resort, features special offers and experiences to meet the demands of everyone's fall bucket list. Located only 80 minutes outside New York City in Sussex County, New Jersey, Crystal Springs Resort offers a quick getaway to enjoy fall foliage. Are any of these new offers or experiences on your bucket list?