Tony Pierce's plans to become an architect took a sharp turn in a different direction when he caught sight of a bevy of young women enrolling in a catering course. He weighed the odds — 16 women and seven men in the class — and decided to take a chance. The class turned out to be an opportunity in more ways than one, the first of many off-the-cuff choices that led to Pierce's ranking as one of Scotland's top chefs.
Following a stint at Scotland's Gleneagles Hotel and subsequent tenure at such Michelin-starred venues as Mallory Court Hotel and The Box Tree in England, Inverlochy Castle in Scotland and Llangeod Hall in Wales, Pierce took another unexpected turn in 1994 when, on a whim, he answered a help-wanted ad for an "urgently required chef" and landed at Knockinaam Lodge. He fell in love with the hotel and, in a fairy-tale ending, met and married a local girl, all while retaining a Michelin-star rating every year since.
Baked Skye sea scallops in a salted pastry crust Serves 4
4 large Isle of Skye hand-dived scallops in their shells
1 bunch basil, chopped
Zest of 1 lemon
Juice of 1 lemon
1 egg yolk
1 garlic clove, peeled and crushed
4 ounces unsalted butter
4 1⁄4-inch-thick, round puff pastry disks, sized to match bottom scallop shell
Egg wash, as necessary
Sea salt, to taste
Poppy seeds, for garnish
Clean the scallops and set aside. Reserve the bottom shells. Wash and boil the shells for 3 minutes. Set aside to cool.
Place chopped basil, lemon zest, lemon juice, egg yolk, garlic and butter in a mixing bowl. Whip for 2 minutes until slightly fluffy.
In a hot pan, sear the scallops, fat side down, for 10 seconds. Remove from heat and cool.
Divide the whipped butter among the four scallop shells, placing each portion into the center of the shell. Place a seared scallop on top of the whipped butter, seared side facing up. Press down slightly.
Brush egg wash on the outer rim of each shell and top with a puff pastry disc. Trim and crinkle the edges of the pastry. Brush the pastry with egg wash. Sprinkle with sea salt and poppy seeds.
Bake in a 400-degree oven for 6 minutes.
---
Hot banana and Galliano soufflé Serves 4
1 tablespoon butter, melted
2 overripe bananas, puréed
Zest of 1 lime
4 ounces crème patisserie
2 ounces Galliano
8 egg whites
2 tablespoons plus 2 teaspoons caster sugar
4 balls vanilla bean ice cream (preferably homemade)
4 ounces dark chocolate sauce, warmed
Coat four ramekins with melted butter, then coat with 2 teaspoons caster sugar. Shake excess sugar from the ramekins. In a pan over low heat, mix the bananas, lime zest, crème patisserie and Galliano.
In a mixing bowl, whip the egg whites to soft peaks, gradually adding 2 tablespoons of sugar halfway through. Whisk one-third of the banana mix into the egg whites and, with a spatula, fold in the remaining banana mixture.
Divide the mixture into four ramekins. Bake at 400 degrees for 7 minutes.
Pour the warm chocolate sauce into a pitcher to serve as an optional topping. Plate each soufflé with a ball of ice cream on the side.
Knockinaam Lodge
Portpatrick, Dumfries and Galloway
Scotland DG 9 9AD
tel 44 1776 810 471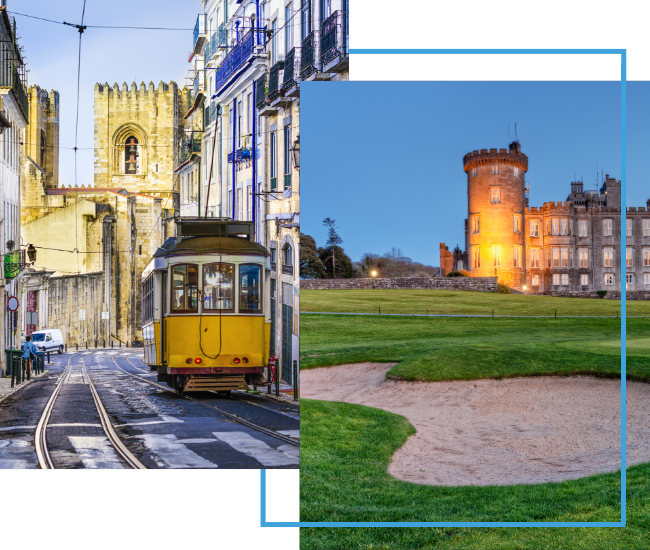 FX Excursions
FX Excursions offers the chance for once-in-a-lifetime experiences in destinations around the world.
Explore Excursions
There is something magical about sipping a glass of local wine while watching the sun slip into the Aegean Sea as the afterglow tinges traditional, white-washed Cycladic houses with glorious shades of rose, purple and gold. Ancient Greeks believed Helios, the Sun God, caused sunsets by driving his fiery chariot into the sea. Standing at water's edge in Mykonos, watching the sky slowly turn from purple to inky black, you almost believe it.
Sponsored Content
The Global Business Travel Association (GBTA) believes business travel is a fundamental force for good and brings the industry together to connect, innovate and set new standards. With members from across the globe, GBTA engages the many voices of business travel to build a collective future, providing a platform for buyers and suppliers to come together, connect with peers, grow their network and shape the future of the industry.
The prospect of a post-visit treasure hunting session inside the shops of landmark museums such as the Louvre in Paris, the Uffizi Gallery in Florence and The British Museum in London can be irresistible. However, some of Europe's smaller and more unusual museums boast retail spaces with a surprising "wow" factor, often as well-curated as the galleries.