"I embrace food memories — traditional combinations that work together — and then distill those flavors into something that is very much different, and very much stands on its own."
That's the culinary philosophy of Michelin-rated Christopher Kostow, chef at Napa Valley's Meadowood.
While Kostow's approach to food blends contemporary French cuisine with farm-to-table tradition, the Chicago native's journey to culinary distinction has been far from traditional. After earning a bachelor's degree in philosophy from Hamilton College in Clinton, N.Y., Kostow relocated to San Diego where he caught the eye of Chef Trey Foshee, named one of Food & Wine's Best New Chefs in 1998.
Following three years under Foshee's tutelage, Kostow set out to test his mettle during a whirlwind tour of France where he did stints at wide-ranging eateries: a Paris bistro, Michelin-starred Le Jardin des Sens in Montpellier, a 14th-century monks' abbey in Salon-de-Provence. When he returned to the United States, Kostow settled in San Francisco where he signed on as sous chef under the direction of Chef Daniel Humm at the award-winning Campton Place Restaurant and subsequently earned top accolades — including two Michelin stars — at Chez TJ in Mountain View.
Since arriving at Meadowood in February 2008, Kostow has garnered three-and-one-half stars in the San Francisco Chronicle; maintained two Michelin stars; earned the James Beard Society's nomination for Best Chef, Pacific; and placed on Food & Wine magazine's Best New Chefs 2009.
"Meadowood gives me the freedom and resources to approach food in a creative way," said Kostow. "It's a large kitchen with many skilled cooks, so I can take time to craft the dishes and put a lot of thought into my food.
"I'm always learning new things. There's a thin line between being creative and experimenting, and being disciplined and thoughtful about food. I'm walking that line, and I'm going to make my food taste as good as it can possibly taste."
---
Cold-smoked toro with Osetra caviar, crème frâiche and daikon sprouts Serves 4
For the cured toro:
½ pound toro
1 cup sugar
1½ cups salt
Zest of 1 lemon, 1 lime and 1 orange
1 teaspoon ground white peppercorn
1 teaspoon ground coriander
1 teaspoon ground fennel seed
3 tablespoons vodka
1 piece parchment paper
2 pieces fig wood (or other fruit wood)
1 large bag of ice
Mix sugar, salt, zests, white peppercorn, coriander, fennel seed and vodka together. Spread half the cure mixture on parchment paper. Lay the toro atop the cure and bury it with the remaining cure. Fold the parchment over and lightly weigh down (with a carton of milk, for example). Allow to cure for 1 hour.
Remove the toro from the cure. Rinse in cold water and dry with a paper towel. Place cured toro in a strainer. Light the fig wood over a burner, place smoking branches in a large metal bowl. Place 4 large ring molds or ramekins in the bowl, one in each corner. Place a wire rack on top of the ring molds. Place a large bag of ice on the wire rack. Place the strainer with the toro on top of the ice. Fold quickly into foil wrap and allow to cold smoke for 30 minutes. Place the smoked toro in the freezer to chill.
For the garnish:
1 tablespoon crème frâiche, in squirt bottle
1 spring onion, shave the bulb, julienne the tops
Lemon zest
Daikon sprouts
1 tablespoon Osetra caviar
Presentation:Use a deli slicer to shave the toro into 1/8-inch slices. Work slice by slice, laying each on a plate as quickly as possible. Garnish each plate with several small dollops of caviar, a few small drops of crème frâiche, the sliced onion and sprouts and lemon zest. Serve with warm bread.
---
Squab with cherries and radishes Serves 4
For the squab:
4 whole squabs
2 ounces Darjeeling tea
2 tablespoons butter, room temperature
2 cups salt
4 cloves garlic
4 bay leaves
1 liter duck fat
Heat duck fat in a frying pan. Remove the breasts and legs from the squabs. Crush the garlic and bay leaves; combine with salt. Pack squab legs in salt mixture and set aside to cure for 30 minutes. Rinse under cold water. Place cured squab legs in hot duck fat and simmer until tender. Remove from fat and cool.
Mix the butter and tea in a food processor. Place breasts in a zipper-lock plastic bag with the butter mixture. Set aside until ready to serve.
For the cherries:
1/3 cup dried cherries
10 ounces ruby port
In a small pot, bring port to boil. Reduce by half. Pour over dried cherries to rehydrate. Once cherries have plumped, remove liquid and reduce until syrupy.
For the radish:
1 bunch baby radish
1 cup water
3½ tablespoons butter
Clean radishes, reserving tops for garnish. Heat the water and butter in a saucepot. Add cleaned radishes. Simmer until tender and well glazed.
Presentation: Place plastic bags containing squab breasts in water heated to 135 degrees and poach until medium rare. Remove squab legs from zipper-lock bags and roast skin side down in a saucepan until crispy. Top with cherry sauce and radish garnish.
Meadowood Napa Valley
900 Meadowood Lane
St. Helena, CA 94574
tel 707 963 3646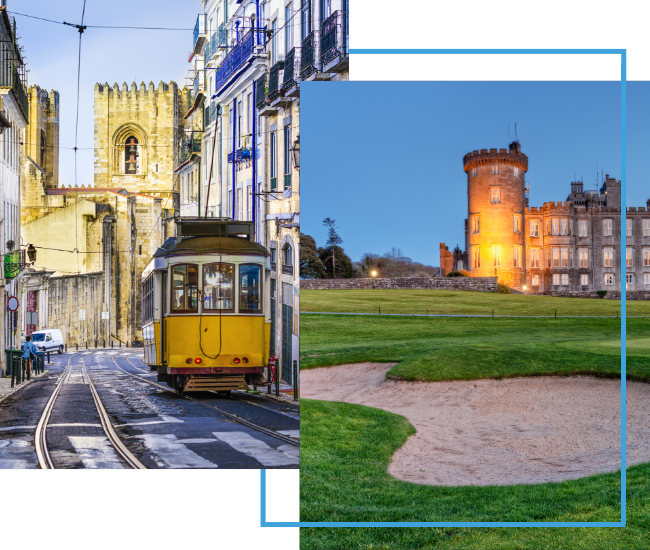 FX Excursions
FX Excursions offers the chance for once-in-a-lifetime experiences in destinations around the world.
Explore Excursions
A new and expanded campus at the Buffalo AKG Art Museum has been completed, reopening this summer and featuring new architecture designed by the architectural office of OMA New York, led by partner Shohei Shigematsu and project architects Lawrence Siu and Paxton Sheldahl, with Cooper Robertson (executive architect). The new expansion includes the Jeffrey E. Gundlach Building and extensive renovations to existing buildings. A $20-million commitment from New York State and Governor Kathy Hochul helped fulfill the expansion's budget and completes the $230 million capital campaign, the largest campaign for a cultural institution in the history of Western New York State.
Sponsored Content
IHG Hotels & Resorts is thrilled to announce the launch of a new mobile product feature for members: IHG Wi-Fi Auto Connect. This feature is now available exclusively in the IHG One Rewards mobile app for both iOS and Android users and will automatically connect IHG One Rewards members to WiFi upon arrival at more than 5,000 IHG hotels worldwide — no separate passwords or log-ins needed. This is in addition to the exciting benefits of being an IHG Business Edge member. IHG Business Edge provides small- and medium-sized businesses access to a user-friendly portal that displays comprehensive spending and savings data while providing the convenience of direct booking with a guaranteed discount.
Ever since opening in 2021, Nobu London Portman Square has served as the focal point for many gatherings, stays and experiences. This fall the hotel's Nobu Bar adds four more reasons to visit with an exciting array of offerings, menus and events.