"When guests say they've just had the best dining experience of their lives, I'm happy. That's perfection!"
So says Marcel Kauer, the award-winning executive chef at Hastings House on Salt Spring Island.
A native of Uster, Switzerland, Kauer joined the staff at Hastings House as sous-chef in 1992. He's been executive chef at the charming country estate — a member of the prestigious Relais & Châteaux group — just off the coast of British Columbia since 1996. The dining room at Hastings House features a five-course menu that changes daily. All courses are set, with the exception of the entrée — each evening guests select from a choice of four entrées, the most popular of which is often Salt Spring Island lamb.
Kauer said the locally raised lamb, with a subtle yet distinct saltiness, is similar to lamb from the Provence region of France. Kauer also enjoys the benefits of having an extensive herb and produce garden on the property, so fresh produce is always available to the kitchen staff. In fact, the entire menu revolves around whatever is fresh or seasonally available.
"Many of our guests are sophisticated travelers who appreciate noble food and wine, but tire of the pretentious attitude that often comes with it," said Kauer. "At Hastings House, we offer the fine dining, personalized attention and ambiance guests expect, but everything is very relaxed."
---
Oven-roasted Salt Spring Island rack of lamb with blue-cheese polenta and grain-mustard sauce Serves 4
CHEF'S NOTE: When cooking a meal like this, timing is everything. First make the grain-mustard sauce and keep it warm on the stove. Next prepare your vegetables and set them aside, ready to cook, and gather the ingredients for the polenta. Sear the lamb and after placing it in the oven, begin your polenta. When the lamb is done and resting, cook your vegetables and finish off the polenta. Perfection!
For the roasted lamb:
2 racks of lamb, about 1 1/2 pounds each, frenched
1/2 cup olive oil
8 cloves of fresh garlic, chopped
1/4 cup fresh rosemary, chopped
1/4 cup fresh thyme, chopped
Salt and pepper to taste
4 fresh rosemary sprigs for garnish
When buying your lamb, ask the butcher to "french" the racks by scraping off any sinew and meat from the rib bones.
Mix together olive oil, garlic, rosemary and thyme in a large bowl. Add the lamb and coat well. Grind some coarse black pepper and salt over all. Wrap well and marinate the racks in the refrigerator for at least four hours or overnight.
Remove the lamb from the marinade and scrape off as many herbs as possible. Preheat the oven to 400 F.
Heat a large sauté pan over high heat and add two tablespoons of olive oil. Sear lamb racks on both sides, about three minutes each side. Transfer to a large baking dish and into the oven for about 10 minutes for medium rare. Cover the rack with foil and allow to rest for 10 minutes before cutting.
For the blue-cheese polenta:
4 cups chicken stock
1 cup whipping cream
1 cup polenta
2/3 cup good blue cheese, gorgonzola or stilton
Salt and pepper to taste
In a medium saucepan bring the chicken stock and whipping cream gently to the boil. Add the polenta and stir till quite thick and creamy. Stir in blue cheese and season with salt and pepper to taste.
For the grain-mustard sauce:
1 1/4 cups reduced lamb or veal stock
1/2 cup red wine
4 tablespoons grain mustard
2 tablespoons Dijon mustard
1/4 cup fresh rosemary, chopped
1/4 cup fresh thyme, chopped
1 tablespoon Worcestershire sauce
Salt and pepper to taste
Combine all ingredients in a medium saucepan and gently bring to a boil. Simmer for 20 minutes until sauce has reduced and thickened slightly. Keep warm till ready to serve.
PRESENTATION: Cut each lamb rack into individual servings, one bone per chop. Arrange a layer of blue-cheese polenta on each plate, top with roasted l amb and drizzle with grain-mustard sauce. Garnish with fresh rosemary. Serve with seasonal vegetables such as wilted kale.
---
Eggplant–and–goat cheese roulades with citrus fennel salad and balsamic syrup Serves 4 (appetizer servings)
For the eggplant–and–goat cheese roulades:
1 small eggplant
1 tablespoon olive oil
6 ounces soft plain goat cheese
1 tablespoon fennel sprigs, chopped
1 tablespoon chives, chopped
Salt and pepper to taste
16 chives
Using a mandolin, slice eight thin (1/8 inch) rounds of eggplant. Brush with olive oil and place on a hot grill or in a nonstick frying pan. Cook until soft and brown on the outside.
Meanwhile, in a small bowl prepare the goat cheese filling. Mix together the goat cheese, olive oil, fennel, chives, salt and pepper until well combined.
Begin to create the roulades by placing two chive stalks on each eggplant slice so they stick out from one side. Form two teaspoons of the filling into a cylinder as long as the slice is wide and place on the eggplant and chive stalks. Roll the slice around the filling, overlapping the edges slightly. If necessary, use a toothpick to hold it together while you roll the rest.
For the citrus fennel salad:
1 small fennel bulb
Juice of 1/2 lemon
Pinch or two of salt
Pinch or two of sugar
Again using the mandolin, very thinly slice the fennel bulb and place it in a bowl with the lemon juice, salt and sugar. Toss well and taste — add more salt and sugar to make it piquant, then set aside for at least 30 minutes to allow the flavors to infuse.
For the balsamic syrup:
1/3 cup balsamic vinegar
In a small frying pan or saucepan, simmer the balsamic vinegar over a medium heat. Stir constantly and reduce the liquid by two-thirds.
PRESENTATION: Drain the fennel salad and mound two tablespoons in center of the plate. Remove toothpicks from the roulades if used, and stack two atop the salad, with chive stalks pointing up. Drizzle a bit of extra-virgin olive oil around the rolls, and add drops of the balsamic syrup over the oil.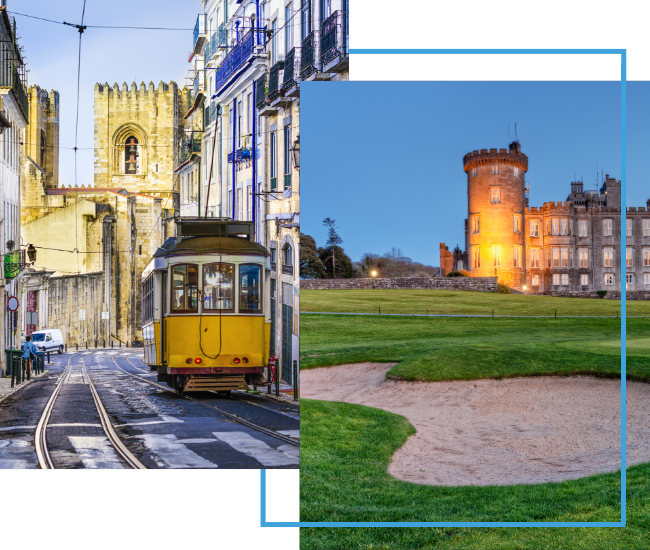 FX Excursions
FX Excursions offers the chance for once-in-a-lifetime experiences in destinations around the world.
Explore Excursions
Corsica with steep, gray cliffs overlooking the Mediterranean and sandy beaches attracting summer visitors, is a French-governed island sometimes confused with Sardinia and Sicily, Italian islands to the south. Fortunately, all three islands share the same love for good wine, food and sun-splashed beaches.
Sponsored Content
The Global Business Travel Association (GBTA) believes business travel is a fundamental force for good and brings the industry together to connect, innovate and set new standards. With members from across the globe, GBTA engages the many voices of business travel to build a collective future, providing a platform for buyers and suppliers to come together, connect with peers, grow their network and shape the future of the industry.
If you're ready to do a little holiday catch-up with your besties, make a beeline for Conrad New York Downtown. The lobby metamorphosed into a holiday forest of heavenly scented, decorated Virginia Spruce trees. Make your first stop ATRIO Barista Station in the lobby for a complimentary hot spiced apple cider (until Dec. 3) or hot chocolate (Dec. 22­–24).