"A good cook is a sorcerer who dispenses happiness on a plate."
That's the culinary philosophy of Chef Bernard Guillas. The award-winning executive chef at La Jolla Beach & Tennis Club — including its famed Marine Room, popular for decades among San Diego's dining elite — Guillas hails from the Brittany region of France. Born into a family of butchers, bakers and restaurateurs, he began his formal training in 1978 at La Bretagne in Questembert, France, as an apprentice of the legendary Georges Paineau and subsequently expanded his culinary knowledge with stints at several Maitres Cuisinier de France fine dining restaurants. Jumping continents, Guillas eventually moved on to become chef de cuisine at Le Dolmen in French Guyana. The richly diverse flavors of South America continue to influence his cooking style.
Prior to joining La Jolla Beach & Tennis Club in 1994, Guillas was affiliated with Maison Blanche in Washington, D.C., where he worked as chef tournant, chef saucier and sous chef under former White House Executive Chef Pierre Chambrin. In 1989, he relocated to San Diego and spent five years as chef de cuisine at the Grant Grill, located in the US Grant hotel in downtown San Diego's historic district. In 2001, Guillas became one of only 14 chefs inducted into the International Restaurant & Hospitality Rating Bureau's American Chefs' Hall of Fame.
An active member of his local community, Guillas regularly participates in the "Share Our Strength Taste of the Nation" fund-raiser for hunger relief, as well as other charitable events. He was a member of the San Diego regional team during an appearance at the James Beard House in September 2000. He was named 2001 "Best Chef in San Diego" and voted "Chef of the Year" by Chef Magazine in 2004. In May of this year, Guillas accepted the Grande Maitre du Gout award at the fifth annual Master of Taste Awards presented by the Chefs in America Awards Foundation.
In his role as executive chef at La Jolla Beach & Tennis Club, Guillas is responsible for directing the resort's three restaurants and all catering operations. He said the coastal ambience of the Southern California venue is reminiscent of the lifestyle he enjoyed in Brittany.
"When I lived in France, the smell of the sea and the lure of its bounty were constantly part of our table," said Guillas. "I'm inspired by the variety and quality of the local produce and seafood found throughout this region."
---
Sesame-peppered ruby red Ahi tuna with Thai rice, fennel mango salad, avocado fritter and pinot gris hibiscus essence Serves 6
For the Thai rice:
2 cups black Thai rice
3 cups cold water
3 tablespoons grapeseed oil
3 tablespoons seasoned rice vinegar
2 tablespoons honey
2 teaspoons dry plum powder
¼ teaspoon togarashi (available in Japanese markets)
Sea salt, to taste
Combine rice and water in large saucepan. Bring to boil. Reduce to simmer. Cover. Cook 12 minutes or until water is absorbed. Transfer rice to large mixing bowl. Combine with remaining ingredients.
For the fennel mango salad:
1 mango, peeled, seeded and julienned
½ cup thinly shaved fennel bulb
1 teaspoon freshly chopped cilantro leaves
2 tablespoons grapeseed oil
1 tablespoon Jose Cuervo Especial (Gold tequila)
1 lemon, juiced
Dash Tabasco
Sea salt and freshly ground black pepper, to taste
In large bowl gently mix mango, fennel and cilantro with wooden spatula. Incorporate remaining ingredients. Season to taste with sea salt and freshly ground black pepper. Set aside.
For the avocado fritter:
1 cup cold water
½ cup tempura/beignet batter mix
1 tablespoon finely chopped basil
1 tablespoon finely chopped mint
Pinch paprika
Pinch togarashi
2 avocados, seed removed, sliced
Pour cold water into mixing bowl. Add tempura batter mix. Blend well with wire whisk. Add basil, mint, paprika and togarashi. (If mixture is too thick add small amount of water.) Set aside. Preheat oil (minimum of five inches deep) in fryer to 365 degrees. Dip avocados in prepared tempura mix. Deep fry 20 seconds, one at a time. Place on paper towels to remove excess oil.
For the sesame-peppered ruby red Ahi tuna:
½ cup white sesame seeds
½ cup black sesame seeds
2 teaspoons freshly ground black pepper
6 7-ounce center cut sushi-grade Hawaiian Ahi tuna steaks, 1-inch thick
Sea salt, to taste
3 tablespoons grapeseed oil
Place sesame seeds into two separate shallow bowls. Toss each with 1 teaspoon of freshly ground black pepper. Working with one tuna steak at a time, press one side of tuna into white sesame seeds and the other side into black sesame seeds. Place heavy skillet over high heat. Pour in 1 tablespoon grapeseed oil. Sear tuna one minute on each side. Set aside. Repeat process.
For the pinot gris hibiscus essence:
½ cup pinot gris
1 tangerine, juiced
2 tablespoons chopped shallots
4 dried hibiscus flowers
¼ cup heavy cream
1 stick unsalted butter
Sea salt and finely ground white pepper, to taste
In medium saucepan over medium heat, combine pinot gris, tangerine juice, shallots and hibiscus flowers. Reduce liquid by two-thirds. Stir in cream. Reduce until cream is thickened. Whisk in butter. Strain through fine sieve. Season with sea salt and finely ground white pepper.
PRESENTATION:
6 mint sprigs
6 wonton fans
Place three-inch-wide by one-inch-tall molding ring on center top of a large serving plate. Pack Thai rice into ring. Remove ring. Top rice with fennel mango salad. Cut tuna on bias crosswise. Lean tuna against rice with one of each colored side showing. Spoon sauce to around plate. Garnish with avocado fritters, mint sprigs and wonton fans.
THE MARINE ROOM
La Jolla Beach & Tennis Club
2000 Spindrift Drive
La Jolla, CA 92037
tel 858 459 7222
www.marineroom.com.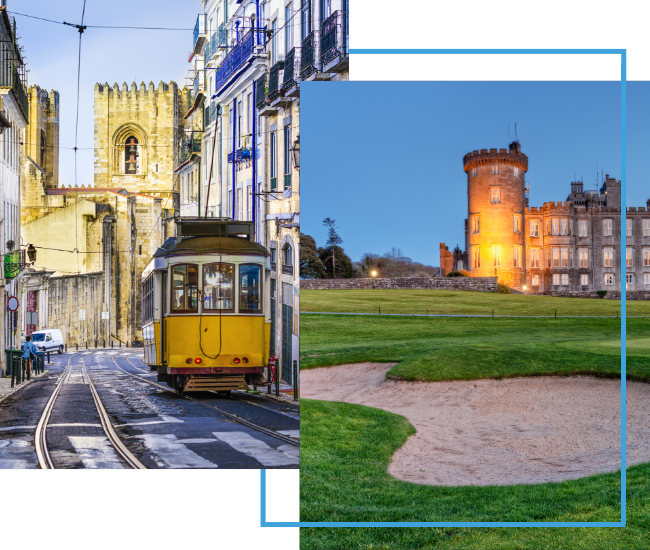 FX Excursions
FX Excursions offers the chance for once-in-a-lifetime experiences in destinations around the world.
Explore Excursions
One thing  surprising about the Prince Edward Island capital is its abundance of shops specializing in affordable, fashion-forward jewelry rendered in sterling silver, vermeil, 14K gold and semi-precious stones. Whether you prefer delicate pieces or bold wearable art, you can be assured the pieces for sale are inspired by the maritime island setting and, therefore, specific to the place where they are created. Here are a few shining, woman-owned examples:
Sponsored Content
Many small- and medium-sized businesses face time and budget constraints when organizing corporate hotel travel for employees. To address this problem, IHG® Business Edge emerged as a cost-free business travel solution for small- to medium-sized enterprises, offering travel managers exclusive access to enticing perks, handpicked educational resources and comprehensive company travel metrics. IHG Business Edge connects our loyal customers to our portfolio of 5,800 hotels and resorts across 18 brands in more than 100 countries.
Norway, a haven for visionary artists, architects and designers, showcases an exceptionally diverse array of cultural attractions. This year, the country commemorates exciting milestones and unveilings captivating enthusiasts of the arts, from iconic scenic routes to new museums to gallery openings. Up Norway features these new offerings in personalized itineraries catered to aesthetes.