"I really enjoy taking the discipline and techniques acquired in my classical training and applying that to approachable, no-fuss food with clean flavors and memorable plating."
That philosophy is the driving force behind the food Executive Chef Wes Morton creates at Art and Soul, the Washington, D. C., eatery owned by noted Chef Art Smith.
"I've brought this approach to Art and Soul, elevating the 'soul' while maintaining the integrity of Chef Art's vision."
A graduate of the New England Culinary Institute in Montpelier, Vt., Morton embraced a farm-to-table approach to eating long before the phrase took on buzzword status in the culinary arena: He grew up hunting and fishing with his father in Lafayette, La., where his grandmother turned their catch into the family's Sunday lunch.
During a stint at Washington, D.C.'s Againn, Morton earned kudos for creating recipes based on locally sourced ingredients. At Art and Soul, he continues to draw on that same network of local farmers for his seasonally inspired menus.
Dirty rice with mushroom Bolognese
For the dirty rice:
1 cup cooked Carolina gold rice
½ cup mushroom Bolognese (recipe follows)
1 tablespoon butter Grana Padana, grated, to taste
Salt and pepper, to taste
2 tablespoons parsley, chopped
Roasted mushrooms, for plating
Extra virgin olive oil, for plating
Combine the cooked rice and mushroom Bolognese in a saucepan over medium heat. Cook until the mixture is almost dry. Add the butter, Grana Padana, salt, pepper and parsley. Reduce again until the mixture is almost dry and the rice is glazed.
For the mushroom Bolognese:
2 pints finely chopped button mushrooms
Olive oil
1 pint cooked soffritto (recipe follows)
2 pints mushroom stock or vegetable stock
Salt and pepper, to taste
Coat the bottom of a saucepan with olive oil. Place the saucepan over medium heat. Add the mushrooms and sweat until all of the moisture is cooked out and they begin to take on a dark brown color (about 1 hour). Add the soffritto and cook 10 minutes. Add the mushroom (or vegetable) stock and bring to a boil. Lower the heat and simmer until the liquid reduces by half. Season with salt and pepper to taste.
For the soffrito:
1 pint finely chopped carrots
1 pint finely chopped red onions
1 pint finely chopped celery
Olive oil
Combine all the vegetables in a saucepot. Add enough olive oil to cover 2/3 of the vegetables. Bring to a light simmer. Cook for 4–6 hours, until deeply caramelized.
Presentation: Spoon the dirty rice into a bowl. Top with roasted mushrooms and drizzle with extra virgin olive oil.
Shrimp and grits
1 cup coarse organic white grits
1 cup fine organic white grits
8 cups water
2 tablespoons crème fraîche
2 tablespoons chives, shaved
1 tablespoon Parmesan cheese, grated
5 U21–25 fresh shrimp, shelled and deveined
1 ounce Andouille sausage, cut into ½-inch cubes
Lemon juice, to taste
Worcestershire sauce, to taste
Salt, to taste
2 tablespoons water
1 ounce butter
Mix the coarse and fine grits together. Set aside. Bring the water to a boil in a large saucepan. Slowly add the grits to the boiling water and whisk vigorously. Cook the grits for 4–5 hours until tender, whisking every 10 minutes. Add salt to taste. Remove from heat and set aside.
Season the shrimp with salt on both sides. Set aside. Bring a sauté pan to a light smoke and add enough oil to barely coat the pan. Add the Andouille sausage and cook until all sides are caramelized. Remove the sausage from the pan and set aside to drain on paper towels. Save the pan and the oil. Set aside.
In a small saucepot, combine 1 cup of cooked grits, crème fraîche, Parmesan and chives. Add salt, to taste. Bring the mixture to a simmer while whisking to maintain a smooth consistency.
Reheat the pan used to cook the sausage and bring to a smoke. Add the shrimp and cook to caramelize both sides. Continue to cook the shrimp until done, adjusting the heat as necessary. Remove the shrimp from the pan and set aside to drain on paper towels. Pour the oil out of the pan. Add 2 tablespoons of water and the butter. Reduce until the mixture is slightly thickened. Add the lemon juice and Worcestershire sauce. Add salt, to taste.
Presentation: Spoon grits into a small serving bowl. Place shrimp on top of the grits. Add the Andouille sausage to the pan sauce and pour the sauce over the shrimp and grits.
Art and Soul
The Liaison Capitol Hill, An Affinia Hotel
415 New Jersey Ave., N.W.
Washington, D.C. 20001
tel 202 393 7777
artandsouldc.com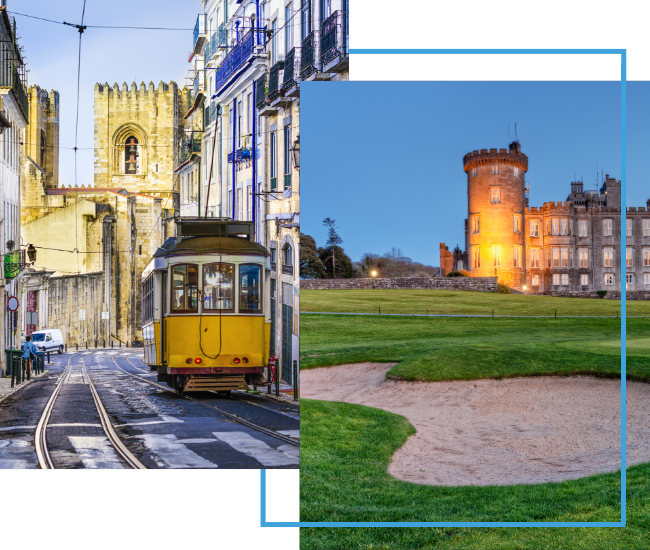 FX Excursions
FX Excursions offers the chance for once-in-a-lifetime experiences in destinations around the world.
Explore Excursions
Did the new film Oppenheimer rouse your interest in the nefarious world of international espionage? You can go straight to the real-life setting for covert actions this November (Nov. 10–12), when La Fonda on the Plaza in Santa Fe hosts a specially themed "Spies, Lies and Nukes" weekend. The hotel actually served as the retreat location for Manhattan Project scientists, who stayed at La Fonda on the Plaza to take a break from the stress of their work. During the weekend, the property's La Fiesta Lounge will make a tasty nod to those days by serving up a special Atomic Martini.
Sponsored Content
Many small- and medium-sized businesses face time and budget constraints when organizing corporate hotel travel for employees. To address this problem, IHG® Business Edge emerged as a cost-free business travel solution for small- to medium-sized enterprises, offering travel managers exclusive access to enticing perks, handpicked educational resources and comprehensive company travel metrics. IHG Business Edge connects our loyal customers to our portfolio of 5,800 hotels and resorts across 18 brands in more than 100 countries.
Ever want handcrafted martinis and freshly shucked oysters delivered straight to your room? The Read House's New Martinis & Pearls service has you covered. Shining in 1920s-themed decor, the historic hotel in the heart of Chattanooga offers a true Gatsby-esque experience, now further elevated with this upscale amenity. Guests can now indulge in their perfectly chilled martini, made to order, and "pearls" (oysters) in the comfort of their room.