For travelers who love unique food, architecture, history and supporting a multigenerational family-owned business, head to BLDG 39 in Philadelphia, Pennsylvania, for a well-rounded night out.
Housed in a 1917, wartime-era arsenal warehouse, BLDG 39 is a combination commissary kitchen space for local food truck owners and event space. The rustic building boasts beautiful backdrops for weddings, culinary tastings, business meetings and other social events. The business is owned by the Weizer family: a trio of tradesman that put their knowledge and skills together, including of technology from Brandon Weizer; carpentry from his father, Craig Weizer; and master plumbing by his grandfather, Fred Weizer, into purchasing commercial real estate. Over the years and through many leaps and hurdles, they made their first large building purchase of a 50,000-square-foot property called The Atlas Building that housed artist studios, woodshops, office space and residential units.
In 2019, the family sold The Atlas Building and acquired BLDG 39. With 2,800 square feet of shared kitchen space, the facility offers its tenants flat-top grills, deep fryers, burner stoves, 20-quart mixers, commercial dish washers, walk-in refrigerator space and extra storage in the basement.
On May 1, 2021, BLDG 39 hosted its first collaborative dinner of Polish and Portuguese cuisine from Mom Mom's Kitchen and Cozinha. Each food truck brought its own cultural flare. The dinner featured a delicious, sit-down, five-course tasting menu, a DJ, photobooth and live pendulum painting demonstration. Guests were given the full experience in the warehouse building with large garage doors that let the spring breeze and trendy music float through the air. Featured dishes included chlodnik, a chilled beet soup; bacalhau and potato pierogis; piri piri chicken; stuffed cabbage; and an olive oil cake.
BLDG plans to host more collaborative events in the near future to offer visitors an unforgettable culinary experience. Follow them on Instagram for event details, to inquire about hosting a private event or if you are looking for a commercial kitchen rental.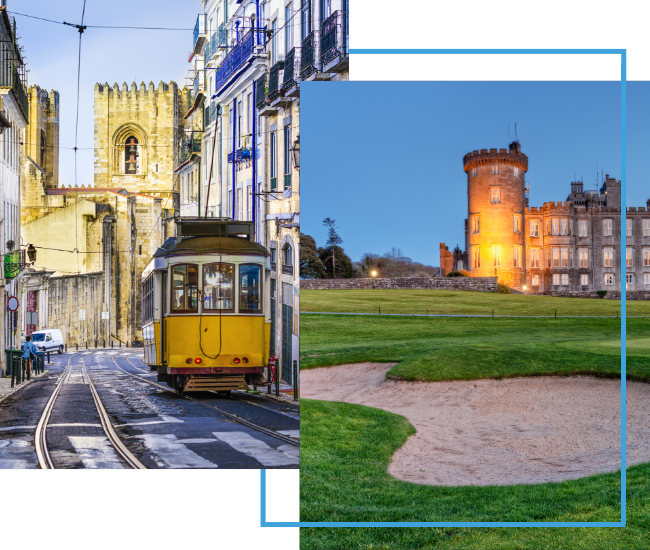 FX Excursions
FX Excursions offers the chance for once-in-a-lifetime experiences in destinations around the world.
Explore Excursions
Pleasant weather, autumn foliage and vibrant flowers are among the many delights awaiting nature lovers at botanical gardens and arboretums across the United States. However, some of these green spaces take on additional color this month and through Halloween when enterprising gardeners, landscape architects, management and other creative minds cast a spell with themed environments running the gamut from spooky to utterly bewitching.
Sponsored Content
Whether it's the people, the craic (fun) or the coasts, travelers always find something to love about the island of Ireland. What fills your heart?
For travelers who love all things autumn, Crystal Springs Resort, New York City's closest destination resort, features special offers and experiences to meet the demands of everyone's fall bucket list. Located only 80 minutes outside New York City in Sussex County, New Jersey, Crystal Springs Resort offers a quick getaway to enjoy fall foliage. Are any of these new offers or experiences on your bucket list?