Breaking bread. It's a gesture of friendship that spans generations, cultures and miles. Food is a common denominator connecting humans through the ages. Sharing food can be a gesture of love, compassion, kindness or charity.
I've been featuring chefs and sharing their recipes in our Cuisine (formerly Bon Vivant) column for almost 10 years, and the one theme that repeats over and over again is family. Almost without exception, every chef I interviewed cited a family connection that led to his or her chosen career: sweet memories of working in the family garden or learning to make cupcakes at their grandmother's side. Some came from a long line of accomplished home cooks, while others were pioneers, learning to cook by necessity.
Commonality of the food experience, however, doesn't mean we all speak the same culinary language. A delicacy in one part of the world may be considered taboo someplace else. Savoring the taste of even well-known foods can be challenging when the presentation is unexpected.
One of my most memorable dining experiences was also, for just a minute or two, one my most uncomfortable dining experiences.
It was late 2004. My husband, Kevin, and I were at Les Ambassadeurs, the fine-dining establishment at the legendary Hôtel de Crillon* in Paris. We were in the midst of savoring a decadent multicourse luncheon prepared by Chef Jean-François Piège. In his mid-30s at the time, Piège was already building a world-class reputation. His mentor, renowned chef Alain Ducasse, described him as a chef who "embodies French savoir-faire and the French art of living."
The attentive staff had just cleared our table between courses when we noticed a muted flurry of activity. Piège and his colleagues were approaching our table holding what, through the haze of time, I recall as an ornate box. (It may have been simple, but we were so out of our element in that moment, the memory is like a dream sequence.) They placed the box on the table and opened it with a flourish. We gazed at the contents: at first glance, a nondescript spongy mass. It took a beat or two for us to realize we were looking at a very expensive, very large truffle, slices of which we'd enjoy with our next course.
How to react? We were baffled. We're adept at faking our way through the swirls and sips involved in a restaurant wine tasting, but this was a whole different situation. Do we sniff? Do we touch? Do we reverently bow our approval? Truth is, we muddled our way through the entire series of reactions hoping we hit the right tone. Chef Piège, who spoke little English at the time (although far better than my elementary French), and his staff seemed satisfied. We breathed a sigh of relief. The rest of our meal was perfect.
I look back now at my columns from the past decade and realize each one — each chef — triggers a fond memory. Chef James Overbaugh at The Peninsula Beverly Hills, a native New Englander, surprised me when he recalled his earliest culinary inspiration: watching his Yankee grandfather cook Chinese food in an old and battered metal wok.
Then there's Chef Michael Fiorelli at mar'sel, the signature eatery at Terranea Resort and Spa in Ranchos Palos Verdes, Calif., an accomplished chef and aspiring writer who satisfies both interests via his passion for cookbooks.
And I'll always have a soft spot in my heart for Chef Fabrice Guisset, who joined us for a pre-dinner cocktail then returned to the kitchen to prepare the perfect seaside dinner celebrating our 25th wedding anniversary at Las Ventanas al Paraíso in Los Cabos, Mexico.
Speaking of seaside repasts, I must include Chef Greg Lamm in this retrospective. In the spring of 2007, at about the same time the television show Iron Chef America was reaching the height of its popularity, Kevin and I were enjoying an alfresco dinner while watching a spectacular sunset off the coast of Maui. The meal and the setting — The Westin Maui Resort's beachfront Tropica Restaurant — were perfect. Maybe it was the wine. Maybe I was just feeling silly. More likely it's because at the time I really wanted to be a judge on the Iron Chef panel.
In my best Iron Chef judge voice, I began critiquing each dish — all positive comments, but still assuming Kevin was my only audience within earshot. Camping it up, fork in hand, I noticed someone out of the corner of my eye. Chef Lamm was standing right behind me. Happily, I learned he's not only an accomplished chef. He also has a genuine sense of humor.
* Closed for renovations, Hôtel de Crillon will reopen in 2015.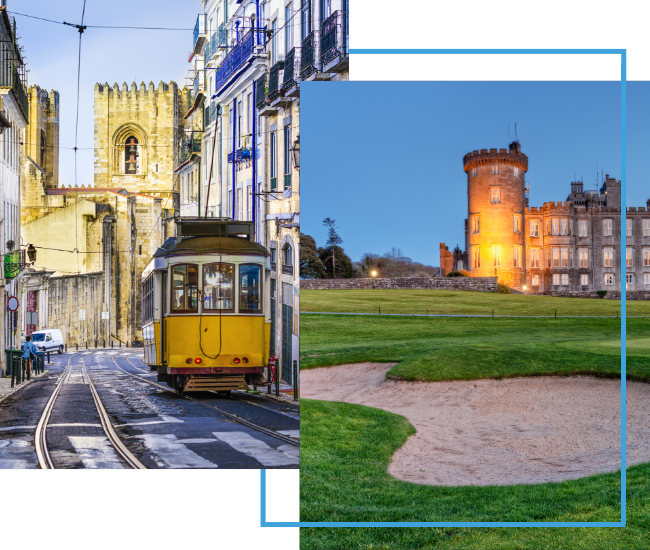 FX Excursions
FX Excursions offers the chance for once-in-a-lifetime experiences in destinations around the world.
Explore Excursions
The Perelman Performing Arts Center (PAC NYC), the cultural cornerstone and final public element of the World Trade Center site, opened this September.  The new performing arts center in Lower Manhattan provides a dynamic home for the arts, serving audiences and creators through flexible venues enabling the facility to embrace wide-ranging artistic programs.
Sponsored Content
Many small- and medium-sized businesses face time and budget constraints when organizing corporate hotel travel for employees. To address this problem, IHG® Business Edge emerged as a cost-free business travel solution for small- to medium-sized enterprises, offering travel managers exclusive access to enticing perks, handpicked educational resources and comprehensive company travel metrics. IHG Business Edge connects our loyal customers to our portfolio of 5,800 hotels and resorts across 18 brands in more than 100 countries.
Whether you call secondhand fashion treasure troves "thrift stores," "fripperies," "charity shops," "vintage boutiques" or something else, shifting the paradigm from "old clothes" to "new finds," you may find the best, most conversation-starting souvenirs inside these shops and neighborhoods located in the world's most fashionable cities and a few unexpected places.