Luis Caseiro remembers watching his mother baking cakes in the family kitchen.
"I was truly intrigued by that," Caseiro said. "So much so, that I tried to mimic her by making sugar and butter 'sandwiches' for my younger brother. That's how I had my start in pastry-making."
And the rest is history.
Caseiro, an innovative Portuguese chef whose culinary career spans more than 15 years, is the executive chef at New York's Alfama restaurant. Previously, he was affiliated with Hotel Flor de Sal, a small luxury hotel in the charming Portuguese town of Viana do Castelo, 45 miles north of Oporto.
Having also lived on the Chinese island of Macau — a former Portuguese colony — for two years, Caseiro brings an innovative flair to Alfama's traditional Portuguese menu.
"Portuguese cuisine is earthy," he said. "The flavors are bold and its base is quite healthy — fresh seafood, vegetables and the purest of olive oils. Dry salt cod is a major staple and there are hundreds of ways to prepare it: broiled, boiled, baked, roasted, sautéed, fried, grilled and many garnishes to go along with it. There aren't too many sauces to mask the flavor of anything. I'd call it 'honest' cuisine.
"What I bring to the table is the fact that I lived in Asia for two years, precisely in Macau, a former Portuguese colony," Caseiro added. "What was interesting about living there was seeing how much of a culinary exchange had taken place between the two cultures — Chinese and Portuguese. Upon joining Alfama, I decided to create a section of the menu called 'new wave Portuguese,' which is reflective of the age of Portuguese navigation and discovery when the Portuguese were present in so many different parts of the world including India, China, Malaysia, Japan, Angola, Mozambique, Guiné-Bissau and Brazil. It is really amazing how we influenced the cuisines of these cultures and, in turn, were influenced by them."
---
Seared red snapper in a mussel saffron soup with crispy leeks Serves 1
6-ounce red snapper fillet
1 leek, cut into thin strips
1 cup diced Roma tomatoes
1 cup diced white onion
15 mussels
1/2 teaspoon saffron
1/4 cup heavy cream
1 cup shrimp stock or water
2 tablespoons olive oil
Salt and pepper, to taste
Trim away the heavy green part of the leek. Take the white part of the leek, cut away the root and halve it lengthwise. Peel away the layers until you reach the center; discard the yellow "heart" of the leek. Flatten the external white parts of the leek and cut into even-sized strips. Soak strips in ice water for at least an hour or overnight. Heat olive oil to 350 degrees and deep-fry the leeks until crispy. Set aside.
Steam 10 mussels in 1 cup water. Discard any that do not open. Remove from heat. Strain the liquid, set aside. Remove meat from the mussels and discard the shells. In a stockpot, heat olive oil and sauté the onions until translucent. Add saffron and cook for 5 minutes. Add the tomatoes, mussel broth, shrimp stock (or water) and mussel meat. Simmer for 30 minutes, add cream and blend. Strain soup. Set aside.
Using a sharp knife, make three evenly spaced slits on the skin side of the red snapper fillet. Season the fish with salt and pepper. In a sauté pan, heat the olive oil until it is lightly smoky. Add the fish, skin side down first, and cook until crispy. Flip fish over and add the saffron mussel sauce along with the five remaining mussels. Cook until mussels open and the fish is moist and flaky, about 5 minutes.
PRESENTATION: Place five mussels in bowl and top off with the red snapper. Pour the remaining sauce in the pan over the fish and garnish with the crispy leeks.
---
Crispy bronzini with gingered yams and arugula in star anise sauce Serves 1
6-ounce bronzini fillet
1/2 pound yams
1 tablespoon grated ginger
1/4 pound butter
1 cup heavy cream
1/2 cup arugula
3 star anise pods
1/4 cup diced onion
1/4 cup white wine
1/4 cup fish stock
1 tablespoon olive oil
Boil yams in water until tender. Let yams cool. Peel and purée through a food mill or ricer (If you do not have either of these items you can just mash with a fork until smooth). Return purée to the stove and mix in grated ginger, butter, and 1/2 cup of heavy cream. Set aside.
Combine wine, star anise, onions and fish stock over medium heat. Reduce to half. Add remaining cream. Simmer until reduced by half. Blend sauce and strain.
Divide the bronzini into two equal pieces. Season with salt and pepper. Heat 1 tablespoon olive oil in a pan. Add bronzini and sear, skin side down first. Cook until tender, about three minutes each side. Reheat yam purée and adjust consistency with heavy cream.
PRESENTATION: Place yam purée in center of plate. Top with arugula, then the bronzini. Drizzle sauce around plate and serve.
ALFAMA
551 Hudson St.
New York, NY 10014
tel 212 645 2500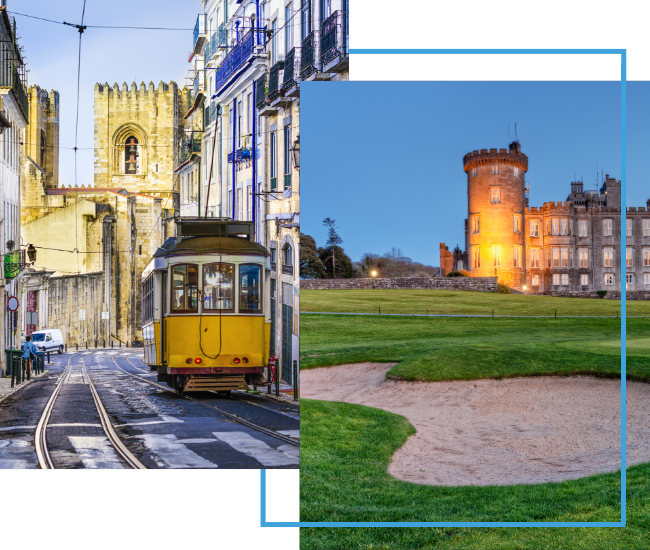 FX Excursions
FX Excursions offers the chance for once-in-a-lifetime experiences in destinations around the world.
Explore Excursions
Pleasant weather, autumn foliage and vibrant flowers are among the many delights awaiting nature lovers at botanical gardens and arboretums across the United States. However, some of these green spaces take on additional color this month and through Halloween when enterprising gardeners, landscape architects, management and other creative minds cast a spell with themed environments running the gamut from spooky to utterly bewitching.
For travelers who love all things autumn, Crystal Springs Resort, New York City's closest destination resort, features special offers and experiences to meet the demands of everyone's fall bucket list. Located only 80 minutes outside New York City in Sussex County, New Jersey, Crystal Springs Resort offers a quick getaway to enjoy fall foliage. Are any of these new offers or experiences on your bucket list?