"I am creating a menu at Bistro Moderne highlighted by my interpretations of the French classic dishes, but in a way our clientele can relate to with familiarity."
So says Philippe Schmit, executive chef at Houston's Bistro Moderne. A native of Roanne, France, not far from Lyon, Schmit honed his skills in Holland and England and trained at three of Paris' most respected Michelin two-Star restaurants — Le Carre des Feuillants, Pavillon Elysee Lenotre and Restaurant Jacques Cagna — before moving to New York in 1990 where he quickly earned a reputation as one of the city's most innovative and talented chefs.
Schmit served as sous chef at New York's renowned Le Bernardin and chef de cuisine at Park Bistro before signing on as executive chef at the New York brasserie La Goulue — and subsequently Orsay — where he began a successful and ongoing professional relationship with longtime New York restaurateur Jean Denoyer.
Opened to rave reviews in December, Bistro Moderne presents an authentic French culinary experience. Read on for a "taste" of Schmit's creations.
---
Buffalo Napoleon Serves 4
For the meat:
12 ounces buffalo tenderloin
Tie meat tightly with string and marinate for 30 minutes. Remove meat from marinade. (Reserve marinade for salad dressing preparation, see below.) In a nonstick pan, sear meat on all sides. Let meat cool completely. Wrap in plastic film. Freeze. When meat is frozen through, cut it into 1/2-inch slices. Lay each slice flat on oiled parchment paper.
For the marinade:
1 tablespoon soy sauce
1 teaspoon Worcestershire sauce
1 ounce chopped thyme
2 tablespoons olive oil
Combine ingredients. Set aside.
For the salad:
5 ounces arugula
2 ounces carrots, sliced thin
2 ounces haricot verts (French string beans)
1 pear, sliced thin
1 pound celeria (celery root) chips, fried and salted
For the vinaigrette:
1 pomegranate (crush seeds through strainer to collect juice)
1 tablespoon sherry vinegar
1 tablespoon olive oil
1 tablespoon canola oil
Salt and pepper, to taste
For the salad dressing:
Reserved marinade
1 tablespoon honey
1 teaspoon sherry vinegar
1 teaspoon diced ginger
Heat reserved marinade to boiling. Add honey, sherry vinegar and diced ginger. Set aside to cool.
PRESENTATION: Place three slices of meat in a ring on plate. Layer with salad then celery chips. Repeat. Garnish with chevril.
---
Tuna Tahitian Tartars Serves 4
For the tuna tartar:
1 pound fresh sushi-quality tuna diced into small pieces
2 tablespoons diced tomato
2 tablespoons diced papaya
3 tablespoons olive oil
Espelette (French seasoning, available in specialty food stores)
Zest of one lime
1 tablespoon lemon juice
1 tablespoon vanilla oil
1 tablespoon coconut milk
1 tablespoon rum
3 leaves Boston lettuce
15 leaves fresh mint
PRESENTATION: Mix all ingredients with a fork. Divide mixture into quarters and fill four halved coconut shells. Garnish with shredded coconut, lemon grass, vanilla bean and lettuce and mint leaves. Serve immediately.
---
Loup de Mer Serves 4
For the fish:
4 1-pound pieces fresh bass, deboned, with head and tail on
For the fennel puree:
2 pounds fennel bulbs with stems, sliced (reserve tops, fennel flowers)
1 cup cream
2 tablespoons Pernod
Fennel flowers
1 star anise
1 teaspoon fennel seed
4 ounces cooked rice
Salt and pepper, to taste
Sweat fennel bulbs and stems in butter. Set aside. Over low heat, steep star anise, fennel seed and cream. Strain and set aside. Keep warm. In a food processor, puree fennel bulbs and stems, infused cream, rice, Pernod, fennel flowers, salt and pepper.
For the paniesse (chickpea fries):
1 cup chickpea flour
4 cups chicken stock
Garlic confit (6 cloves pre-blanched twice in water then cooked slowly in olive oil)
1 tablespoon sesame oil
1 teaspoon cumin
1 sprig rosemaryCombine rosemary and chicken stock. Bring to a boil. Remove rosemary. Dissolve chickpea flour in cold water to create a light paste. Whisk in chickpea flour paste, garlic confit, cumin, salt, pepper and sesame oil over medium heat until mixture is of a thick roux consistency. While still warm, puree mixture in a food processor to dissolve any remaining lumps. Pour mixture onto a sheet pan covered with oil parchment paper. Chill until set. Cut into "french fry" shape. Set aside to cook just prior to plating.
For the harissa sauce:
2 tablespoons olive oil
2 ounces onions
3 cloves garlic
3 red peppers, roasted, peeled and seeded
Bonquet garni (rosemary, thyme, bay leaves)
2 4-ounce tomatoes, chopped
2 tablespoons tomato paste
1 jalapeno pepper, minced (with or without seeds)
1 tablespoon cumin
1 tablespoon coriander
Salt, to taste
1 tablespoon harissa paste (available in specialty food stores)
Sweat garlic, onions, red pepper, tomatoes, jalapeno, thyme, rosemary, cumin, coriander and harissa. Season with salt, add bouquet garni. Mix in tomato paste. Simmer for 20 minutes. Blend and set aside for service.
For the fennel oil:
1 cup blended oil
1 tablespoon sliced fennel
1 teaspoon fennel seeds
1 star anise
1 teaspoon fennel flowers
Combine all ingredients. Set in a warm place to infuse for 2 hours.
PRESENTATION: On grille, mark fish on both sides then cook for 5 minutes in a 450-degree Fahrenheit oven. Season with dried fennel, salt and pepper. Baste with olive oil, as necessary. Fry panisse in a nonstick pan until crispy on all sides. Warm fennel puree and spoon onto plate. Place cooked fish on plate. Drizzle with fennel oil. Sprinkle with fleur de sel (sea salt). Serve with harissa sauce.
BISTRO MODERNE
(ADJACENT TO HOTEL DEREK)
2525 W. Loop South
Houston, TX 77027
tel 713 294 4383
www.bistromoderne.com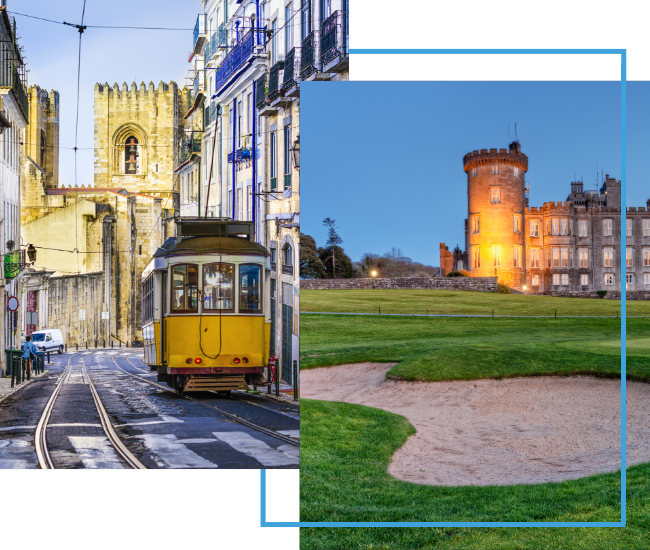 FX Excursions
FX Excursions offers the chance for once-in-a-lifetime experiences in destinations around the world.
Explore Excursions
If fabulous food and beverages are a must-have for any weekend getaway, then look no further than the City of Brotherly Love. Whether your palate has a penchant for vibrant Latin American fare or cozy French cuisine, whether you're an oenophile looking to swirl, sniff and sip your way around the globe or you'd rather sample farm-to-glass cocktails, Philly's got it all this fall. (With the exception of Bolo, which is a short taxi or Uber ride away and definitely worth the trip, the rest of these spots are all within walking distance of each other.)
Sponsored Content
Exclusive Sailing with Global Traveler
From Santoríni to Dubai to New York, some hotels just have that "it" factor that draws visitors far and wide. For some hotels it's their proximity to popular landmarks and attractions, for others it's their amenities. But these hotels have something few can claim: a true room with a view.