The connection between food and family was ingrained in Executive Chef Jeremy Sewall at an early age. A native of upstate New York, Sewall grew up spending summers in Maine, where he developed a love for fresh New England seafood. Back in New York, he worked alongside his sisters at their parents' cafe in La Grangeville.
"I went from eating dinner every night with my parents and four sisters to providing dinner every night to other families," said Sewall. "It reaffirmed in me the importance of food and family and its relationship to ritual and comfort."
Upon graduating with honors from the renowned Culinary Institute of America, Sewall returned to Maine and worked at Kennebunkport's White Barn Inn, a member of the esteemed Relais and Chateau hotel group. He then moved to Europe, working in London and Amsterdam. Upon his return to the United States, Sewall signed on at Boston's famed L'Espalier, a legendary dining establishment noted for its exacting standards and French-influenced cuisine. He then moved to the West Coast, where he worked with Bradley Ogden, chef-owner of the Lark Creek Inn, in Larkspur, Calif. In 2000, Sewall was one of just five chefs nationwide nominated as a Rising Star Chef in America by the James Beard Foundation.
As executive chef at Great Bay Restaurant in Boston's Hotel Commonwealth since May 2003, Sewall remains true to his roots.
"It's a cliché, but it's so true," said Sewall. "The values of family and the family table still flavor everything in my life and in my career. It's what I grew up with, and it's everything that I believe in."
---
Roasted sea scallops with potato gnocchi, English peas and morel mushrooms (serves 4)
4 pieces large sea scallops
1 cup fresh shelling peas
1⁄2 cup morel mushrooms
1 small russet potato
3 tablespoons of canola oil
2 teaspoons melted butter
2 egg yolks
1 cup all-purpose flour
8 tablespoons olive oil
2 tablespoon cold butter
1 tablespoon fresh lemon juice
1⁄2 cup cold water
salt and pepper to taste
For the gnocchi:
Bake the russet potato in a 350° F oven until fully cooked (about 35-40 minutes).
Remove the peel from the potato and put the flesh through a food mill while still warm. (A food mill is a kitchen utensil that can be best described as a mechanical sieve. It has a hand-turned paddle that forces the food through a strainer plate with interchangeable holes. Using the back of a large spoon, push potato through a pasta colander or kitchen sieve if a food mill is not available.)
While the potato is still warm, place it into a mixing bowl with the eggs and melted butter; season with salt and pepper. Spoon the potato mixture onto a cutting board dusted with flour. Use your hands to knead the mixture, adding more flour a little at a time. Add flour until the mixture is moist, but not sticky.
Gently roll the dough into a long cylinder until it has the diameter of a nickel. Cut the dough into 1-inch pieces with a butter knife. Pinch the uncut side and place on a floured pan. Each piece should resemble a pillow in shape.
Cook the gnocchi in simmering salted water until they begin to float. Gently transfer to ice water for two minutes. Remove from the ice water and coat with the olive oil. Gnocchi should be refrigerated until needed.
For the pea purée:
Begin by shucking the English peas and blanching them in boiling water for about 45 seconds. (Salted water should always be used when blanching vegetables.) The peas should be soft but not mushy. English peas are more commonly known as shelling peas or garden peas. After the peas have blanched, transfer them directly into ice water, and remove from the water when cool. Place all but ? cup of the cooked peas into a blender with the cold water and puree; season with salt and pepper. The finished product should have the consistency of heavy cream. Hold cold until needed.
For the morel mushrooms:
Morel mushrooms are small, wild mushrooms that can be found in most farmers' markets, usually in a dehydrated form. Shitake mushrooms can be substituted, and are found in many grocery stores.
In a medium sauté pan, melt 1 tablespoon of the butter. When the butter is fully melted, add the mushrooms and season with salt and pepper. Cook until they begin to turn light brown. Remove from the pan and cool on a paper towel.
Preparation
Put the whole peas, gnocchi and mushrooms into a small sauté pan with 1 tablespoon of butter and gently warm. Warm the pea purée in a saucepan over low heat. Meanwhile, heat a small sauté pan with the canola oil until it begins to smoke very lightly. Season the scallops with salt and pepper and place in the pan. When the scallops start to brown, turn the heat to medium-low and continue to cook for 3 minutes; flip over and cook for an additional minute. Squeeze fresh lemon juice over the scallops and remove from the pan.
Presentation
Ladle a small spoonful of sauce into the middle of shallow bowl. Randomly place the peas, gnocchi and morels in the bowl. Carefully place the scallops in the bowl, and serve immediately.
---
Steamed clams and mussels (serves 4)
2 pounds fresh mussels
1⁄2 pound sliced choirzo (optional)
1 sliced red onion
1 tablespoon curry powder
1 tablespoon chopped garlic
1 1⁄2 cups white wine
1⁄2 cup loose packed Italian
parsley leaves
2 tablespoons unsalted butter
2 tablespoons kosher salt
1 tablespoon black pepper
1⁄2 cup canola oil
Zest of 1 lemon
1⁄2 cup diced red bell pepper
2 sprigs of fresh thyme
1 stalk of lemon grass, chopped into 1-inch pieces
2 scallions, sliced thin
Preparation
Heat the canola oil in a stainless steel sauce pan, add the onion, lemon grass and garlic. Cook for two minutes stirring frequently, do not let color. Add the mussels and wine. Cover and let cook until the mussels begin to open. As the mussels open remove them from the pan and let cool. Remove the meat from the shell, hold cold until ready to use. Add the curry to the liquid that remains in the pan and simmer for 10 minutes. Strain through a fine mesh strainer and cool.
Preparation
In the same sauce pan heat canola oil. Once hot add the chorizo, let cook until it begins to brown lightly. Add the peppers and scallions, sweat for about two minutes, stirring frequently. Do not let the vegetables color. Add the broth and the mussel meat. Bring to a quick boil and stir in the butter, parsley and lemon zest. Season with salt and pepper and serve.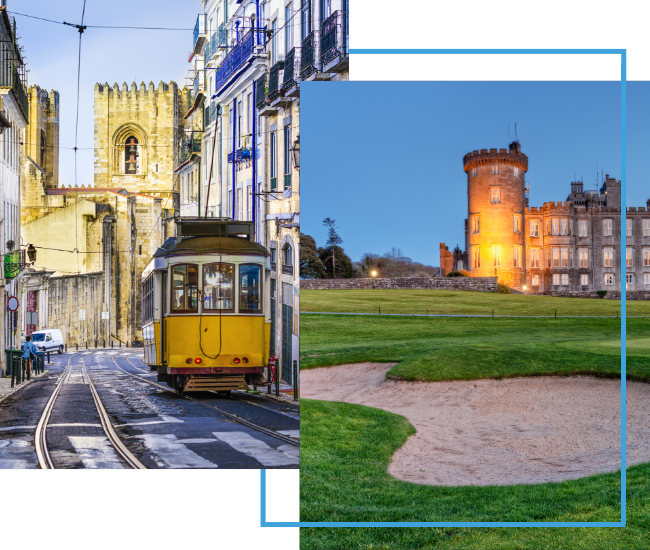 FX Excursions
FX Excursions offers the chance for once-in-a-lifetime experiences in destinations around the world.
Explore Excursions
Pleasant weather, autumn foliage and vibrant flowers are among the many delights awaiting nature lovers at botanical gardens and arboretums across the United States. However, some of these green spaces take on additional color this month and through Halloween when enterprising gardeners, landscape architects, management and other creative minds cast a spell with themed environments running the gamut from spooky to utterly bewitching.
Sponsored Content
The Islands of Tahiti offer a range of captivating activities for travelers with diverse interests, from hiking to breathtaking waterfalls, riding horses on secluded beaches; swimming with sharks; or immersing in Polynesian culture through traditional dance, music and art. For watersports enthusiasts, the crystal-clear lagoons offer exhilarating experiences like surfing, kiteboarding and paddleboarding. And if you're looking to relax, the pristine beaches, overwater bungalows and tropical sun offer the perfect setting. With 118 islands and atolls to explore, island hopping is an excellent way to experience the full diversity of The Islands of Tahiti. With its blend of adventure, culture and relaxation, The Islands of Tahiti offer a truly unique travel experience.
For travelers who love all things autumn, Crystal Springs Resort, New York City's closest destination resort, features special offers and experiences to meet the demands of everyone's fall bucket list. Located only 80 minutes outside New York City in Sussex County, New Jersey, Crystal Springs Resort offers a quick getaway to enjoy fall foliage. Are any of these new offers or experiences on your bucket list?