By age 13, Michael Cairns was already taking charge in the kitchen, helping to prepare family meals, recording recipes, developing menus and making shopping lists — a teenage chef-in-the-making.
His culinary spark ignited, Cairns landed an after-school job washing kitchen mats at a popular lunchtime eatery, the Trellis Café in Sacramento, Calif. These days, he holds a much loftier position as executive chef at the Arizona Biltmore Resort & Spa where he oversees culinary operations for the 738-room lodging establishment and its six restaurants and lounges including the award-winning Wright's at The Biltmore and the more casual Biltmore Grill & Patio. Cairns also designs the menus for the resort's winemaker dinner series and its elegant afternoon tea — a 76-year tradition at the historic property.
Before joining the Arizona Biltmore Resort & Spa as executive chef in April 2003, Cairns was corporate executive chef for Chateau Elan Hotels & Resorts and its luxury properties in California, Florida, Georgia and Scotland. He was also executive chef and executive sous chef garde manger at the Boca Raton Resort & Club in Florida and was affiliated with Hyatt Hotels & Resorts holding positions at Hyatt properties in California, Florida and Hawaii.
In September 2003, Cairns earned the "Best Chef" Critic's Choice Award at the Vail Wine & Food Festival where he competed with other top chefs from across the country. The following year, in September 2004, Cairns was the featured chef at the 75th anniversary celebration dinner at the James Beard House in New York City.
Despite his demanding position at the Arizona Biltmore Resort & Spa, Cairns can't get enough of the kitchen. In fact, he cooks to relax.
"My wife and I entertain as much as our schedule allows," he said. "Having friends and family over and cooking in the back yard is probably the most relaxing time for me."
And for all of his well-earned credentials and years of experience, Cairns is still young at heart. His favorite snack? A good, old-fashioned peanut butter and jelly sandwich.
"It's been with me since before I knew how to cook," he said. "PB&J never lets you down."
---
Champagne-cured salmon Serves 4-6
5 pounds salmon filet
2 lemons
6 ounces Moet & Chandon White Star Champagne
2 ounces Stoli Vanil vodka
2 cups kosher salt
3 cups granulated sugar
4 sprigs fresh mint
1 shallot, peeled
Juice the lemons and set aside. Mix the salt and sugar together. Thinly slice the shallots and then cut the salmon filet in half horizontally. In a four-sided baking dish, pour the vodka, lemon juice and champagne over the flesh of the salmon. Let soak for 12 minutes. Cover the flesh side with salt and sugar mix. Place shallots and mint on top and sandwich the two halves together. Roll tightly in cheesecloth and place on a wire rack inside a baking dish so the juices can drip away. Place another pan on top of the salmon and weigh it down with at least 10 pounds of pressure. Let sit in the refrigerator for two days. Remove salmon, wash all salt mix away. Slice thinly and serve.
---
Basil-fed escargot turnovers Serves 4
For the fondue:
2 ounces gruyere cheese, shredded
2 ounces parmesan cheese, shredded
1 tablespoon cornstarch
1 ounce milk
Toss the cheeses and cornstarch together in a bowl. In a heavy-bottom pot over low heat, melt the cheese and cornstarch mixture. Keep warm and set aside.
For the turnovers:
1 can escargots
1 ounce basil pesto
2 ounces Chanterelle mushrooms
1 sheet puff pastry dough
5 ounces fondue
3 tablespoons egg wash
2 garlic cloves, minced
1 small shallot, minced
½ ounce cottonseed oil
Preheat oven to 400 degrees. Using a two-inch round cookie cutter, cut four circles from puff pastry dough. Place ½ teaspoon of pesto and three escargots in the center of each pastry dough circle. Fold dough over filling into a half-moon shape and pr ess the edges together. Brush turnovers with egg wash and bake in preheated oven for 7-9 minutes or until golden brown. While turnovers are baking, saute mushrooms, garlic and shallots in cottonseed oil. Add in the remaining escargot.
PRESENTATION: Pour fondue in the center of each plate. Top with a turnover and garnish with mushrooms and escargot.
---
Bosc pear and Maytag bleu cheese tart Serves 6
For the onion marmalade:
1 red onion, julienned
2 cups red wine
1 ounce sherry vinegar
1 cup granulated sugar
2 ounces demi-glace
½ cup water
Lightly sweat onions until translucent. Add red wine, vinegar, sugar and water. Reduce to sec (almost dry). Reduce heat and slowly stir in demi-glace. Set aside.
For the tart custard:
2 egg yolks
1 whole egg
1 cup heavy cream
Salt and pepper, to taste
Combine all ingredients and whisk until smooth. Set aside.
For the poached pear:
1 d'Anjou pear
2 cups chardonnay
2 cups water
1 cups granulated sugar
1 bay leaf
1 tablespoon peppercorns
Peel pear and put into a medium pot with other ingredients. Cover with lint-free cloth. Cook over medium-low heat until pear is easily pierced with a paring knife. Let cool in poaching liquid. Reserve in liquid until ready to assemble.
For each pear tart:
3 slices chardonnay-poached pear
1 tart shell
1½ oz tart custard
1 cherry tomato, quartered
½ tablespoon crumbled Maytag bleu cheese
1 tablespoon onion marmalade
PRESENTATION: Arrange shells evenly on parchment-lined sheet pan. Place onion marmalade in an even layer on the bottom of the shells. Sprinkle bleu cheese evenly over the marmalade. Place the quartered tomatoes at the 3-, 6-, 9- and 12-o'clock positions over the bleu cheese. Fill tart with custard and fan three slices of poached pear in the center. Bake at 325-350 degrees for 12 minutes. Cool and reserve.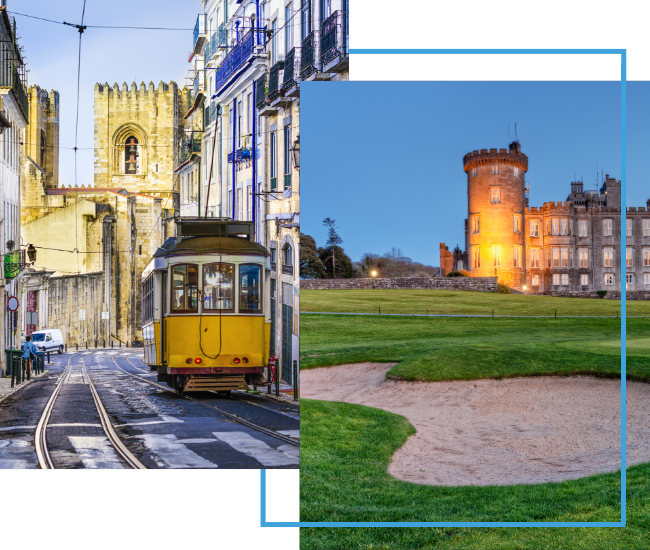 FX Excursions
FX Excursions offers the chance for once-in-a-lifetime experiences in destinations around the world.
Explore Excursions
There is something magical about sipping a glass of local wine while watching the sun slip into the Aegean Sea as the afterglow tinges traditional, white-washed Cycladic houses with glorious shades of rose, purple and gold. Ancient Greeks believed Helios, the Sun God, caused sunsets by driving his fiery chariot into the sea. Standing at water's edge in Mykonos, watching the sky slowly turn from purple to inky black, you almost believe it.
Sponsored Content
United Airlines is in the midst of a major initiative to modernize its fleet over the next several years. After first announcing the plan in 2021, planes fitted with United's signature interior are finally beginning to appear across the airline's narrowbody fleet of Boeing and Airbus planes. United flyers are sure to notice these enhancements from the moment they step on board: Each new or updated plane sports remodeled seats, seatback entertainment screens for everyone, Bluetooth connectivity and more, all adding up to a better experience on every journey.
The prospect of a post-visit treasure hunting session inside the shops of landmark museums such as the Louvre in Paris, the Uffizi Gallery in Florence and The British Museum in London can be irresistible. However, some of Europe's smaller and more unusual museums boast retail spaces with a surprising "wow" factor, often as well-curated as the galleries.