BEGINNING IN SEPTEMBER 2017, TAP Air Portugal's cuisine consultant, Chef Vitor Sobral, collaborated with six Michelin-starred chefs to introduce the airline's Taste the Stars program. In-flight menus include a creation of one of the six renowned Portuguese chefs including Miguel Laffan, Rui Silvestre, Henrique Sá Pessoa, José Avillez, Rui Paula and George Mendes. The program will further promote Portuguese cooking talents, regional products and the country's cuisine. A revolutionized wine list will follow.
We learned more from each of TAP Air Portugal's star chefs. Read on below to discover how Portuguese influences shine through in each of the dishes they've prepared for the onboard menus. TAP flies around 12 million passengers a year and growing.
HOW DID YOUR UPBRINGING IN CASCAIS INFLUENCE YOUR CUISINE?
Miguel Laffan: I was born and raised in Cascais, and I am passionate about the village that helped me grow. I can still smell the fishermen's boats arriving full of fish and seafood, and the market fueled my imagination as a future cook. The array of products available, from the fruit and vegetable markets to the villages of greater Lisbon, and the intense environment of sea and mountain molded my identity as a chef.
YOU STRIVE TO HONOR NATIONAL FLAVORS. WHICH OF THOSE FLAVORS WILL BUSINESS-CLASS PASSENGERS EXPERIENCE?
Rui Silvestre: In Executive Class I wanted to show passengers several flavors from north to south such as duck, rice, codfish, sea bass and green peas — national products, full of flavor and tradition.
YOU ARE KNOWN FOR YOUR TRADITIONAL RECIPES ACCENTED WITH A CONTEMPORARY FLAIR. HOW DOES THAT TRANSLATE INTO YOUR TAP AIR PORTUGAL MENUS?
Henrique Sá Pessoa: I have chosen and implemented dishes that showcase exactly that by picking recipes that blend a more traditional approach using modern and lighter methods of cooking. The idea is to have Portuguese authenticity, flavors and colors but using less common ingredients to give it that special twist and create impact.
YOU ARE KNOWN FOR AVANT-GARDE CUISINE; IS IT DIFFICULT TO BE CREATIVE WITH CUISINE AT 30,000 FEET?
Vitor Sobral: It is not easy when you have lots of creative limitations, considering all the cooking process behind the food TAP passengers eat in flight. Everything starts with creativity, but we have to consider the right products to create the recipes. Then we need to test them and redesign some cooking methods. When we get the expected result, it's time to coach the catering team to be well-organized, making sure every step is achieved like we designed. After, they have to package the foods correctly, reserve and deliver to the planes. At 30,000 feet, the job is in the crew's hands. They need to regenerate the food at the right temperatures and serve it to passengers. It is a lot of teamwork, and everyone is involved so we can get our food quality in the sky.
YOUR RESTAURANTS HAVE MADE WORLD'S BEST LISTS. WHAT'S THE BIGGEST CHALLENGE IN TAKING YOUR RECIPES AND ADAPTING THEM FOR AN AIRLINE?
José Avillez: We have high quality standards. We are demanding when it comes to choosing the products, applying the right techniques, serving the correct way and providing the best possible service. When we work with an airline, the biggest challenge is the logistics of packaging meals and reheating them on board. That doesn't happen in our restaurants.
YOU'VE NOTED MEMORY AND INSPIRATION AS YOUR BIGGEST CULINARY INFLUENCES. WHAT MEMORIES INSPIRED YOUR TAP AIR PORTUGAL MENU?
Rui Paula: Memory is my main source of inspiration, indeed. For TAP's menu, I was inspired by my hometown, my place of birth, Oporto, and my childhood with my grandparents in Trás-os- Montes, Alijó. Both dishes are a reinterpretation of two traditional ingredients from that place.
YOU WERE BORN TO PORTUGUESE PARENTS. WHAT FLAVORS FROM YOUR CHILDHOOD ARE YOU INCORPORATING INTO THE MENUS FOR TAP?
George Mendes: My earliest childhood memories with Portuguese cooking are the ingredients my mother would use at home — olive oil, paprika, fresh parsley, garlic, tomato and plenty of bacalhau. These are the flavors I will introduce on TAP menus; I feel these are some of the key ingredients in traditional Portuguese cuisine and the base for many dishes.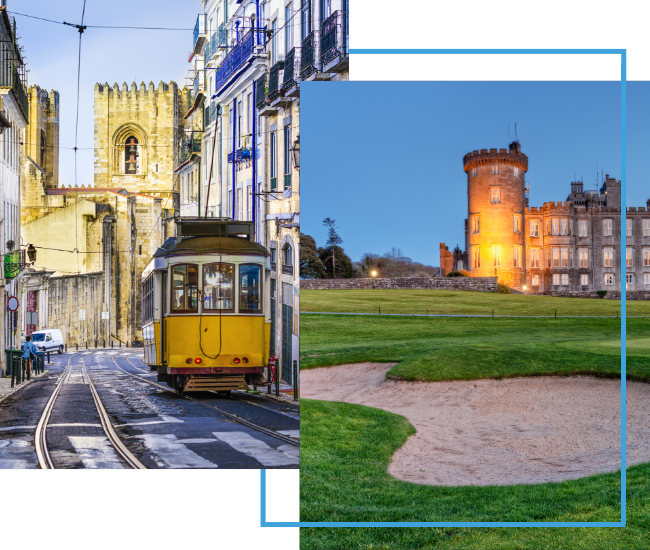 FX Excursions
FX Excursions offers the chance for once-in-a-lifetime experiences in destinations around the world.
Explore Excursions
If fabulous food and beverages are a must-have for any weekend getaway, then look no further than the City of Brotherly Love. Whether your palate has a penchant for vibrant Latin American fare or cozy French cuisine, whether you're an oenophile looking to swirl, sniff and sip your way around the globe or you'd rather sample farm-to-glass cocktails, Philly's got it all this fall. (With the exception of Bolo, which is a short taxi or Uber ride away and definitely worth the trip, the rest of these spots are all within walking distance of each other.)
Sponsored Content
The Global Business Travel Association (GBTA) believes business travel is a fundamental force for good and brings the industry together to connect, innovate and set new standards. With members from across the globe, GBTA engages the many voices of business travel to build a collective future, providing a platform for buyers and suppliers to come together, connect with peers, grow their network and shape the future of the industry.
From Santoríni to Dubai to New York, some hotels just have that "it" factor that draws visitors far and wide. For some hotels it's their proximity to popular landmarks and attractions, for others it's their amenities. But these hotels have something few can claim: a true room with a view.